December 11, 2017
by Luke Auburn
Performers announced for King's Legacy event
The Rochester soul musicians will also perform at a separate evening performance at RIT's Robert F. Panara Theater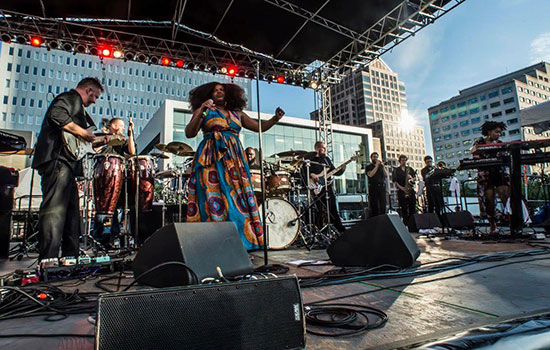 Danielle Ponder and the Tomorrow People, a critically acclaimed soul band from Rochester, will be the featured performers at the 2018 Expressions of King's Legacy event at Rochester Institute of Technology. BET News host and CNN political contributor Marc Lamont Hill will deliver the keynote address and local poet Reenah Golden will also perform spoken-word poetry. The 36th annual event takes place at noon on Thursday, Jan. 25, in RIT's Gordon Field House and Activities Center.
Named "best band" by the ROC Awards for the past three years, Danielle Ponder and the Tomorrow People have toured internationally, opened shows for artists including the Roots and George Clinton, and cite influences from artists varying from Lauryn Hill to Nina Simone. The debut EP they released in 2016, Blow Out the Sun, touches on themes of love, personal liberation and political and social issues. When not performing with the band, Ponder works as a criminal defense attorney.
The band will also deliver a concert performance the same evening, at 7 p.m. at the Robert F. Panara Theater on RIT's campus.
Before Marc Lamont Hill and Danielle Ponder and the Tomorrow People take the stage, local artist Reenah Golden '97 (small business management) will perform a poetry reading. Golden is an RIT graduate, former teaching artist in residence at the University of Rochester Warner School of Graduate Education, and has appeared on the HBO series Brave New Voices.
All events are free and open to the general public. Registration is recommended for the afternoon keynote.