Photography alumnus showcases hybrid craft
Bernard Meyers' 'Dividing Line' features his latest visual gifts to his audience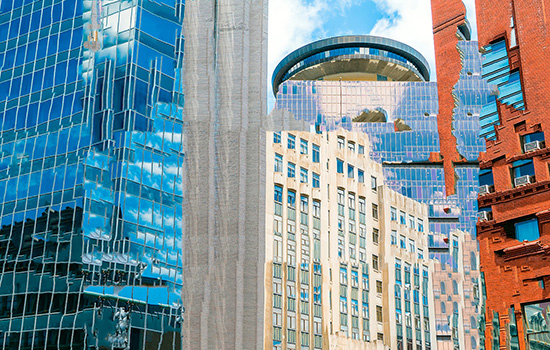 A Rochester Institute of Technology alumnus whose career has been deeply influenced by both photography and printmaking will showcase his work at University Gallery through March.
Bernard C. Meyers, who graduated from RIT in 1977 with a BFA in photography before earning his MFA in printmaking in 1990, will exhibit "Dividing Line" at the gallery through March 11. The exhibit will be on display in University Gallery, located inside James E. Booth Hall, from 9 a.m. to 5 p.m. Monday-Friday, and noon to 4 p.m. on Saturday.
After graduating from RIT, Meyers founded and operated a fine art printing business called Portland Photographics in Maine in 1978 that specialized in Cibachrome color photographic printing and had access to some of the world's most renowned photographers.
He continued his career as a commercial photographer and specialized in architecture and art reproduction. He later applied the rich and diverse experiences he gained throughout his career to teach courses in photography, 2D design and traditional printmaking.
Meyers describes himself as an "artist" rather than as a photographer. The camera gathers the material that he interprets and molds it through the intent of each project. Experience, desire and software are his tools. He embraces the digital capture and print process as a hybrid craft informed by his history as a traditional printmaker and photographer.
"Prints are the jewels of my expression," Meyers said. "Since my time at RIT, I have never stopped making and exhibiting art. The past five years have been the most creative and productive of my life."
Meyers is a self-described "voracious student of photography," but he added that his "influences range well into the world of painters and printmakers."
"Abstract Expressionism and the more visually ambiguous photographers provide my visual nourishment," Meyers said.
Wendy Marks, University Gallery's director, said it was exciting to showcase the work of such a respected alumnus in the campus gallery.
"Bernard explores the world with a discerning eye, an abstract sensibility and a distinct design sense," Marks said. "Informed by his education in photography and printmaking at RIT—and a rich and diverse professional experience—it's exciting to have him come 'home' to RIT to present his newest images."
Meyers has exhibited consistently at exhibitions throughout the country. In addition to photography classes at RIT, he also has taught at Southern Maine University, the University of New England and other numerous workshops.
Meyers currently is teaching at a private secondary school in Utah, where he has created one of the largest and most intensive high school fine art photographic programs in the country.
Today, he said, he truly is "dividing lines," merging both 2D and 3D space within the abstract. His prints are large, 44 inches by 62 inches, to fully realize the spatial relationships and detail. Several of the prints were originally photographed in Rochester last summer.
"In this era of diminishing professional visual professions, I believe my work can serve as both a beacon and example of what is needed to survive as an artist/photographer in today's visually ubiquitous world, a unique vision and a strong work ethic," Meyers said.