President David Munson takes questions on Reddit
Topics included tuition, college ranking, housing and hot dogs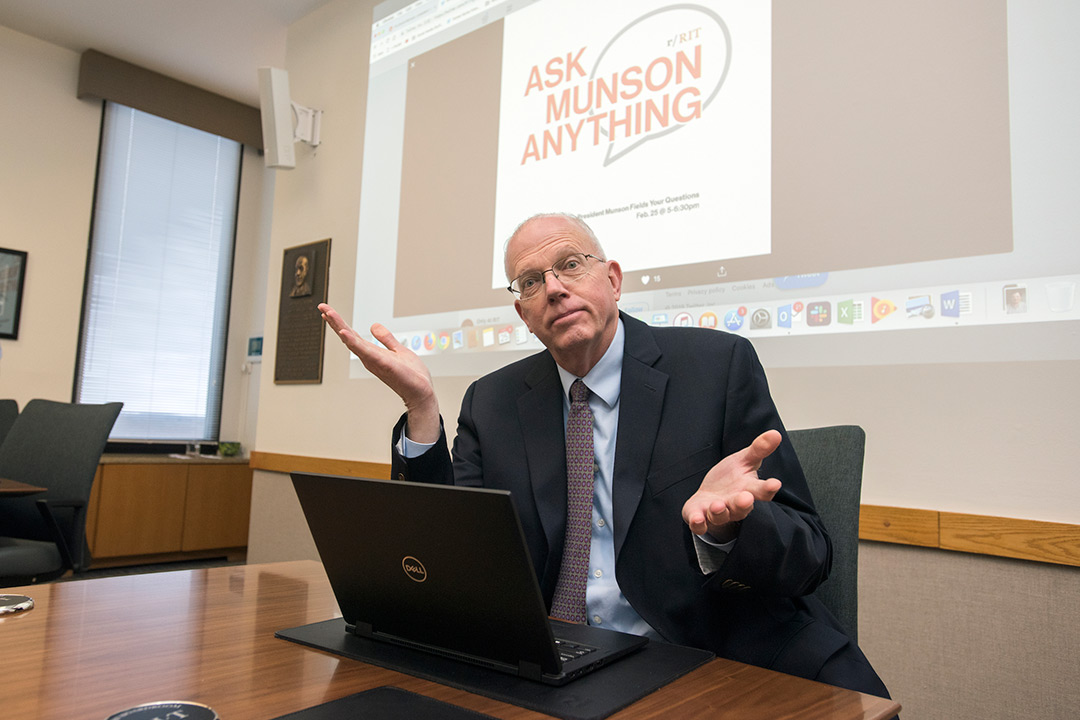 A. Sue Weisler
Housing, tuition and mental health services were just some of the topics Rochester Institute of Technology President David Munson addressed in an "Ask Munson Anything" session Monday on Reddit.
Munson chose the social media platform to engage with the RIT community and answer their questions. The questions were also helpful for Munson to know what's on the minds of RIT students, faculty, staff and alumni.
One student asked what would happen when Colony Manor is sold and demolished this summer, when private developers plan to construct new housing options there.
"Housing is usually tight at the beginning of the Fall term and underpopulated in the Spring term," Munson said. "We understand that affordability is an important consideration for many of our students. Current residents of Colony Manor who are being displaced are being offered a discounted rate for other RIT housing in the Fall of 2019. Soon, we will begin redevelopment of Riverknoll, our least-expensive housing complex. The goal there will be to create improvements while maintaining affordability."
A question was asked about what RIT is doing to improve mental health services for its students. Munson said it is an important issue for him, and at least three mental health therapists have been hired this year, with more on the way.
"Wait times have been greatly reduced and we have extended walk-in hours for counseling," Munson said. "The Mental Health Task Force is underway, working with a cross-section of groups such as counselors, staff and students to make further recommendations."
Another question asked if he felt the university's current state for transgender students was satisfactory. Munson said RIT's climate "is extremely supportive" of diversity and this year improvements were made to have clinical treatments available to transgender students. He said discussions are underway to eventually find better locations for support services, such as the Q Center.
Munson also answered a question about what he thought about RIT's deaf and hard-of-hearing community.
"My wife and I truly enjoy interacting with RIT's deaf and hard-of-hearing community," he said. "We are slowly learning ASL. NTID is one of the jewels in RIT's crown. Furthermore, our deaf and hard-of-hearing community enriches the RIT experience for every student. This past weekend, I attended the dance concert at NTID and was amazed. So much talent!"
A recent alumnus asked about tuition rates and worried tuition would become unaffordable for future students.
"The affordability of an RIT education is very important to me," Munson replied. "Our list price tuition is approximately $8,500 lower than most of our peer schools. In addition, we offer an enormous amount of institutional financial aid – this year it is more than $200 million. That said, I realize some students take on significant debt. I hope that in some respects this is offset by the fact that 95 percent of graduates are employed or in graduate school within six months of graduation."
One question asked how Munson would sell RIT to a 17-year-old.
"I'd love to have that 17-year-old walk across our campus and see and experience what each of you do every day," he said. "So much creativity, so much innovation and so much fun! A supportive community. A judgment-free zone. An amazing intersection of technology, the arts and design, extending into other disciplines. My advice would be to study something for which you have a real passion, and make friends!"

Munson also gave an update about unveiling RIT's new website next month, and said RIT students who tested it said they loved it.
Someone asked why he wasn't answering questions in person. "I meet with student groups and individual students on a regular basis," Munson said. "In addition, my wife, Nancy, and I have begun holding Fireside Chats in the Student Alumni Union. These are advertised ahead of time and open to all. We have cookies – please come!"
And Munson addressed several light-hearted questions, such as what is his favorite cheese (Gruyere), what his favorite building material is (brick) and whether a hot dog is a sandwich.
"With mustard and relish, definitely," he said. "With chili sauce, not so much. With hot sauce, you decide!"
Topics