President David Munson's address during rededication of Henrietta campus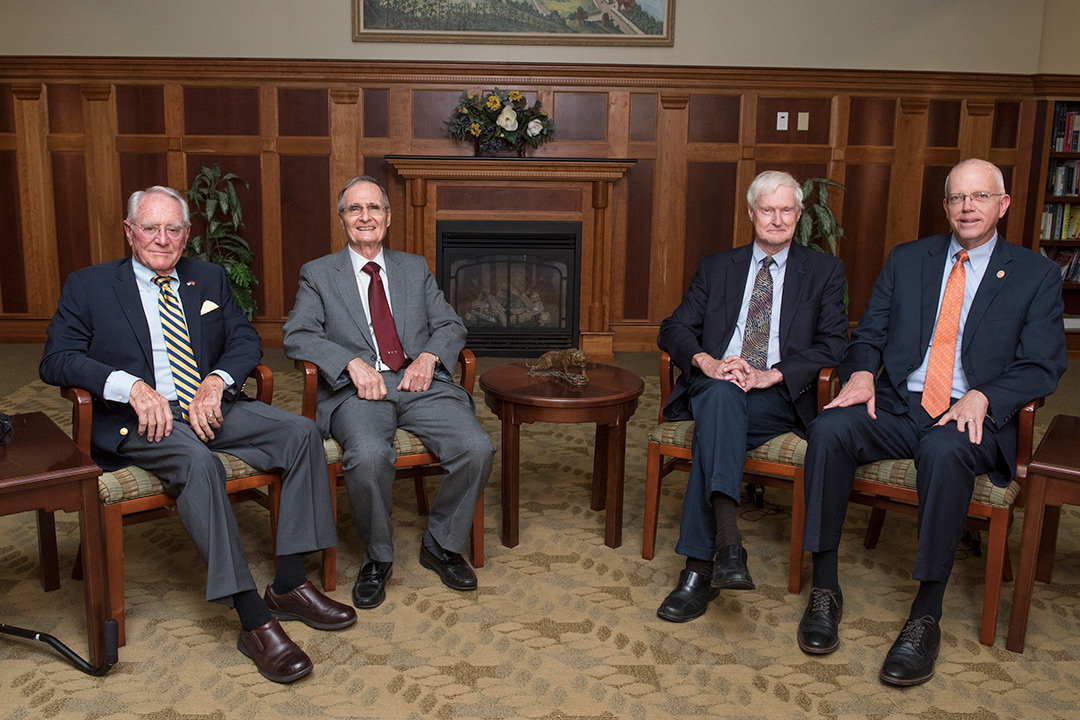 RIT President David Munson addressed the crowd during a ceremony for the rededication of the Henrietta campus on Oct. 19. The full text of his speech is below:
What great memories and reflections from our alumni on the downtown campus. "Overpowering" … "Unbelievable" — it is truly remarkable to see RIT's evolution in 50 years.
RIT's history is fascinating and eclectic. Our university started with a progressive vision and uncommon ambition. First, we were born of an unlikely institutional marriage of an influential cultural association, the Rochester Athenaeum, founded in 1829, and a vocational school, the Mechanics Institute, founded in 1885.
Fast forward to the start of the 1960s, the downtown campus with its 8,000 students was getting crowded. Suburbanization was sweeping the nation and more than 41,000 miles of new expressways were being built across the United States. The downtown campus was in the path of Interstate 490.
After vigorous debate by campus leaders and the trustees about potentially moving, a surprise $3.27 million donation came in from Grace Watson, a Rochester resident who had taken some courses downtown. That gift would be worth about $27 million today.
Looking to move, James Gleason, chairman of the RIT Board of Trustees, exclaimed in 1961: "Don't get 100 acres. Buy enough land for the next 100 years."
It literally was the 1961 decision to leave downtown Rochester for farmland in the town of Henrietta that put RIT on its path to preeminence as a global university. The Board of Trustees and Chairman Gleason took a bold move that allowed President Mark Ellingson to start fresh with a new canvas.
The new landscape also led to RIT being chosen as the home for the federally sponsored National Technical Institute for the Deaf, which also is celebrating its 50th anniversary this year. President Ellingson was so proud that RIT was going to become home to NTID, calling it a "great new experimental institution" serving the needs of the nation.
When the dedication ceremony was held on this very date 50 years ago, the construction project was 18 months behind schedule and not all the residence halls were finished. President Ellingson thanked the students, their parents, and the faculty and staff, for their devotion and patience.
The initial construction cost was approximately $70 million. Adjusted for inflation, that is an approximate value of $507 million today. We opened with nearly 7.5 million bricks. Today, we are approaching 16 million bricks and we've touched it up with some steel and glass, and amazing landscaping!
President Ellingson was constantly looking forward. He noted: "I think that a growing institution always has some unfinished business."
The rest, as they say, is history, as creativity and innovation began to flourish on the modern-day campus at a brisk pace. Since the grand opening of the Henrietta campus, RIT has grown rapidly under forward-looking leadership.
We have evolved from a school that served continuing education needs of local corporations, to a full-fledged residential university that works with corporate partners across the globe. Today, we are now one of the top few universities in the nation working at the intersection of technology, the arts and design. We are global with partnerships on nearly every continent, and overseas campuses located in China, Croatia, Dubai and Kosovo. We are more than 125,000 alumni strong with Tigers shaping the future and improving the world.
While we celebrate the growth of the campus we affectionately refer to as "Brick City," let us never forget it is truly our people — students, faculty, staff, alumni, and friends — who propel this university forward.
At the 1968 dedication address, President Ellingson urged the audience to reflect on what changes they foresee in the future. He questioned whether the next 50 years would be as exciting as the past 50 years.
His response: "My answer is that they will be. They will be fully as spectacular, if not more so, because we are going at a constant accelerated pace."
President Ellingson then concluded with these words of wisdom and prognostication:
"I believe — with this new campus as a launching pad — that what we have seen in the past of growth and service is a bare beginning. I might liken it to the very simple airplanes of 1908 vintage in comparison to the space ships of today. With this as a launching pad, I predict to everyone here that this institution will enter into a new, exciting, and challenging era which will require the help, support, and guidance of all the men and women here today."
President Ellingson's vision has come true through the efforts of our faculty, students, and staff, under the leadership of Presidents Paul Miller, Richard Rose, Al Simone, and Bill Destler.
At this point in our history, it is satisfying to reflect on how far we have come. But, we must also look forward. What's next? The world needs innovators, and few universities are better positioned than RIT to provide innovation education.
Together, we have many more chapters to write in the evolving RIT story. I am convinced that we have covered only the early volumes.
It is an honor and privilege to serve as your president at this moment in time.
RIT is proud to be part of the Town of Henrietta.  This community has played an important role in RIT's growth and success over the past 50 years, so it's especially noteworthy that we share this anniversary year with the Town's Bicentennial Year. 
In honor of our shared milestones, we commissioned a special sculpture for the children's room in the new town library that is being crafted by Industrial Design professor Gary Molinari and Casey Mazza, a senior industrial design major, and with the support of Professor Josh Owen.  This beautiful piece, entitled "Sprout" has been designed to foster an interactive sense of place and learning for the town's children for generations to come.
Please join me in welcoming the Supervisor of the Town of Henrietta, and RIT alumnus from the class of 1989, Steve Schultz, for a special presentation.