President Destler's Welcome Back Address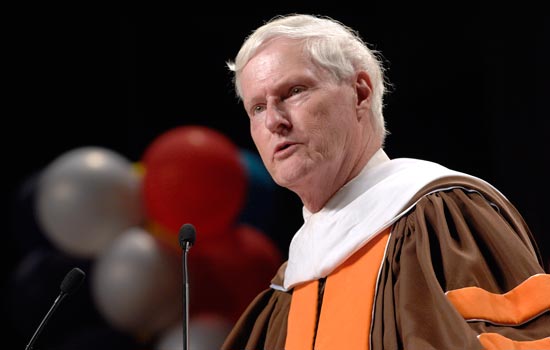 A. Sue Weisler
First of all, welcome back! It seems hard to believe I am now in my third year at RIT, and what a ride it has been! I cannot express strongly enough my gratitude for the support that all of you—faculty, staff, students, alumni, trustees and the entire Rochester community have provided to me during my first two years as RIT's President. Let's look back at what all of us have collectively accomplished over the last year:
RIT continues to grow in enrollment and this Fall we will enroll almost 17,000 students. Precise comparisons are difficult to make, but RIT is clearly among the top dozen or so largest private universities in terms of undergraduate enrollment.


Applications for fall admission to our undergraduate programs grew last year to almost 16,000, and applications to our graduate programs grew by 14% to almost 5,000. As a result, this year's freshman class will be both more talented and more diverse than last year's. In fact, the percentage of minorities in the freshman class increased for the second time in two years.


Early data indicates that the percentage of freshmen that returned to RIT for their second year remains at 88 percent, and while graduation rates are slowly rising, enhanced student retention and graduation rates must remain a primary focus for RIT if we are to join the ranks of the nation's finest private universities.


As a result of the tireless efforts of our deans and department chairs and their associated faculty and staff members, the percentage of our faculty who are women and minorities has also increased this year, supporting our goal of making RIT a model of a diverse academic community.


This past year we initiated a number of new undergraduate academic programs in areas as diverse as journalism, chemical engineering, 3-D digital graphics and philosophy, an M.S. degree in criminal justice, and a new Ph.D. program in sustainability. That new Ph.D. program brings to six the number of unique cross-disciplinary Ph.D. programs offered at RIT.


This fall we are, for the first time, admitting undecided students to a "University Studies" program to support those students who wish to attend RIT but are undecided as to a college or a major when they enroll.


Last year we also initiated a new program in collaboration with Nazareth College to allow our science and engineering students to obtain teaching certification with one additional year of study. This program is intended to address the growing shortage of K-12 teachers in STEM fields.


We have also sent to the State for approval our first joint degree program with the University of Rochester, an M.S. degree in biomedical informatics.


We completed our first year of operation of our fledgling campus in Dubai, UAE, and are growing enrollments there in a number of engineering and business programs.


Federal funding for the National Technical Institute for the Deaf increased to $68 million last year, and enrollment is at an all time high of about 1,450 students. In addition, NTID has launched an exciting new program aimed at helping Afghan and Iraq war veterans who have suffered hearing loss as a result of their service.


Two years ago, we launched the Golisano Institute for Sustainability with the announcement of a $10 million gift from Trustee Tom Golisano. Last year, funding for our research programs in this area exceeded $13 million, and we will soon begin construction of a new facility to house this growing research activity.


But in addition to these activities undertaken under the umbrella of the Golisano Sustainability Institute, the campus can boast of many other faculty working in areas such as environmental science, sustainable engineering, green transportation and environmental policy. Finally, our division of finance and administration is working with the campus to make RIT itself a national model of sustainable business practices, and last spring I signed the College and Universities President's Climate Commitment pledging the campus to work to reduce both our carbon footprint and our consumption of non-renewable resources.


Sponsored research activity grew by 17 percent last year to almost $60 million, not including the federal funding we receive in support of the National Technical Institute for the Deaf.


Our Division of Government and Community Relations, headed by Vice President Debbie Stendardi, worked to obtain federal and state support for many of these research and education programs, and serves as the point of contact at RIT for local and regional organizations of all kinds. In addition, they manage our University News operation and last year the division organized over 150 special events at RIT which welcomed more than 60,000 visitors to campus. And last year they once again managed our very successful United Way campaign which exceeded its $400,000 goal.


Private gifts to RIT last year totaled more than $25 million despite the global economic crisis that made fundraising more difficult than ever before. This total includes a gift of $1 million from an anonymous trustee in a scholarship challenge that has already been matched by other contributions, and gifts of $1 million or more from Trustee Catherine Carlson, Xerox, Kodak, and the Cary, Mellon, Moore, Nippon and Osher Foundations. What's more, 31 percent of you, our faculty and staff, made personal gifts to RIT last year. This is a remarkable level of support of our students, for which I am extremely grateful.


Last year I again visited more than 25 cities across the nation in an attempt to re-connect our alumni with their alma mater. What I find on these trips is an increasingly proud group of alumni who are eager to help build this wonderful institution. Over the next year I will continue these trips and work with our alumni to find new ways in which they can contribute.


This Summer a group of dedicated faculty, staff and students went off-campus to participate in a week's work on ways to move RIT's ambitious agenda forward. This "Great Expectations" team, organized by Vice President Cooper and Provost Haefner, focused on ways in which our curricula and other campus programs could be improved to help us to meet our goals and to better support student innovation, creative work, and research. That report includes specific recommendations which will be vetted through the campus governance process this Fall and considered for adoption.


We completed construction on our second certifiably green building, the new University Services Center and Center for Student Innovation. We initiated construction on a new building for the School for American Crafts, on the Vignelli Design Center, and on the Global Village housing complex. In addition, we are almost finished with a complete renovation of part of the Student Alumni Union to accommodate growing student demands for organizational and recreational space.


We welcomed Provost Jeremy Haefner to RIT, and he has wasted no time in moving our innovation agenda forward. We also welcomed Deans Robert Ulin and Fred Walker to the Colleges of Liberal Arts and Applied Science and Technology, respectively. We thanked Ian Gatley and Joan Stone for their extraordinary service as deans, and we welcomed Sophia Maggelakis and Frank Cost into new roles as interim deans of the College of Science and the College of Imaging Arts and Sciences. We also thanked Alfreda Brown for her three years of service as interim chief diversity officer, and we welcomed Howard Ward as our new interim CDO while we continue the search for a permanent occupant of that important campus position.


We initiated a major new alliance with the Rochester General Health System which is already bearing fruit in terms of expanded research opportunities for our faculty and students, increased co-op and internship opportunities for our students, and an expanding academic program inventory in the fields of biomedical science and engineering.


We applied for, and were invited to join the Liberty League for all of our Division III intercollegiate sports competitions. The Liberty League, which consists of Clarkson, Hobart/William Smith, Rennsselaer, University of Rochester, St. Lawrence, Skidmore, Union and Vassar, was unanimous in its recommendation to invite RIT to join, an indication of RIT's growing reputation among the nation's finest private universities. We also plan to move our women's hockey team to Division I status as soon as the NCAA will permit such a change.


Finally, last year we inaugurated an "open administration initiative" in which I and the vice presidents give reports to the campus community on such issues as strategic directions, budgeting, new academic programs, student enrollment, fundraising, facility planning, research programs, diversity efforts, student affairs, and community and government relations. We will continue this program this year to keep the RIT community informed of important new initiatives and obtain broader community input before significant decisions are made.


And most importantly, all of you continued to focus your activities on our most important constituents—our students. During the past year I have been deeply impressed by the commitment of our faculty and staff to our students in the quality of instruction we provide, in the provision of services of all kinds, and in working to provide our students with a college experience outside of the classroom that rivals that provided by the best institutions in the nation.
Last January, I sent a message to our campus community about the manner in which we would address the current economic crisis and continue to move RIT forward. In that note, I proposed that in our decision making we make protecting the quality of our educational programs and protecting the students, faculty and staff that make up the RIT family our highest priorities as we navigate these uncharted waters. The support that I have received from all of you for that position has been gratifying, and I am pleased to report that, working together, we have, to date, accomplished those goals.
Fall enrollment is strong as a result of your efforts in recruiting and retaining students at RIT, and we have moved additional funds to financial aid to ensure that those students who are facing special economic hardships as a result of the current economic crisis are able to complete their programs. We have also, unlike many other colleges and universities, managed the crisis to date without any layoffs of faculty or staff. Once the 21 day enrollment report is available, we will revisit the issue of possible salary increments in the hope that the financial situation might allow small salary increases this year, at least for our lowest-paid employees.
For all of this I can only say thanks. I know that this progress was achieved because RIT is more than just a job to all of you. You have put your collective hearts and souls into this place in a way that compensation alone cannot produce.
Where to next? Together, we have set forth on a course that will, if we have the courage to navigate it, continue to move RIT into the ranks of the nation's finest private universities. Making progress toward our shared goals will require a number of specific steps during the coming year:
We must redouble our efforts to retain and graduate students from our undergraduate programs. In addition, we must pay special attention to the retention and graduation of minority students. Two reports from Tiger Teams organized by Provost Haefner to look at AALANA and general student retention and graduation will be used as a source of ideas to move the campus forward in this important area.


Although Middle States has approved our letter responding to the concerns of the review committee and we will not be visited again until 2017, we must complete the process of updating our general education curriculum to ensure that our students achieve the learning outcomes approved by the Academic Senate last year.


We must complete our ongoing discussion of possible changes in our academic calendar this fall so that a decision to stay where we are or to change can be made by next January.


We must expand our geographic reach and continue to increase the number of students who apply to our programs. Greater numbers of applications can materially assist us in our efforts to increase overall student quality and diversity.


We must work to implement over the next several years a faculty teaching load policy developed by the Provost that will allow sufficient time for faculty to engage in research, scholarship, and creative work.


We must create a well-organized plan to ensure that our best faculty, staff, and students are nominated for the most significant national awards and fellowships.


Recommendations from the report of the "Great Expectations" team need to be forwarded by the Provost to the Academic Senate this fall for review and implementation as deemed appropriate by the faculty.


We must make effective use of the new Center for Student Innovation, to be dedicated on September 25th, as a place where our "left-brainers" and our "right-brainers can get together and imagine a whole new range of innovative and creative work that can lead to new products, services, and businesses to build our national economy.


We must work hard to ensure that this year's Imagine RIT festival is even bigger and better than last year, and more importantly, that we continue to renew our exhibits so that visitors will want to come back year after year. This is a statement event for RIT, and an important internal bonding activity as well.


Speaking of festivals, this year's Brick City Homecoming on October 9-11, will feature, for the first time, a men's hockey game at the Blue Cross Arena against Colgate. Let's all show up and produce a "sea of orange" to support our team.


And, working with both Student Government and Student Affairs, we are beginning to plan a Winter Carnival at RIT to break the monotony of those relentless Rochester winters.


This year's "RIT Big Shot" will be held at the Smithsonian Institution's National Museum of the American Indian in Washington, D.C., on Sept. 26. This should be another memorable event in one of RIT's more interesting traditions.


We must continue to work to increase research activity, private fundraising, alumni engagement, and the diversity of our student, faculty and staff populations.


We must work to ensure that the campus as a whole optimally benefits from the presence of the National Technical Institute for the Deaf. This extraordinary asset not only adds an element of diversity to our campus unique to RIT, but it opens up a whole field of educational and intellectual activity that can, if we are smart enough to exploit it, be one of our key "unfair" advantages over the competition.


We must make more effective use of the campus during the summer quarter. An expanded Summer School and other Summer programs on campus will improve our overall operating efficiency and can be an important source of additional revenue for the university.


We must anticipate the possibility of a two-flu season and make contingency plans to protect our students, faculty and staff as much as possible during the coming academic year.


Finally, we will work with the Faculty Senate to examine RIT's administrative structure to ensure that we continue to be a low-administrative-overhead operation compared to competing institutions. We must never forget that our core responsibility is to our educational programs, and that administration's role is to serve in support of that mission.
If we can continue to make this kind of progress during the years ahead, RIT will quickly take its place among the nation's finest universities, public or private. And we will have accomplished that goal for the best of reasons—we will have worked for the benefit of our students, our community, our nation and the world, and perhaps had some fun along the way. Here's to another great year for RIT! Thanks again for your support.