Professor inducted into international hall of fame
RIT's Santosh Kurinec is recognized for breakthrough work in photovoltaics and for influence mentoring students in engineering careers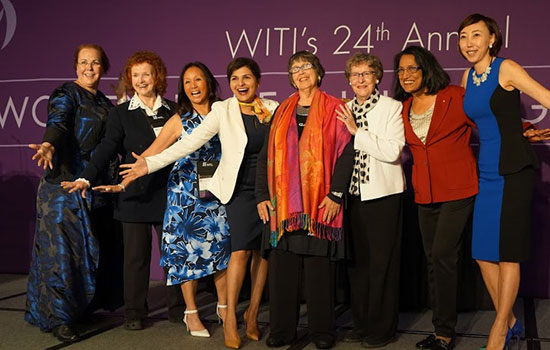 Provided by Women in Technology International
Santosh Kurinec, an engineering professor at Rochester Institute of Technology, was one of six influential women from around the world honored for their work as visionaries in technology, engineering and science and inducted into the Women in Technology Hall of Fame. Since 1996, Women in Technology International has recognized women whose work helps shape and improve society.
Kurinec, a microelectronic engineering professor in RIT's Kate Gleason College of Engineering, is an expert in photovoltaics, solar cell technologies and integrated circuits—the essential elements of today's electronic devices.
"The semiconductor and related industries need top quality engineers, and we are creating them," said Kurinec, who was also recognized as an accomplished teacher and mentor whose students understand the complexities of the semiconductor fabrication process, and who have gone on to positions with NASA, Intel, Boeing and SpaceX.
"The college is very proud of Dr. Kurinec's accomplishments," said Doreen Edwards, dean of the Kate Gleason College of Engineering. "She is an inspiration to all who work with her and a great role model for women pursuing careers in the semiconductor industry."
As part of the RIT faculty since 1988, Kurinec is one of the leading researchers in the area of photovoltaics, non-volatile memory and advanced integrated circuit materials and processes. Her extensive work has resulted in the development of novel materials and devices in the Semiconductor Manufacturing and Fabrication Laboratory, the clean room facility in the engineering college. From 2001 to 2009, she was department head of microelectronic engineering. Since 2008, she has served as a visiting scholar and researcher at the IBM Watson Research Center in Yorktown Heights, N.Y.
In 2016, she received the International Association of Advance Materials Medal for outstanding contributions in the field of advanced materials science. It would be only one of many awards bestowed by RIT and the engineering community for her many contributions integrating research into undergraduate engineering education and her focus on developing the next generation of microelectronic engineers. She received the international engineering society's 2012 Technical Field Award for Undergraduate Teaching, and was designated an IEEE Fellow by the institute in 2010.
In the past few years, Kurinec has participated as a visiting lecturer and conference chair person in Qatar and Saudi Arabia, discussing the electronics industry, product development and advancing women in STEM professions.
In his nomination letter, Muhammad Mustafa Hussain, professor of electrical engineering, King Abdullah University of Science and Technology, Saudi Arabia, recognized Kurinec as a dedicated leader and a formidable ambassador of women in engineering, enabling collaborations with other women scientists and faculty.
"She is the complete academic who has the rare ability to effectively understand, integrate and synthesize the fundamental elements of excellence in teaching, research, service, administration and applications of knowledge in the profession and industry-at-large," said Hussain, who also is fellow of the American Physical Society and Institute of Physics. "Professor Kurinec's distinction lies in her leadership, in integrating research in undergraduate education in a continuously evolving field of microelectronic devices, circuits and systems. Her leadership established a novel pedagogy normally tailored to graduate students and faculty—formulating, executing and communicating tangible research projects of current technological and societal relevance."
The 2018 slate of candidates inducted into the Women in Technology Hall of Fame at a ceremony on June 11 in San Jose, Calif., included Kurinec as well as Rhonda Childress, IBM Fellow and vice president, GTS security and privacy officer; Elizabeth Feinler, Internet pioneer; Roz Ho, senior vice president and general manager, Consumer & Metadata, TiVo; Yanbing Li, senior vice president and general manager, Storage & Availability Business, VM Ware; and Rashmi Rao, global head, Advanced Engineering, CoC User Experience, Harman. (Past honorees include Patricia Cowing, researchers, NASA Ames Research Center; Genevieve Bell, Intel Fellow, Intel Corp.; Shirley Ann Jackson, president, RPI; actress and advocate Nichelle Nichols; and Ruth Westheimer, physician and Fellow NY Academy of Medicine.)