Professor named Technology Woman of the Year
Dhireesha Kudithipudi recognized for leading the university's research into artificial intelligence technologies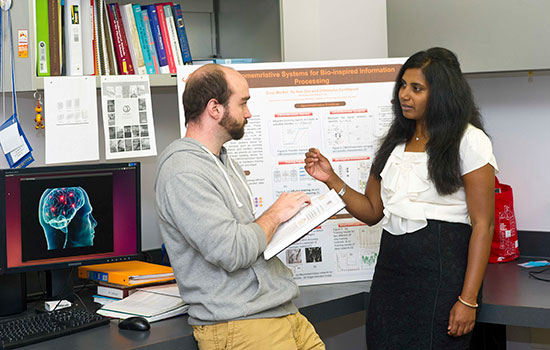 A. Sue Weisler
Dhireesha Kudithipudi, a computer engineering professor at Rochester Institute of Technology, was honored April 26 as the 2018 Technology Woman of the Year by Digital Rochester during a reception at Locust Hill Country Club. She was recognized for her breakthrough work in the area of artificial intelligence, specifically the development of brain-inspired computing technologies that could change the way computers manage, store and analyze vast amounts of data and information.
This year, 19 prominent female technologists, scientists and engineers were nominated for the annual award that spotlights professionals who live, work and make an impact in the technology field.
"Not only is Dhireesha is a leader in her field of neuromorphic computing, she is committed to giving back to the community by offering workshops to high school teachers and mentoring young faculty," said Doreen Edwards, dean of RIT's Kate Gleason College of Engineering. "We are very proud that she is part of our engineering college."
Kudithipudi is among the top researchers in brain-inspired computing—a combination of neuroscience, nanotechnology and intelligent system design to improve today's computing capacity. Over the past decade, Kudithipudi's Nano Computing Research Laboratory has designed energy efficient intelligent platforms specific to pattern recognition, anomaly detection and predictive analysis. Grants through the National Security Agency, the National Science Foundation and Air Force Research Labs support Kudithipudi's work in these areas, and results of this work have impacted the efficiencies of neural networks. Located in RIT's Kate Gleason College of Engineering, her lab has nearly 20 undergraduate, graduate and doctoral students involved in research she is conducting.
Honored with the award, Kudithipudi also acknowledged the collaborations with these students as an inspiration.
"My research accomplishments are because of the many fantastic students—people that are helping advance the frontiers of research in brain-inspired computing. They energize me to explore new research avenues, fail often and rise up with more fervor," she said. "This award is for the team and now we have a greater responsibility to ensure that the new technologies we develop serve the broader community."
One of her most prominent achievements has been work with several campus faculty members to develop a new AI research center at RIT, the Center for Human-Aware Artificial Intelligence, that brings together numerous faculty-researchers from across campus to improve the quality of human life with breakthrough research in artificial intelligence,and to develop future practitioners and scientists. Center projects will address society's challenges in manufacturing, cybersecurity, sustainable systems and energy development and improved medical care and technology, for example.
"Artificial intelligence is not at a stage where it is going to overtake humans, and it is nowhere close to solving problems that humans can solve," said Kudithipudi, who has been at RIT since 2006. She is a  recent recipient of the Clare Booth Luce Higher Education Resource Service Scholarship for Women in Higher Education, a national development program to prepare the next generation of female scholars as institutional leaders. She has been awarded numerous fellowships including through the U.S. Airforce, Telluride Cognitive Computing and the American Society of Engineering Education. In 2016, she was featured in the Democrat and Chronicle as one of its Women to Watch. She has authored or co-authored 100 manuscripts, has two patents and leads technical workshops in neuromorphic computing/AI. She also serves as an associate editor for IEEE Transactions on Neural Networks and Learning systems.
The Digital Rochester Technology Woman of the Year recognition has been awarded since 2001. This year, RIT nominees included Kudithipudi and Manuela Campanelli, professor and director of RIT's Center for Computational Relativity and Gravitation. Campanelli and her research team were instrumental in detecting gravitational waves through their collaboration with the international scientific community, 100 years after Einstein's theory of general relativity predicted them. Jeanne Casares, RIT's chief information officer, was presented with the award in 2010, and Eydie Lawson, former professor and chair of the Department of Information Technology, received the award in 2003.