Professor wins grants to study mitochondrial DNA
Moumita Das is a Scialog Fellow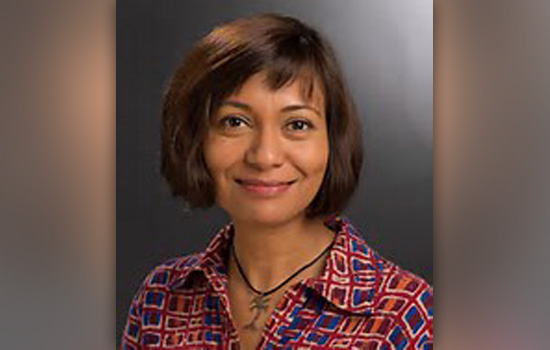 Rochester Institute of Technology professor Moumita Das has won seed funding for cutting-edge research that explores mitochondrial DNA and intercellular cargo transport.
Das, an assistant professor in RIT's School of Physics and Astronomy, is a Scialog Fellow on two research teams supported by the Gordon and Betty Moore Foundation. Last April, the Moore Foundation, Research Corporation, and Simons Foundation sponsored the conference Scialog: Molecules Come to Life, which brought together approximately 50 young researchers who work at the intersection of biology and the physical sciences. The Scialog fellowship program encourages collaboration among theorists and experimentalists who propose research in promising areas considered too risky for traditional funding sources.
The three science philanthropies have awarded seed funding totaling $963,750 to six teams of 15 scientists. Das won a combined $112,000 in two awards, for her work on teams investigating "Heteroplasmy: Population dynamics of mitochondria in mammalian cells" with Daniel Needleman from Harvard University and Douglas Weibel from University of Wisconsin, Madison, and "Commoditizing advanced molecular imaging techniques" with Ibrahim Cissé from Massachusetts Institute of Technology; Megan Valentine from University of California, Santa Barbra; and Ali Yanik from University of California, Santa Cruz.
Das is a theoretical physicist who works in the field of biophysics. She is conducting computational modeling and analytical calculations to support hypotheses and predictions for both projects.
The heteroplasmy research is an emergent topic that looks at population dynamics of mitochondria in mammalian cells. Mitochondria, the powerhouse of each cell, controls energy production, initiates programmed cell death, and participates in cell signaling.
Mitochondria have their own DNA distinct from nuclear DNA. All organisms are thought to have low levels of variation in mitochondrial DNA. Changes in mitochondrial DNA are thought to be connected to a range of human health conditions, including epilepsy, heart failure, Parkinson's disease, diabetes and multiple sclerosis, Das said.
"We are studying the population dynamics of healthy and unhealthy mitochondria to see how that might control the functioning of the cell," she said. "Understanding how harmful changes in mitochondrial DNA accumulate over time and under different selection pressures can have a profound impact on our understanding of cell biology and the origins of some human diseases."
Das' second project involves molecular imaging of intercellular transport. The proper functioning of cells depends on molecular motors to carry cargo, such as organelles and vesicles, inside cells, she said. Her study of the process will support the design of a new type of imaging technique.
RIT undergraduate Kevin Ching and post-doctoral researcher Subravat Dey are working with Das to develop models and computer simulations of "molecular motors transporting cargos in crowded cellular environments." RIT undergraduate Kellianne Kornick is working with Das on the mathematical modeling of mitochondrial DNA. Ching and Kornick, both physics majors, will give talks about their research at the American Physical Society meeting in New Orleans in March.
Das and her Scialog teams will present their initial results at the next Scialog: Molecules Come to Life conference April 27-30 in Tucson, Ariz.