Project converts waste cooking oil into biodiesel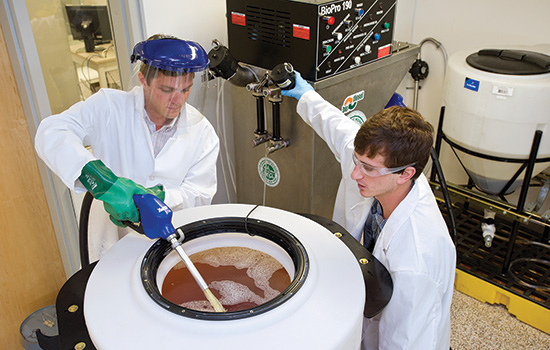 A. Sue Weisler
The next time you order a burger or 
french fries on campus, you might just 
be helping RIT become an even more 
sustainable university.

Two second-year master's students at the Golisano Institute for Sustainability (GIS) are examining new ways to make use of the approximately 4,000 gallons of cooking oil from campus dining services—including turning waste cooking oil into biodiesel 
and heating oil.

David Frank and Dan Bruton are serving as research assistants and are part of an 
off­shoot of a two-year partnership between RIT and the Monroe County Department of Environmental Services in which RIT researchers have developed and refined a process to turn used cooking oil into biodiesel.

According to Tom Trabold, associate professor in GIS, the oil previously came from a Monroe County residential waste and recycling drop-off center. RIT researchers produced hundreds of gallons of fuel out 
of the discarded grease for the county to 
use in some of its vehicles.

Now the project is in the process of 
transitioning to RIT, which will refine the 
university's waste cooking oil for use in Facilities Management Services vehicles and even sustain heating equipment.

Frank and Bruton also are weighing the economics of the process and the greenhouse gas emissions associated with making the fuels—Frank with vehicle fuel, and Bruton when it comes to heating oil.

"We're offsetting the cost of fuel on 
campus and funding our research at the 
same time," says Bruton, a native of Waterford, N.Y. 

"It's a win-win in terms of the return 
on investment for the university and improving the environment at the same time," adds Frank, a native of Livingston, N.J.

While the concept of running diesel 
engines on cooking oil is anything but new, RIT researchers—and now Bruton and Frank—are developing an even more 
refined fuel that burns more efficiently 
in engines.

The students use processing equipment inside the GIS building's fuel-cell test bed to convert the oil. The waste cooking oil is emptied from a drum into a container and left to sit, sometimes for 24 hours, so food particles and water can settle to the bottom while the oil rises to the top. Material on the bottom is then discharged through a valve and the oil is run through a processor, mixing it with a catalyst for refinement. 

The resulting fuel is later mixed with 
traditional petroleum-based diesel. The common fuel blend can be used to power any diesel engine, and it burns as well as standard diesel, according to Bruton.

RIT's expanded project also is attempting to develop and study a process to turn 
cooking oil into heating oil.

"We believe any institution with a closed-loop system can benefit from this process," says Bruton, referring to when used products are converted into other products without generating significant waste. "These are viable options."