Requirements for Commencement Ceremonies: Masks Required at Major Indoor Facilities
Mandatory Masking for Gordon Field House, Gene Polisseni Center, Ingle Auditorium, and Clark Gymnasium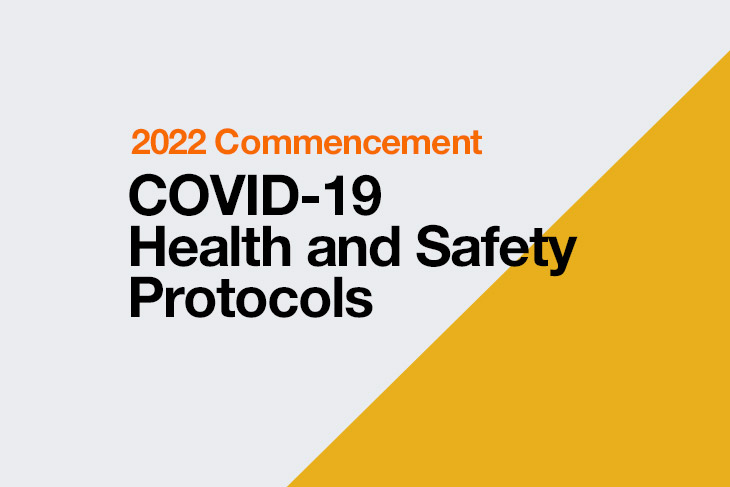 Commencement is a time of celebration. Families and friends soon will gather together from all over the world to celebrate the successes and experiences of our RIT graduates. This year will be memorable as our graduates attend Academic Convocation and walk across the stage, in person, at one of the many college-based ceremonies.
With thousands expected on campus, we are taking steps to ensure a safe environment for all attending, with special stipulations for those events drawing large crowds sitting or standing shoulder-to-shoulder. Accordingly, we will require masks at all commencement ceremonies that take place in the Gordon Field House, Gene Polisseni Center, Ingle Auditorium, and Clark Gymnasium. In these locations, students walking across the stage will be able to remove their masks for photographs when accepting their diplomas. Masks will not be required in other venues or outdoor areas. Masks will continue to be required on contracted RIT transportation, including RIT shuttles, buses, and vans.
Commencement is a launching point for our graduates. So as our 2022 graduates move on to amazing things, let's safely celebrate their weekend in style:
All guests will be asked to comply with Commencement Health and Safety Guidelines, which include providing proof of COVID-19 vaccination OR a COVID-19 negative test result (antigen or PCR) within 72 hours of the ceremony you plan to attend. Boosters are NOT required.
Guests should be prepared to show their vaccination passport or card or a photo/print copy of their vaccination card. NYS Excelsior pass is acceptable, along with a photo ID.
There will be many places to eat on campus, including concession stands outside the Gordon Field House and Gene Polisseni Center.
A live stream of the ceremonies will be available on the Commencement website.
We'll post as many messages as we can on the commencement website and on the screens in the Gordon Field House.
For those of you graduating, please know that you will always be an integral part of the Tiger family. Congratulations on your achievement!
Please visit the Commencement website for additional information about this very special weekend.
Yours in Tiger Pride,
David Munson, President
Ellen Granberg, Provost and Senior Vice President for Academic Affairs
A sign language interpreted translation of this message is available.