RIT Academic Senate launches first Women's Caucus
New shared governance organization focuses on advocacy and collaboration on important women's issues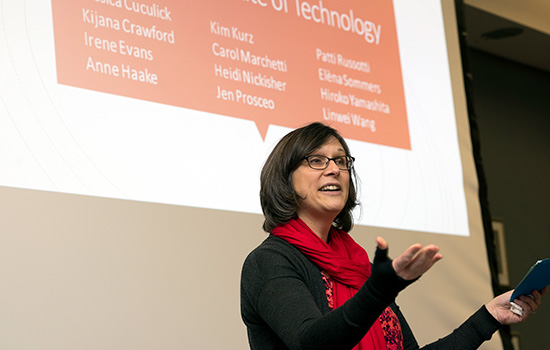 A. Sue Weisler
Carol Marchetti, professor of statistics and coordinator of the RIT Women's Caucus, formally launched the caucus, a new campus advocacy organization, at the Nov. 16 Academic Senate meeting. She shared her vision for the caucus as one of advocacy and involvement. It will establish and promote Senate priorities, develop an agenda based on priority issues defined by the caucus such as student behavior in the classrooms of female faculty, and policies and procedures related to harassment and discrimination. The group will also host informational sessions and networking activities and encourage community and governance involvement.
"The Women's Caucus raises the collective voices of women senators on behalf of our constituents. It provides a means for women senators to network, build consensus and collaborate on motions for the Senate to consider," said Marchetti. "We hope that our caucus, along with others that might follow, may provide additional avenues for faculty and staff to use and become involved with our governance structure. The response from across campus for the formation of the Women's Caucus has been tremendous. Faculty and staff—men and women—have expressed their support and raised significant issues that need to be addressed."
According to research by the Center for American Women and Politics, female legislators who meet to discuss legislation that affects women are significantly more likely to work on policy of interest to women, Marchetti explained. She is working with RIT's Office of Government and Community Relations to reach out to U.S. Senator Kirsten Gillibrand (D-NY), a member of the Senate Women's Caucus and Women's Congressional Policy Institute, to share her experiences and advice with RIT's caucus.
Marchetti has been a long-time member of AdvanceRIT, a multi-faceted project funded by the National Science Foundation, designed to increase and advance women faculty in science, technology, engineering and mathematics (STEM) at RIT. The project also examines challenges experienced by female faculty of color and deaf and hard-of-hearing faculty, and adapts interventions to address the needs of these populations. As co-principal investigator on that important campus grant, Marchetti led activities in salary equity and faculty data. She has been at RIT for 20 years and leads research toward improving learning outcomes for deaf and hard-of-hearing (DHH) students through better access, online learning tools and through collaborative problem solving by teams of DHH and hearing students.
As a new senator representing the College of Science, Marchetti established the caucus with Elena Sommers, a member of RIT's Academic Senate executive committee and principal lecturer of English in the College of Liberal Arts, and Christopher Collison, chair of the Academic Senate and associate professor of chemistry in the College of Science.
Regular meetings of the caucus are underway. Founding members of the organization are faculty members Kijana Crawford, Elena Sommers and Hiroko Yamashita, College of Liberal Arts; Irene Evans and Carol Marchetti, College of Science; Anne Haake and LinWei Wang, B. Thomas Golisano College of Computing and Information Sciences; Kim Kurz, Jessica Cuculick and Jen Prosceo, National Technical Institute for the Deaf; and Heidi Nickisher and Patti Russotti, College of Imaging Arts and Sciences.
For more information about the RIT Women's Caucus, contact Marchetti at cemsma@rit.edu.