April 21, 2020
by Luke Auburn
RIT alumna conducting experiments on live samples of coronavirus in search of a treatment
Callie Donahue '18 is part of a team of researchers in Boston testing drugs to combat the virus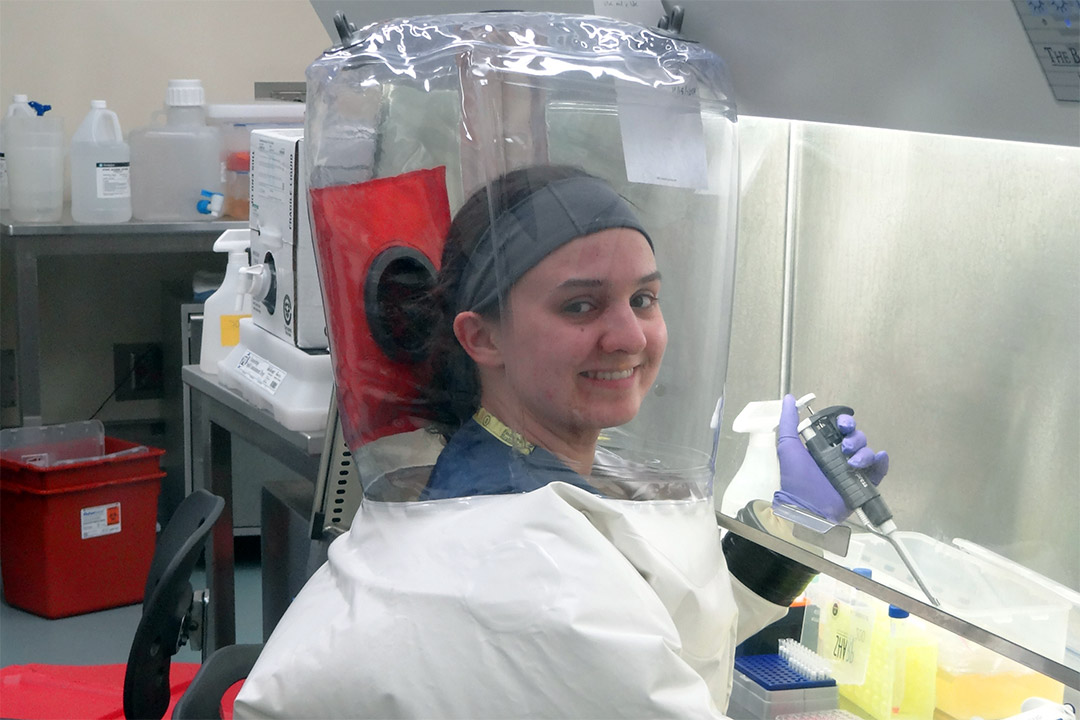 A Rochester Institute of Technology alumna is part of a team of researchers working at breakneck speed to find drugs to fight coronavirus. Callie Donahue '18 (biotechnology and molecular bioscience) is helping to test thousands of compounds on human cells infected with live samples of SARS-CoV-2, in search of medicine that can be effective in deterring the virus's infection and replication cycle.
Donahue is a Boston University Ph.D. student working in the National Emerging Infectious Diseases Laboratories, which received its first samples of the virus about three weeks ago. While she typically focuses on researching the Ebola virus, she and her fellow researchers at the lab dropped everything to focus on the pandemic that has upended the world. She's working long hours every day in a biocontainment suit and much of her preliminary work has focused on using her expertise with viruses, such as Ebola, to develop imaging techniques to identify infected cells.
"There's so little that we know about this coronavirus," said Donahue. "Currently, I'm looking at virus infection in several different cell lines at different time points to identify when the technique can optimally detect an infected cell. I'm testing different conditions with the detection technique so that it can be rapidly scaled up for high-throughput screening of drug-treated cells."
Donahue expects to be conducting research on the coronavirus for the duration of the U.S. outbreak and perhaps longer, depending on how it is impacting the rest of the world. She didn't anticipate working on a viral outbreak so early in her scientific career, but she credited her mentors and RIT's strong focus on undergraduate research for helping give her the skills and techniques needed to conduct such intense research as a graduate student.
She credited Associate Professor Maureen Ferran for inspiring her to pursue virology, the late Professor Irene Evans with stoking her interest in cell biology and imaging techniques, and associate professors Dina Newman and Kate Wright with getting her interested in science education and communication.
Donahue said there is intense pressure working to fight an outbreak like this but that she feels empowered to work on something so important.
"I think because we don't have anything to fight it right now, aside from quarantining and social distancing, it has left a lot of people feeling helpless," Donahue said. "So being a scientist and having a lot of the skills I gained at RIT and during my first year in my Ph.D. program here at Boston University help me to actually do something about it. That is really, really cool. I feel like this is something I can do that will tangibly make a difference."
Topics