RIT Alumnus Describes Discovery of 18th Century Lake Ontario Shipwreck
Dan Scoville recounts 'Finding the HMS Ontario' on RIT news podcast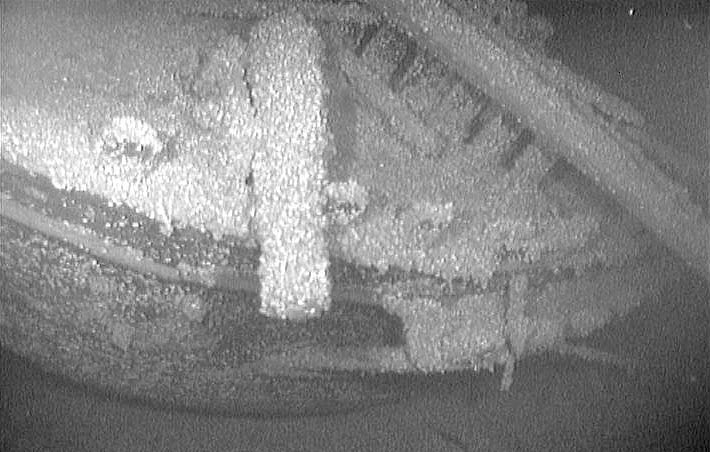 Dan Scoville
Dan Scoville celebrated Independence Day earlier than most.
The Greece, N.Y., man and Rochester Institute of Technology alumnus last month found an 18th century shipwreck—and a relic of the Revolutionary War—the British Warship HMS Ontario in Lake Ontario.
Scoville and his shipwreck-exploration partner, Jim Kennard, led a team to the sunken vessel using technology originally developed by RIT engineering students. Working with Scoville, students designed a remote-operated vehicle ("ROV" for short). A similar device, along with side-scan sonar, led Scoville and Kennard to the 228-year-old shipwreck—one of the oldest in Lake Ontario—following three years searching for what was considered the "Holy Grail" of Great Lakes' shipwrecks.
Scoville and Kennard had previously located seven shipwrecks off the southern shore of Lake Ontario. Scoville recounts their latest discovery—found partially resting on one side at a depth of about 500 feet between the Niagara River and Rochester—on the RIT news podcast "Studio 86: Finding the HMS Ontario."
"It's completely intact—cannons are still sitting on the upper deck," Scoville describes. "It's really in much better shape than I imagined it was going to be."
The Ontario and as many as 120 passengers were lost in a violent gale on Oct. 31, 1780. On the RIT podcast, Scoville also discusses debates over ownership of the vessel and whether or not it should be raised.
The ROV used to find the Ontario was built by Hydroacoustics Inc., in Henrietta, N.Y., where Scoville is now a project manager and electrical engineer for the remote-operated vehicle product line. Like the one designed by RIT engineering students, it can dive deeper and stay submerged longer than scuba divers, and it is equipped with high-intensity lighting and video cameras.
Adds Scoville, "After many years of work and lots of money, it was a relief to see all the pieces come together and the goal realized."
Notes: 
For video footage of the discovery of the HMS Ontario.
Topics