RIT and its Air Force ROTC detachment receive prestigious partnership award
National honor for collaboration, high student achievement, and innovative opportunities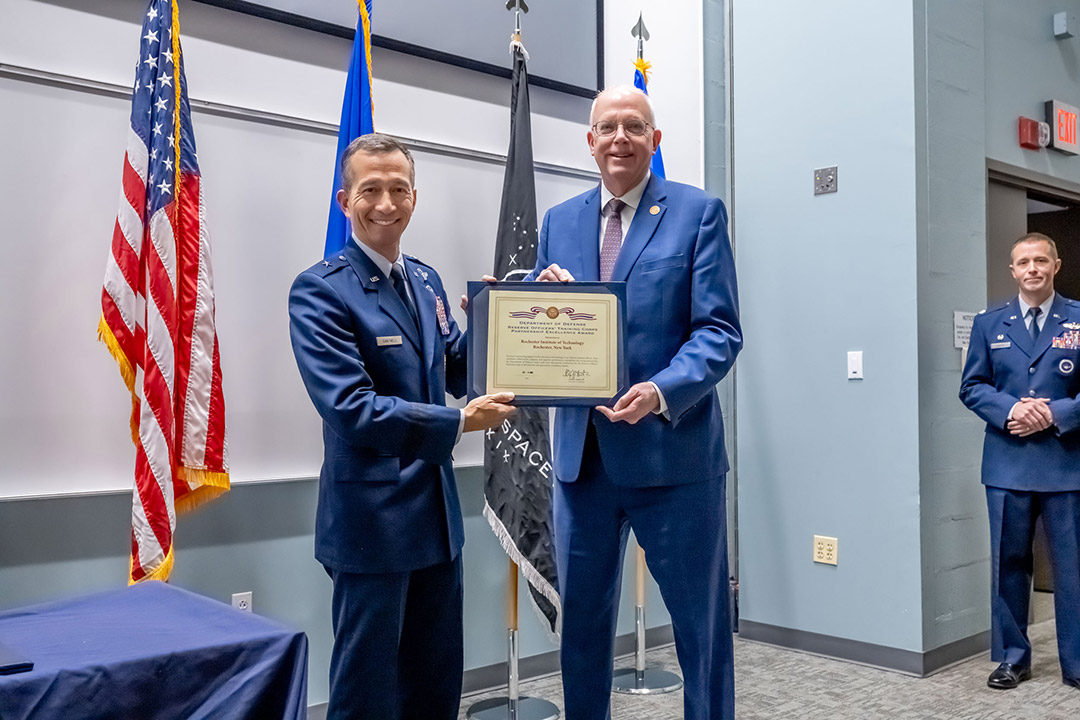 Rochester Institute of Technology and its Air Force Reserve Officer Training Corps Detachment 538 were presented the 2021 Department of Defense ROTC and Higher Educational Institution Partnership Excellence Award Friday morning. The award recognizes the detachment's success as well as RIT's contribution to the program.
Only one such award is given nationwide each year by the Secretary of Defense to an ROTC detachment and host college. There are more than 400 ROTC Army, Navy, and Air Force detachments in the country.
RIT President David Munson and Lt. Col. Christopher Denzer, commander of the detachment, accepted the award from Brig. Gen. Houston Cantwell, commander of the Jeanne M. Holm Center for Officer Accessions and Citizen Development, Maxwell Air Force Base, Alabama.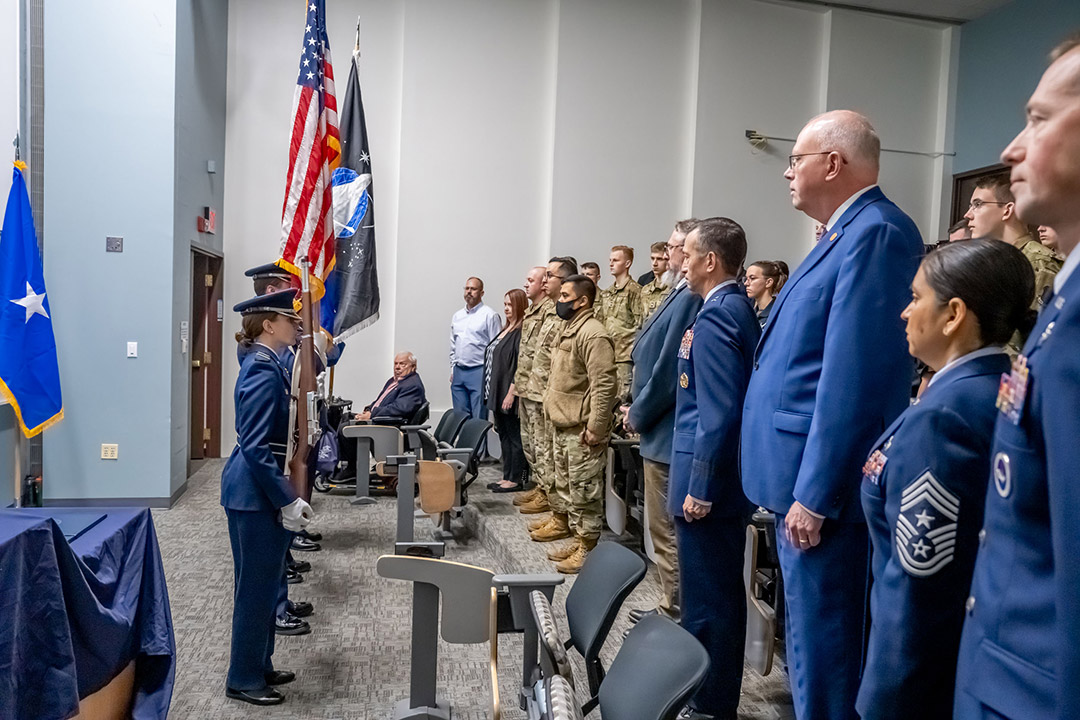 Scott Hamilton
Denzer, who took command of the detachment in July, said it was his honor to lead the 60 Air Force ROTC cadets, most of whom were in attendance at the award ceremony held in Eastman Hall.
"This is a chance to be recognized on a national level," Denzer said. "You have set the standards for our compatriots across the country. You represent everything I hope to achieve in the Air Force and a wonderful learning environment President Munson has created here. RIT is growing a new generation of capable and thoughtful leaders, and for that, President Munson, I thank you."
Munson called the award "awesome" and well deserved.
"We are very fond of our ROTC programs here at RIT, and we want you to know that you are noticed, and you are thought about. I've watched this detachment over the past few years and I noticed you were good. Really good. And it's not just the cadets. It is your leaders, too. You've got something to live up to. Kudos!"
Cantwell told the cadets how important their work is.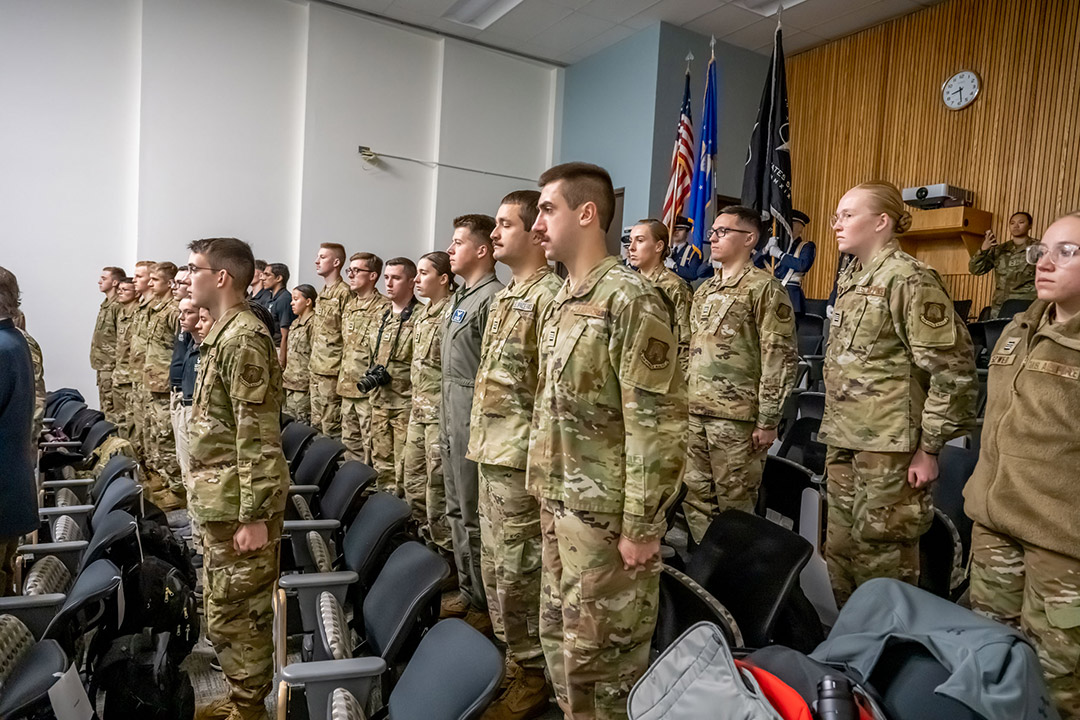 Scott Hamilton
"What you're doing is for an actual reason," he said. "There are threats to our national security that lurk around this world, and you need to be prepared. We need you on the front lines to be prepared to defend our values and our way of life."
Cantwell said the Air Force is routinely questioned about how they are doing on the production of STEM-focused officers.
"I couldn't think of a better place to develop those STEM-focused officers than here at RIT because the technological focus here are the opportunities, whether it is cybersecurity, computer science, you name it, those opportunities are here for you all to become experts in these fields," he said. "Keep up the great work."
The detachment supported 82 cadets in the 2021 academic year, marking the largest cadet wing in 17 years at RIT. It actively supports crosstown students from six area universities.
Last year, the number of cadets in the Professional Officer Corps more than doubled. Sixty percent graduated with technical degrees, and the average cumulative GPA was 3.44.
In 2020, the detachment also scored the highest in overall performance among the Northeast Region's 37 detachments in field training, and yielded a 33 percent distinguished graduate selection rate, which is more than three times the national average. In 2021, the cadets sent to field training earned a 27 percent distinguished graduate selection rate.
RIT recently provided space and networking support to enable the deployment of two virtual reality flight simulators within the detachment. Cadets were able to receive live flight instruction with more than 100 hours of flight rehearsal in virtual reality. RIT also provided more space to allow for computer access and storage facilities for uniforms and operating equipment.
The award was also in recognition of how the detachment worked with RIT during the COVID-19 pandemic. The detachment practiced operational risk management and mitigation to deliver exceptional in-person training through 172 events with no spread of the virus.
The detachment received an overall "effective" rating, the highest possible, on its 2020 assessment. More than 185 inspection items were scrutinized yielding an "exceptionally qualified" instructor evaluation.
During the height of the pandemic, RIT expanded hours and staffing of fitness facilities by 30 minutes each week to allow cadets early access to indoor spaces used for leadership laboratory and physical fitness training.
RIT also provides a $13,500 room-and-board stipend for high school scholarship program winners. That totaled $270,000 to Air Force ROTC cadets in 2021. This significantly enhances the detachment's ability to attract and recruit top-quality talent into the detachment.