RIT announces lineup for 2014 Fringe Festival
On the roster is a performance by RIT President Bill Destler and his spouse, Rebecca Johnson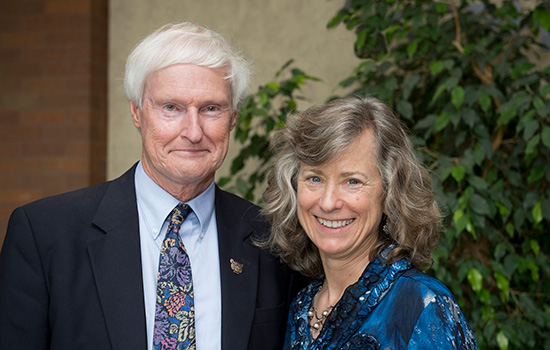 A. Sue Weisler
RIT President Bill Destler on the banjo, accompanied by his spouse, vocalist Rebecca Johnson, are part of the "Fringe benefits" as Rochester Institute of Technology joins artistic forces with a variety of businesses and cultural organizations for the 2014 First Niagara Rochester Fringe Festival.
The Destler/Johnson duo will perform 2–2:30 p.m. Saturday, Sept. 27, at the Little Theatre 1. They join more than 380 eclectic performances during the 10-day festival event Sept. 18–27 in downtown Rochester's East End.
A sponsor of the Fringe Festival, RIT is renowned for combining technology and innovation with its strong artistic community—which will come to life with more than 20 performances in a mix of poetry readings, dance, film, theater, music, gaming and visual arts. All events are free and will be held at the following venues: Gallery r, 100 College Ave.; Little Theatre 1 and the Little Café, 240 East Ave.
Here's a sampling of RIT's festival offerings:
Signatures Poetry: Signatures Magazine, which celebrates 30 years as RIT's award-winning undergraduate art and literary magazine, offers thematic poetry readings by RIT students, faculty, staff and alumni
Thomas Warfield—professor at RIT's National Technical Institute for the Deaf and world-renowned dancer, singer, actor, choreographer, director, producer, educator, activist and poet—will sing at the piano and invite audience-participation as part of his storytelling narrative
Brick City Singers: RIT's all-male a cappella group and Hawaiian shirt enthusiasts perform a broad repertoire of "good time" music with some wacky antics and amusing skits
Chain Gang: A video game for up to eight players where each player controls one inmate on the chain and must work with the other convicts to escape! Chain Gang was developed by faculty, students and alumni through RIT's MAGIC Center (Media, Arts, Games, Interaction and Creativity)
RIT Improv: Troupes BrainWreck Improv, The Improvessionals and Work in Progress will demonstrate the art of improv with help from the audience—guaranteed to leave everyone in stitches
Latin Dance Group: Dancing Around the World is a showcase of cultural music and dance in a mix of Latin, Kizomba (Angolan dance) and modern rhythms
"Rochester is a festival town," said Zerbe Sodervick, Gallery r director for RIT's College of Imaging Arts and Sciences. "People get excited about the arts, and for people who build it into their busy schedules, there's a huge reward.
"It allows them to enjoy a dance performance, live theater, a poetry reading, or the creative efforts of a painter, sculptor and photographer who exhibit their work. The Fringe Fest goes beyond what you see and becomes an extraordinary learning experience and a sharing of events."
The Fringe Festival downtown lineup includes Canada's Circus Orange, comedy/celebrity impressionist Jay Pharoah of Saturday Night Live, Mardi Gras! By Cirque du Fringe, Silent Disco and its new lunchtime version, Brown Bag Disco, and Method Machine's Spoon River Rochester, where 300 performers portray the "living dead" of Edgar Lee Masters' anthology (1915) Spoon River.
For a schedule of RIT Fringe events, go to www.rit.edu/fringefest. Or contact RIT Director of Special Events, Lynn Rowoth, at 585-475-7408 or lynn.rowoth@rit.edu.