RIT Army and Air Force ROTC programs welcome new commanders
Lt. Col. Jason Turner and Maj. Ryan Crosby bring outstanding national and overseas service leadership to campus programs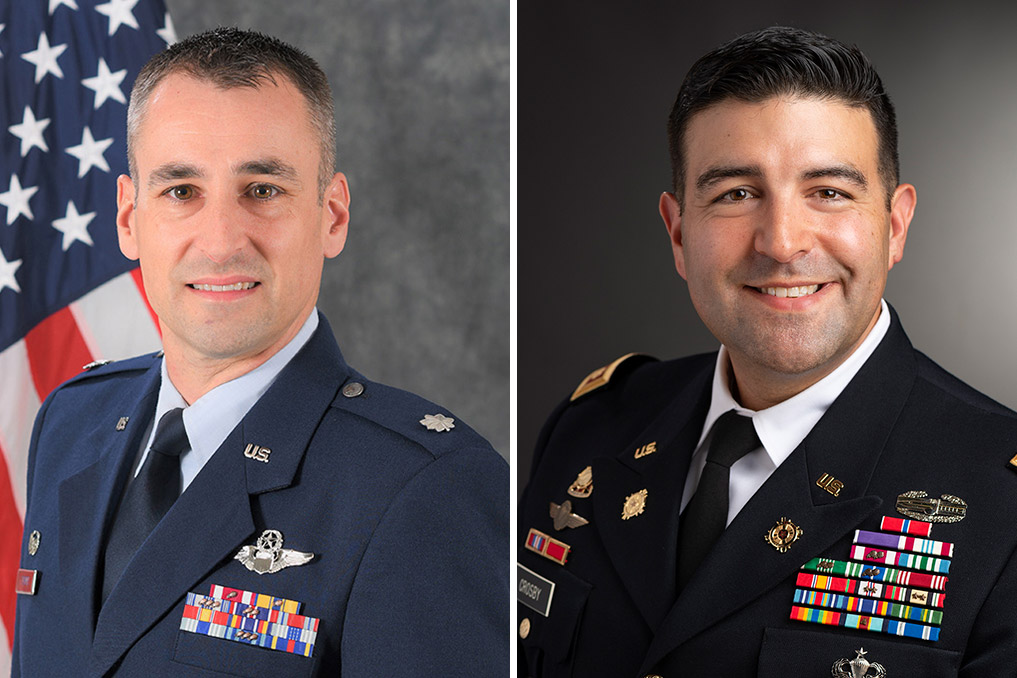 Rochester Institute of Technology installed two new commanders to its campus ROTC programs.
Lt. Col. Jason Turner will lead the Air Force ROTC cadre, and Maj. Ryan Crosby will lead the Army ROTC cadre. Both officers bring more than 30 years of combined national and international military service, and each one began his career in university ROTC programs. 
As a fighter pilot and trainer, Turner began his Air Force service in 1999 in Kansas at McConnel Air Force Base. He'd have a variety of assignments as an F-15 pilot serving at bases in the U.S., Japan and as part of NATO alliance programs. He was promoted to the rank of lieutenant colonel in 2014. At his most recent assignment, he was instrumental in strengthening flight simulation training using virtual reality.
"I'm looking for ways to duplicate that experience here," said Turner, who added that information about space and cyber technologies were also important emphasis areas for the RIT cadre. "There are so many collaborative partners trying to solve problems in these areas. If I can bring those into our academic curricula and experiential learning opportunities, I think we can do amazing things to put our young graduates into the field with more current and relevant knowledge of operations."
Crosby will take a similar line leading the Army cadets. He began his service as an enlisted soldier in 1996 and competed to win an ROTC scholarship while on active duty. Crosby has served in a wide variety of command and staff positions from tactical to strategic levels, with the majority of his time in the areas of light infantry, airborne and special operations forces. Over a 20-year career, he has had multiple deployments to Africa, Asia, Australia and the Middle East. His most recent assignment was managing strategic transportation at the US Transportation Command at Scott Air Force Base (Illinois). In 2014 he was promoted to the rank of major.
"RIT Army ROTC is a solid program with a 50-year legacy of producing excellence," said Crosby. "This program has a healthy culture, and we'll maintain that culture. And I am looking forward to meeting and leading these young men and women."
Turner and Crosby began their service leading the two RIT ROTC programs this summer, and replaced US Army commander Lt. Col. Christopher Otero, who recently retired, and Air Force commander Lt. Col. Dizzy Murphy. Murphy moved on to Washington, D.C., to serve in a Department of Defense inspector general position.
Both Army and Air Force ROTC programs are based in RIT's College of Engineering Technology. In the Rochester area, students from regional universities can participate at RIT, in its Army or Air Force ROTC programs, and at the University of Rochester, in its Navy, Marine and Coast Guard ROTC programs. RIT welcomes veterans and offers the Yellow Ribbon program, providing qualified veterans and dependents full tuition coverage; the university also has an established veterans club and the Veterans Upward Bound program.