RIT celebrates National Engineers Week
Demonstrations about 3D printing, microelectronics, manufacturing and drone technologies take place Feb. 18-23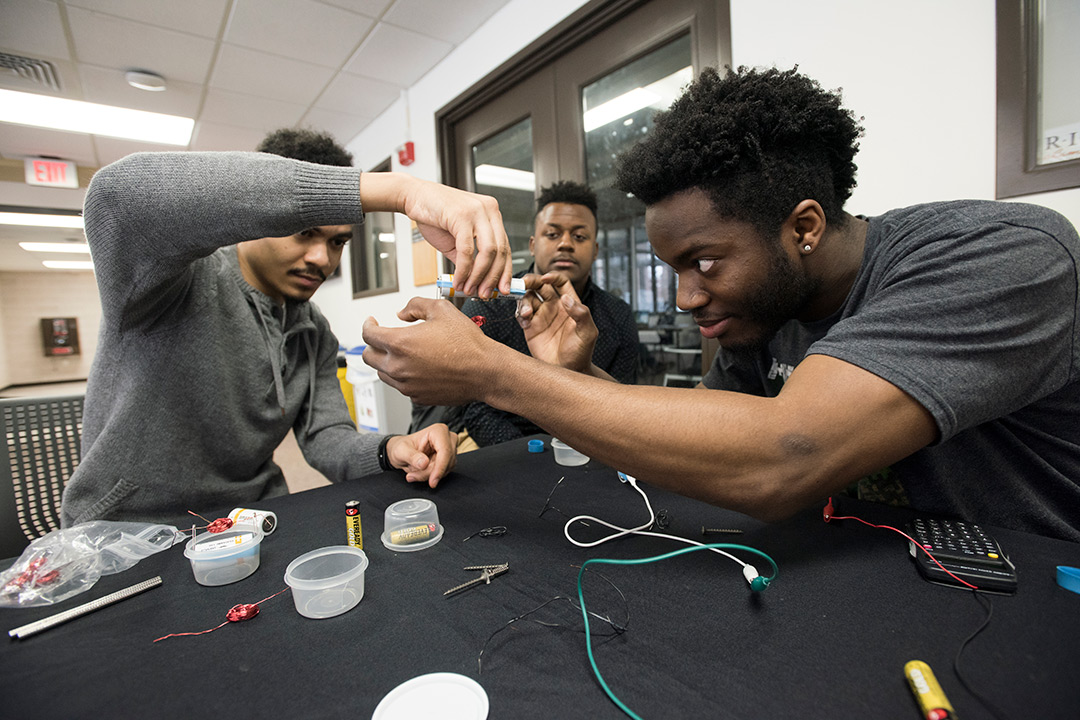 A. Sue Weisler
National Engineers Week takes place this week at RIT, and the university will participate in the annual recognition of engineers' contributions by hosting a variety of programming for those interested in learning more about what engineers do. Tours, demonstrations, faculty research and a STEM Fair are highlights of a week of programming coordinated by RIT's Kate Gleason College of Engineering and the College of Engineering Technology.
Highlights of the week include:
Faculty Research Spotlight: 3:30 – 5 p.m.Tuesday, Feb. 19, McGowan Commons, Engineering Hall: Learn more about research in additive and advanced manufacturing, robotics and telecommunications technologies.
K-12 Family Day: noon to 4 p.m. Wednesday, Feb. 20: Open to middle school students and their families, the half day activities extend across both KGCOE and CET laboratories and facilities. The program is sponsored by ECCOâ?'Engineers of Color Creating Opportunities, based in KGCOE. Nearly 50 students from both city and suburban schools are expected.
Artificial Intelligence and Robotics Panel: noon–1:30 p.m. Thursday, Feb. 21, Louise Slaughter Hall, room 2210: Engineering alumni Tyler Grandahl and Chris DeVries will be joined by CET faculty member Yang Ming, to discuss the latest trends in AI technology and research. Moderated by CET Professor Marty Gordon.
Virtual Reality Simulation: 1:30 – 3:30 p.m. Thursday, Feb. 21, Brinkman Hallway, KGCOE: Learn about and test different virtual reality systems.
The Evolving Landscape of Flying Drones: noon – 1:30 p.m. Friday, Feb. 22, Louise Slaughter Hall, room 2240: Learn more about drone technology research and capabilities at RIT and the current policies for flying drones on and off campus.
KGCOE Emerging Leaders Panel: 2 – 3 p.m. Friday, Feb. 22, Kelly Conference Room, 9-2255: Hear from engineering alumni Josa Hanzlik, Josh Dennie and Amanda Weissman about their work in industry.
KGCOE Academy Inductees and Emerging Leaders Ceremony: 4 – 6 p.m. Friday, Feb. 22, Xerox Auditorium: The Kate Gleason College of Engineering will induct five successful and influential alumni into its engineering academies: Sergey Katsev '06; Michael Oshetski '03; Steven Carlson '88; Thomas Jefferson '94 and Lynn Bishop '93. The college will also recognize four emerging leaders at the ceremony: Josa Hanzlik '08; Josh Dennie '07; Alvaro Rojas Arcinegas '08 and Amanda Weissman '09. A reception will follow.
Girls STEM Fair: 9 a.m. to 12:30 p.m. Saturday, Feb. 23, atrium of the Golisano College of Computing and Information Sciences: Open to middle school girls, the fair will feature information, demonstrations and hands on activities conducted by female engineering students. The event is hosted by RIT's Women in Technology, based in CET, and RIT's K-12 Program.
RIT is one of hundreds of universities and organizations across the country involved in the national program and has had regular involvement over the past few years by faculty, staff and students from the Kate Gleason College of Engineering, the College of Engineering Technology and the B. Thomas Golisano College of Computing and Information Sciences. Engineers Week is led by Discover E, and its mission is to sustain and grow a dynamic engineering profession through outreach, education, celebration and volunteerism.
This year's theme is Engineers: Invent Amazing, and it is a way to influence the next generation of students to learn more about how engineers are creative problem-solvers that design devices that influence people's lives --- from assistive technologies to autonomous vehicles. At RIT, these devices are being developed by faculty and students in the engineering and engineering technology colleges.
Topics
student clubs and organizations