RIT City Art Space ushers in new creative era for Rochester
Inaugural exhibit features the works of Willie Osterman and Leonard Urso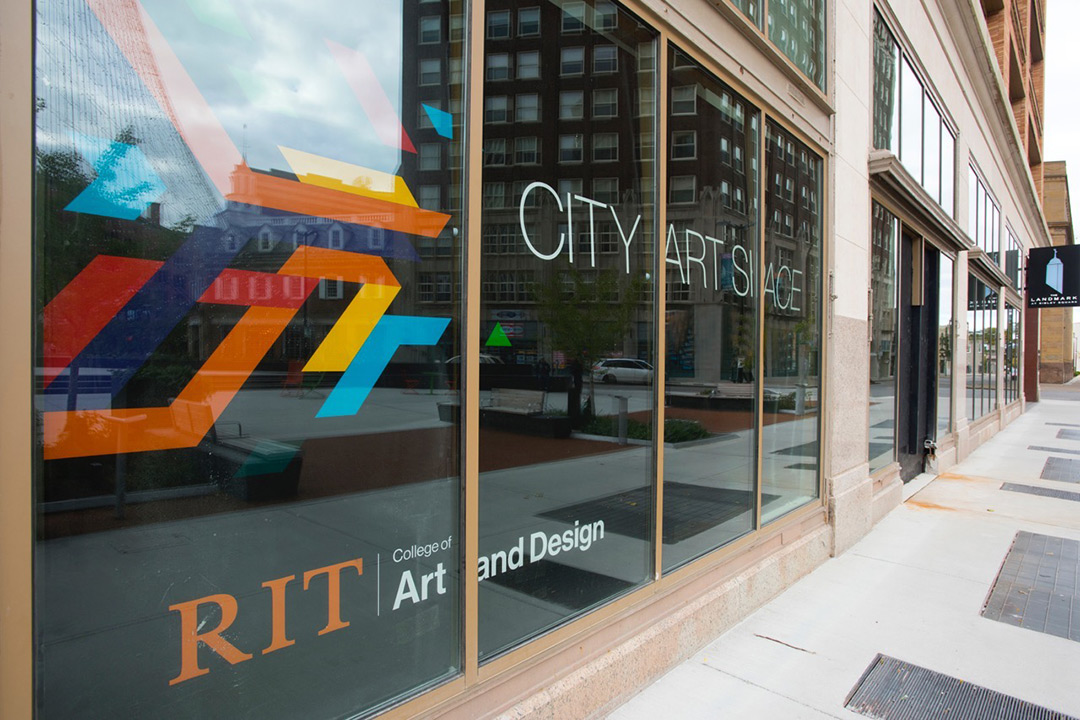 RIT City Art Space—the College of Art and Design's new first-floor gallery and community event venue inside Sibley Square at Liberty Pole Plaza in downtown Rochester—opens its doors to the public on Friday, Dec. 7, with an exhibition featuring two of the university's creative titans.
As part of the "Faculty in Focus" series, RIT City Art Space will present the work of RIT professors and lifelong artists Willie Osterman and Leonard Urso. Osterman teaches fine art photography in the School of Photographic Arts and Sciences, and Urso is a professor of metals and jewelry design in the Schools of Art and American Crafts.
The joint exhibition, titled "Emergence," runs through Jan. 20, 2019. An opening reception—part of the monthly First Friday art series in downtown Rochester—will take place from 6 to 9 p.m. and is free and open to the public. Osterman and Urso will be in attendance.
"City Art Space is so much more than an exhibition venue for our students, faculty and alumni," said Robin Cass, interim dean of the College of Art and Design. "It's a platform for all sorts of programming that will enrich the life of the community and reconnect RIT to its downtown roots through creativity."
The college's interior design students helped figure out how the space could be flexibly designed to accommodate this vision, Cass added. "It's very exciting to see this dynamic new venue become a reality—and we're looking forward to being an active part of the city's cultural life for many years to come!"
RIT City Art Space adds a sparkling new art, educational and event spot to the Midtown/East End district at the corners of East Avenue, Main and Franklin streets— across from RIT's Center for Urban Entrepreneurship. The close proximity of the two initiatives provides the opportunity for cross-programming and engagement with alumni, K-12 populations and the downtown community at large—including underserved, at-risk and continuing-education populations.
About the exhibition
Osterman and Urso have spent the last 30 years in close proximity inside RIT's College of Art and Design, developing distinguished careers as artists and educators. Not until recently, however, did they spend time looking at or discussing each other's work, according to John Aäsp, gallery director for the college.
At first, it might be easy to classify Osterman as a photographer and Urso as a sculptor, especially in the context of what they teach. But if asked, they resist any reductive classification. Both are interested in the practice of art as curiosity, research and ritual—how human elements, mark making and visual mythologies emerge and inform ancient to contemporary cultures.
"While that conversation certainly involves more than the work of these two artists, it sparked Osterman and Urso's attention to each other's work," Aäsp noted. "After several discussions and studio visits, their common interests became a collaborative thread that runs
through the works in this exhibition."
This exhibition, while offering only a glimpse, aims to show that even after decades of honing a personal visual language and practice, the slightest gesture of collaboration can generate unexpected ideas, cross-disciplinary dialogue and new paths for future creative development.
"In that spirit, the process of coming into being—Emergence—is celebrated in parallel with the debut of RIT's new City Art Space in downtown Rochester," Aäsp noted.
About the artists
Osterman has been teaching, researching and working as an active artist since 1984. He received a Bachelor of Fine Arts degree in photography with a minor in art history from Ohio University, and a Master of Fine Arts degree in visual design and photography from the University of Oregon.
He worked for Alan Ross and the late Ansel Adams as a printing assistant in the production of the Ansel Adams Special Edition Prints in Carmel, Calif. His publication DeÌ?jaÌ? View: A Cultural Re-Photographic Survey of Bologna, Italy, in its second edition, is now out of print. In 2009, Osterman received a Fulbright Scholars Award to develop the first master's degree program of photography in Croatia at the Academy of the Dramatic Arts, University of Zagreb, Croatia. He also has worked as a contract photographer for the Eastman Kodak Co. and appeared in the 2017 documentary Photo City, which chronicles the history and lives of Rochester's photographic and creative community.
His work is exhibited internationally and can be seen in numerous collections, including The Museum of Contemporary Photography, Chicago; University of New Mexico Museum of Art, Albuquerque; The George Eastman Museum in Rochester; New Orleans Museum of Art; Portland Museum of Art; Lotus Collection, Salzburg, Austria; Museo della Fotografia Cinisell Balsamo, Milan, Italy; Museo Civico del Risorgimento, Bologna, Italy; Alinari Photographic Archive, Florence, Italy; Muej Grada Zagreba (City Art Museum of Zagreb), Croatia.
Urso is the Ann Mowris Mulligan Distinguished Professor in RIT's School for American Crafts, a position he has held since 1993. A native of Rome, N.Y., his pursuit of art began when he was a young man and eventually led him to study at the State University of New York College at New Paltz. After graduating with a Master of Fine Arts degree, Urso began his professional career as a designer and silversmith for Oneida Ltd. Silversmiths.
His work has recently been featured in the collections of the Los Angeles-based lifestyle brand Simon Miller, where Urso's painting and sculpture serve as inspiration for their fashion collections. He recently created a jewelry collection based on his elemental human forms for the brand, receiving praise from publications such as Ssense, Pret-a-Reporter and Vogue.
Urso's studio is located in Rochester, where he creates large- and small-scale sculptures and paintings. His work is exhibited nationally and internationally and is part of several museum, corporate and private collections, including the Gyeongnam Art Museum of South Korea; the Art Institute of Chicago; the Memorial Art Gallery in Rochester; Shanghai University; Kanazawa University; The New York Times; Bucknell University; The Times Mirror Co.; Humana Inc.; Bausch & Lomb (now Valeant Pharmaceuticals) world headquarters; Colgate University; RIT; Garth Fagan Dance; Sybron Corp.; Robert Mondavi Winery; and The Washington Post.
The college's "Faculty in Focus" series is a platform to feature more extensive projects by one or more faculty members, and to engage with an extended community of artists, art lovers and educators through their creative work.
For more information on this exhibition or RIT City Art Space, contact AaÌ?sp at john.aasp@rit.edu or go to cityartspace.rit.edu.
'Intersections: The RIT Podcast'
"Intersections: The RIT Podcast" is a twice-monthly conversation between people whose daily work is making a difference in the world. In this episode, Robin Cass, interim dean of the College of Art and Design, and John Aäsp , gallery director, discuss how RIT City Art Space in downtown Rochester will invite the public to engage with the university through culture and creativity.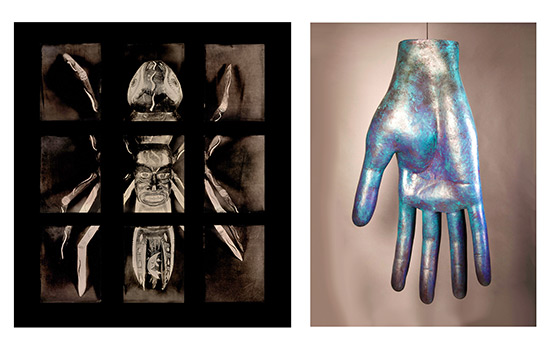 Video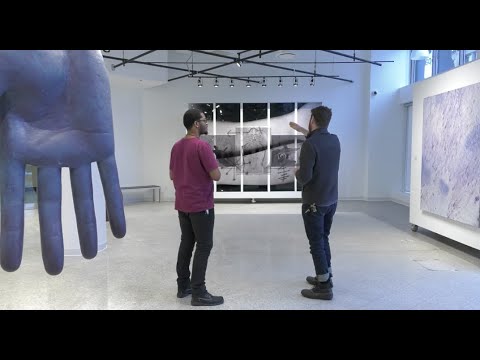 Topics