RIT Collaboration Rethinks Approach to Science Education
RIT professors join Project Kaleidoscope's Upstate New York Regional Network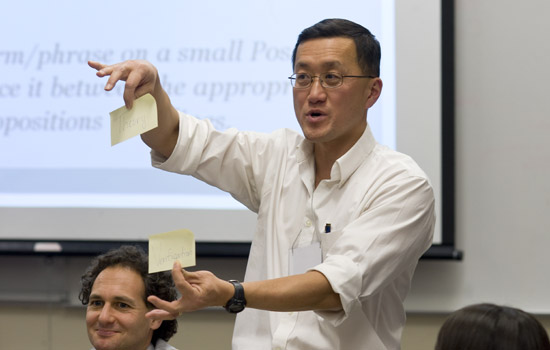 A. Sue Weisler
A small band of professors at RIT is leading the charge for culture change in science education on campus. They are part of a larger group of like-minded colleagues across the country echoing the same call for a new approach to teaching science, technology, mathematics and engineering—the STEM disciplines.
The founding members of RIT's Science and Mathematics Education Research Collaborative think something is missing in the classroom. Scott Franklin, professor of physics, and collaborators Dina Neman, assistant professor of biology; Tom Kim, associate professor of chemistry; Bob Teese, professor of physics; and Kate Wright, assistant professor of biology, run a weekly journal club and monthly seminar series discussing their research in STEM education, assessment and ways of bringing research-based methods into the classroom.
They recently connected with colleagues in the area to form the sixth regional network of Project Kaleidoscope. This national organization is a leading advocate for engaging and retaining students in the STEM disciplines, promoting scientific literacy and reasoning to all college graduates, and adopting teaching methods inclusive of underrepresented minority students. The Project Kaleidoscope network extends to more than 7,000 faculty members and administrators at more than 1,000 colleges and universities.
Project Kaleidoscope's Upstate New York Regional Network met for the first time at RIT Jan. 20 to discuss evidence-based classroom practice and assessment. RIT's Office of the Provost, College of Science and the Science and Math Education Research Collaborative supported the meeting that drew participants from Alfred University, Hartwick College, Hobart and William Smith Colleges, Monroe Community College, Nazareth College, St. John Fisher College, State University of New York College at Oneonta, University of Rochester, Wells College and RIT.
"Research show that students learn better in an engaging learning environment," says Susan Elrod, executive director of Project Kaleidoscope and a former geneticist at California Polytechnic State University at San Luis Obispo. "We are working toward a more interactive, engaged learning environment that makes STEM classes problem-based and relevant. When you create an engaging learning environment, you engage the learner."
Defining evidence-based teaching methods is an essential strategy for implementing Project Kaleidoscope initiatives, Franklin says.
"The focus of the networking workshop was to bring people together to learn what best practice is and to be more effective in the classroom, " Franklin says.
Workshop participants sought suggestions from other Project Kaleidoscope members on ways to use small group activities to complement their classroom discussions. "That's what we're hearing," Newman says. "They're saying, 'I want to do more active learning in classroom, but I don't know how. We're here to learn.'"
"It's great that Susan Elrod came and that we're on her map," Newman adds.
Project Kaleidoscope's Upstate New York Regional Network will hold a summer meeting to discuss discipline-based research. For more information, contact Scott Franklin at svfsps@rit.edu or Dina Newman at dlwsbi@rit.edu.