RIT in Cooperative Education Hall of Honor
Permanent installation commemorates university's tradition of co-op excellence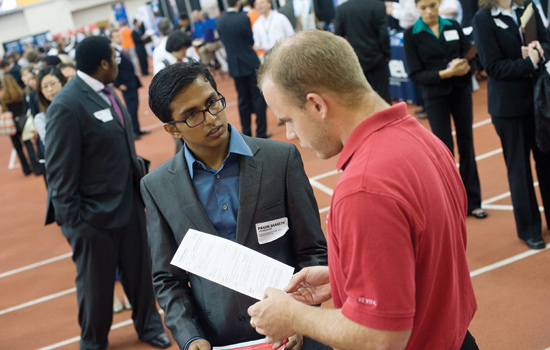 A. Sue Weisler
Ensuring that students gain meaningful work experience before they graduate is a long-standing hallmark of Rochester Institute of Technology. As a result, the university is among the newest inductees to the Cooperative Education Hall of Honor.
RIT was recognized during a ceremony held Feb. 16 in Cincinnati. The names of each inductee are engraved in granite and placed in the Herman Schneider Quadrangle on the campus of the University of Cincinnati. Manny Contomanolis, associate vice president and director, and Louise Carrese, senior associate director, represented RIT's Office of Cooperative Education and Career Services at the formal induction.
"This recognition comes as RIT prepares to celebrate the 100 year anniversary of its co-op program," Contomanolis says. "Induction into the national Hall of Honor recognizes the contributions of our outstanding students and employer partners over a long period of time. It's an honor for us to accept this recognition on behalf of RIT."
RIT's co-op program is one of the oldest and largest in the nation, and the annual U.S. News & World Report "America's Best Colleges" survey recognized it among the top 10 programs of its kind for 2012.
The Cooperative Education Hall of Honor was developed in 2006 to recognize the centennial of the founding of cooperative education. It provides a permanent place to honor individuals and organizations that have significantly contributed to the qualitative advancement of cooperative education.