RIT doctoral student named Technology Woman of the Year
Jennifer Kruschwitz recognized and honored by Digital Rochester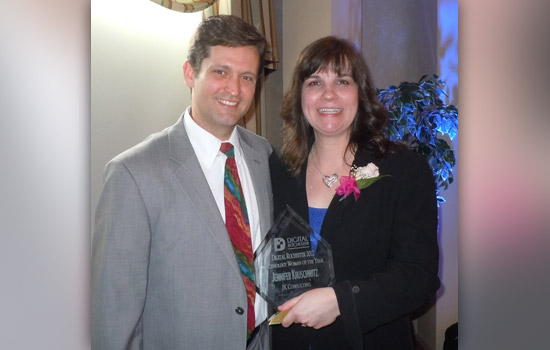 Jennifer Kruschwitz, a Rochester Institute of Technology doctoral student in color science, is this year's Technology Woman of the Year. The honor was presented last month during an awards banquet hosted by Digital Rochester.
Kruschwitz is an independent consultant, adjunct professor and a member of the Optical Society of America and International Society for Optical Engineers and has published more than 15 journal articles. She has served on the board of The New Agenda, which helps women and girls improve their lives, and on the Optical Society of America International Society Board of Directors.
The prestigious award recognizes and celebrates the achievements of women in high-technology fields dealing with data, processes and implementations of information systems in the Greater Rochester area.
"I am so grateful and lucky to have met the other women nominated," Kruschwitz says. "It is wonderful to see so many successful women in Rochester in the technology field."
Upon completion of her Ph.D., Kruschwitz hopes to become a university professor so that she can engage and encourage students to pursue careers in the optics field while helping to advance technology and science.
"I was encouraged to go into the optics field after speaking with some fantastic female mentors that were in the field themselves. It helped me to push myself to learn everything I possibly could about optics," Kruschwitz says.