RIT Dota 2 team wins Grand Championship
Team of RIT students wins $10,000 in esports tournament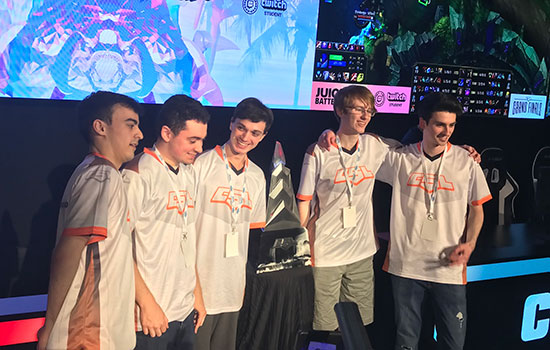 Chad Weeden
Rochester Institute of Technology is securing its legacy as one of the best colleges in esports after winning its first Collegiate Starleague (CSL) Dota 2 Grand Finals Championship April 28. The student team bested a bracket of North America's 32 top universities to take home the $10,000 grand prize.
The team also made it to the finals of the American Video Game League's (AVGL) April Anarchy, in early April.
The RIT team flew to Huntington Beach, Calif., to take on McMaster University in the final four of the CSL Grand Finals. After winning the series 2–1, RIT moved onto the finals where they beat University of California, Davis.
"It's been an eight-month marathon to get to this point, and the guys were ecstatic to bring home this championship," said Sam Belisle, second-year game design and development major from Shelburne, Vt. and manager of the team. "Going into the playoffs, we had a target painted across our back, and the expectations couldn't have been higher."
"The dedication and drive this team has to be the best is immense, and I strongly believe it'll be the staple of RIT esports for years to come," Belisle added.
The students battled on stage in front of more than 200 fans in-person and thousands more online. As the top team, the RIT players will each get a championship ring.
"This team represents the best in our students, with unparalleled passion and dedication to their esport," said Chad Weeden, assistant director of RIT's School of Interactive Games and Media in the B. Thomas Golisano College of Computing and Information Sciences, who attended the finals. "They give RIT pride and they are champions!"
The RIT Dota 2 team includes Belisle; Reed Cogliano, a second-year computer science major from Carlisle, Mass.; Nicholas Giordano, a third-year software engineering major from Warren, N.J.; Benjamin Morgan, a fourth-year game design and development major from Peru, N.Y.; Jazib Rao, a third-year management information systems major from Queens, N.Y.; Will Dickinson, a fourth-year game design and development major West Hartford, Conn.; and Carter Kerstetter, a fourth-year computer science major from Lewisburg, Pa.
 "Esports like traditional sports take years of practice to master and teamwork is essential to success," said Weeden. "With more than 900 colleges competing in CSL this year, it is fair to say that esports are not just a subculture but are being brought into the mainstream."
To learn more about RIT esports, go to esportsrit.com.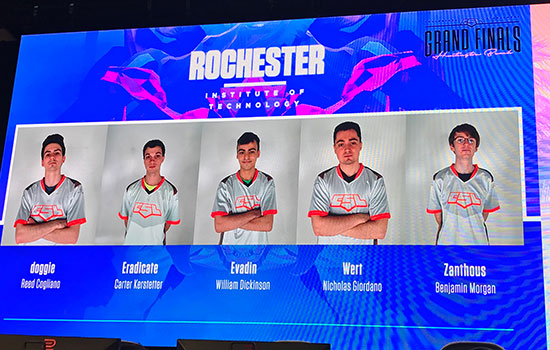 Related News
Topics