RIT employee shows off toppling talents on 'Domino Masters'
Jared Lyon and his 'Bearded Buddies' teammates compete for a $100,000 prize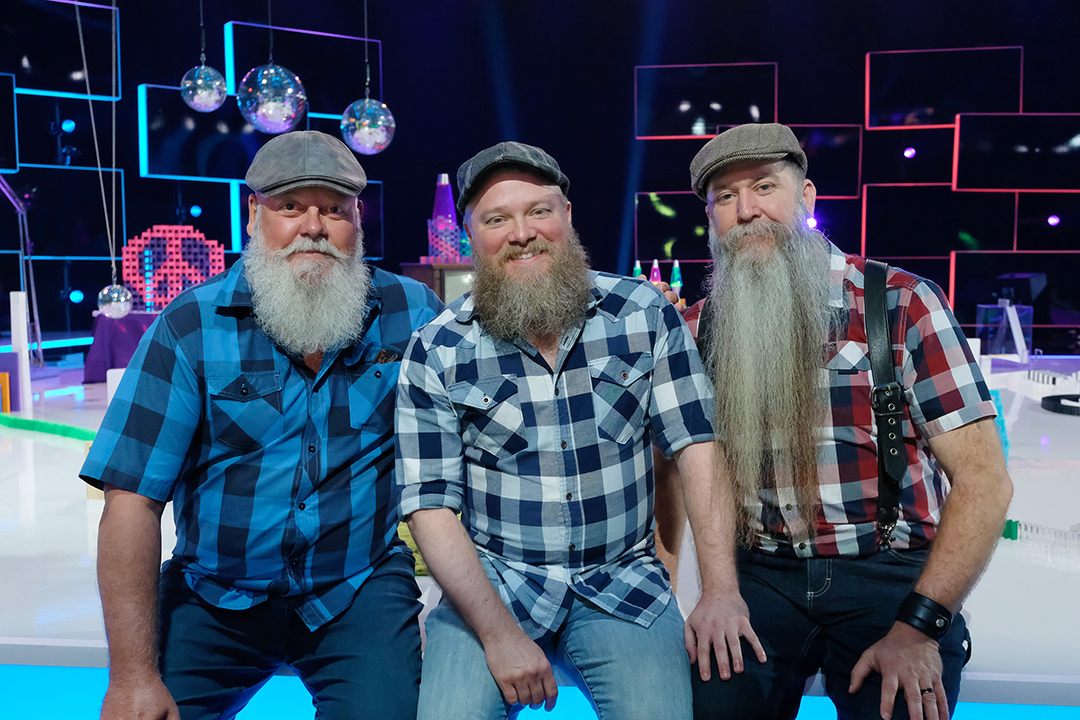 A Rochester Institute of Technology employee is on one of 16 teams vying for a $100,000 top prize on Domino Masters, Wednesday at 9 p.m. (EDT) on FOX.
Jared Lyon, of Rochester, a senior web developer/programmer in RIT's Marketing and Communications division, is on the "Bearded Buddies" team along with two of his friends, Paul McCaffrey, of Comanche, Texas, and James "Junior" Roth, of Kalamazoo, Mich. The three met while camping in Pennsylvania over the past several years.
Lyon says he enjoys the challenge of coming up with a creative use of dominoes. "I like the artistry of it," he said. "It's like when you look at any great painting, it's not just thrown together. It's a meditative thing."
McCaffrey works as an architect and brought his engineering skills, and Roth played with dominoes in his youth.
Although some of the show's contestants have had lifelong passions with dominoes, Lyon said his first serious display with them came when he created a video to advertise RIT's second Imagine RIT: Creativity and Innovation Festival in 2009.
"I was brainstorming what could make a video go viral and thought I could make one with dominoes, and it would be cool to have the dominoes toppling around the university," said Lyon, also a 2001 information technology graduate of RIT. That experience inspired another video which had dominoes playing tiny bells as they toppled to make a Christmas carol. That video was featured on CNN. Altogether, Lyon's domino videos have been viewed more than a million times online.
Those online videos are what caught the attention of a casting agent for the show, who, out of the blue, called Lyon to ask if he would be interested being on Domino Masters, which was filmed in Los Angeles last May and June.
"I had never been to L.A., and I was working remotely anyway due to COVID, so why not?" he said. He asked his friends to be on the team and they flew to California.
"The whole experience was awesome," Lyon said. "Just being there to see all the behind-the-scenes activity of a television show was something that was intriguing." And being around other domino enthusiasts — some he had known from seeing their videos — was also impressive.
Each episode features four teams who are given tasks to make a domino display with a certain theme, and they had 16 hours to complete it. The teams had 1 million dominoes to work with for each show.
For a payoff that lasts only a few minutes, 16 hours may seem like a lot of time. But it wasn't.
"Domino art is not a drama-filled thing," Lyon said. "You're setting up dominoes for hours at a time."
He said the show had numerous cameras at every stage of the setups in case of the dreaded "accidental topple."
"It was a bit nerve-wracking when you're trying to do something very intricate and look up and there's a camera right there," Lyon said. "No one was sitting around. With dominoes, you can spend three hours doing something and you know that if this falls, you're scrapping this section. You leave in break points so if that section falls, you won't topple the whole thing prematurely."
He said each team's creativity was impressive, and they were allowed to use set pieces and props provided by the show to help further display the theme.
"It's interesting how each team picks different themes and comes up with these great setups," Lyon said. "It was fun, and I think we did a good job."
The tentative air date for the series finale is May 11.
Even if his team doesn't win, Lyon said being on the show was "a fantastic experience. Who wouldn't like to say they were on a network TV show?"
Coincidentally, the series features three other contestants with Rochester connections. Chris Wright, who was on the first episode on the "Brains and Brawn" team, which advanced, is a Fairport native who last year moved to Boston. And cousins Michael Fantauzzo and Matt VanVleck, from Rochester, are on the "Back Breakers" team, whose first episode is scheduled to air on March 30.