RIT expands genomics research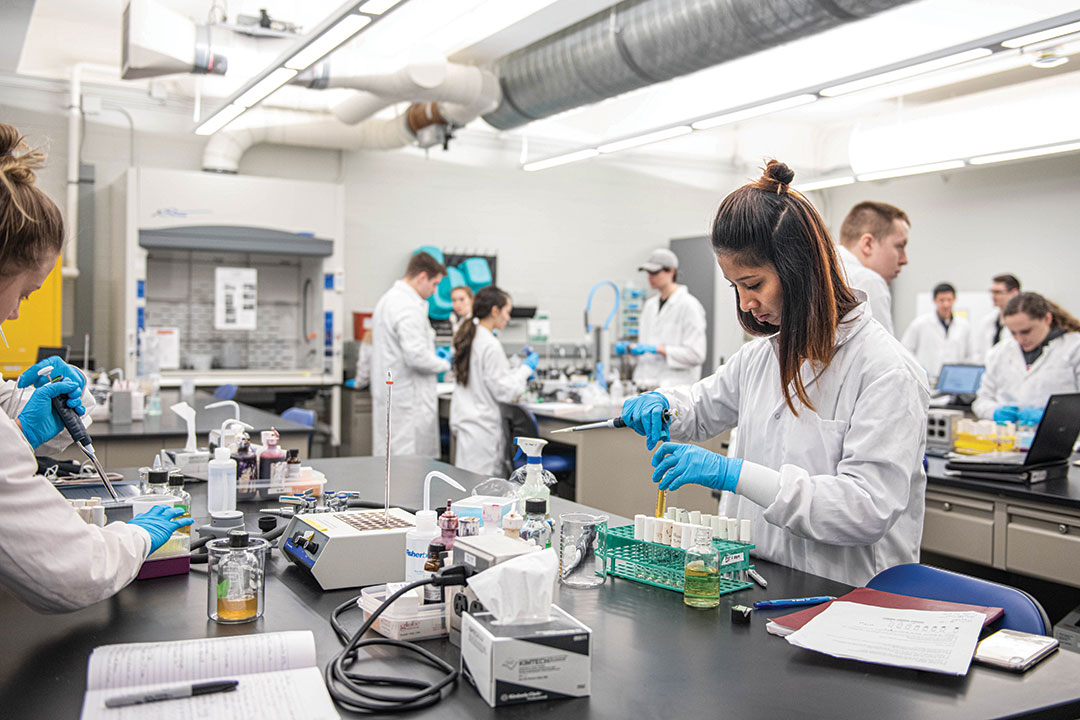 Gabrielle Plucknette-DeVito
Students in Professor André Hudson's genomics course last fall conducted a semester-long study about antibiotic-resistant bacteria found on the screens of smartphones.
With touchscreen devices now ubiquitous in society, they aimed to evaluate potential public risks the devices pose for harboring and transmitting pathogenic bacteria that are resistant to antibiotics.
Their findings, which showed that kiosk-like touchscreen devices at locations such as airports, ATMs, restaurants and hotels are potential vectors for the transmission of antibiotic resistant pathogens, were published in the February issue of the Journal of Genomics.
"This study was more than just a valuable learning experience for us," said Spencer Richman, a third-year bioinformatics and computational biology student from Santa Clarita, Calif., who contributed to the study and is one of the 16 student co-authors on the paper. "While working on this project, we learned the intricacies of genomic research, ranging from experimental design, to sample preparation, to bioinformatics analysis of the resulting data, and finally to the writing and peer-review process."
RIT's genomics research capabilities have evolved significantly over the past year. The university has invested heavily in revamping and equipping its Genomics Research Lab Cluster. A $1.5 million Empire State Development grant RIT received from New York state last fall helped equip the labs.
RIT renovated its genomics suite of laboratories and invested in technology such as an Illumina Next Generation Sequencer, which allows students and faculty to sequence the genomes of more complex organisms than before.
"This means that we now have a larger footprint in an area of biology that is traditionally aligned with RIT's core interests in technology and the application of technology," said Hudson, head of the Thomas H. Gosnell School of Life Sciences. Hudson emphasized that the labs would be used for courses and research across the College of Science.
The overhauled genomics facilities will boost capabilities for researchers in multiple disciplines, including bioinformatics, biotechnology and environmental science. Hudson said that the RIT facilities will not be like a traditional core at a research institution where students drop their samples off and walk away—undergraduate and graduate students will be working hands-on with the equipment.
"We're exposing our students to new and state-of-the-art equipment that they can leverage when they go on co-ops, inter­nships, fellowships and the job market," said Hudson. "They will be more competitive for graduate or postsecondary graduation opportunities as they will have been exposed to state-of-the-art equipment."
Beyond the new hardware, Hudson said RIT is also bolstering its "gray matter infrastructure" in genomics. Two new assistant professors—Eli Borrego and Crista Wadsworth—will join the RIT faculty this fall as part of the genomics initiative, and genomics technician Narayan Wong joined RIT in the spring of the previous academic year.