RIT experiences ingenuity at CES
Alumni, faculty and students converge and connect in Las Vegas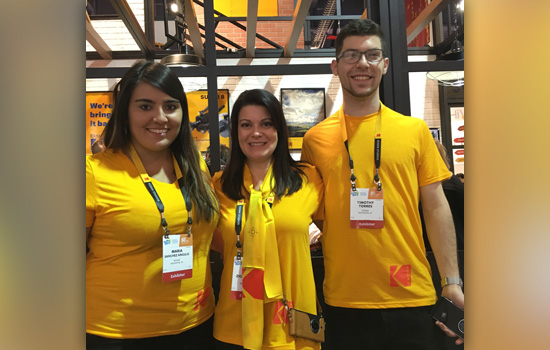 Laura Zigarowicz, a Kodak brand manager, knows that if you're a technology company looking to show off your products to the world, the Consumer Electronics Show is the place to be.
More than 170,000 tech enthusiasts gathered from around the globe to experience technology innovation spanning 2.5 million net square feet of exhibit space for the 50th anniversary of CES. And dozens of RIT, alumni, faculty and students joined the consumer technology frenzy.
"Kodak's primary objective at CES this year is to talk about our new Kodak EKTRA smartphone, which is camera centric," said Zigarowicz '98 (biomedical photographic communications). "We also announced we are going to start remanufacturing Kodak Ektachrome film. We have seen an analog renaissance in film. We have listened to our customers and they are very excited about this announcement. We have a host of new products and CES is the place to launch them."
And help launch careers. The Kodak team also brought two RIT co-op students to the gadget show.
Maria Sanchez Angulo, a visual communication design graduate student from Merida, Venezuela, helped work on some of the graphic design that went into the Kodak display. Tim Torres, a fourth-year dual major in new media design and photojournalism from Hershey, Pa., was working on Kodak websites prior to getting the call to attend CES.
"This is an incredible experience," said Torres, who has dreamed of attending CES since high school. "This excites me because I am into consumer technology. You are looking into the future by being here."
Emmy-award winning tech reporter Kate Linendoll '05 (information technology) looked to the future by testing drones, futuristic cars, virtual reality and robots at the event. Her reports aired on the NBC Today show.
RIT's Golisano Institute for Sustainability was also well represented at CES. Callie Babbitt, associate professor in GIS, released the initial results of a comprehensive materials baseline study for all consumer electronics sold into the U.S. market for the past 25 years. And Nabil Nasr, associate provost and director of GIS, spoke on a panel that addressed sustainability issues that are on the horizon. Nasr was joined on the panel with leaders from the Consumer Technology Association, Google, Samsung, the U.S. House Committee on Energy and Commerce, and the Environmental Protection Agency.
CES is the place to scout for technology trends and start-up companies. Michelle Magee, associate director for employer relations, Office of Career Services and Cooperative Education, said her CES mission is to connect innovative companies with students and alumni.
"I see a ton of synergy. I can see the connections here and what is happening back on campus," said Magee. "We are able to see what is new and fun."
Perhaps no one in the RIT family has been to CES more than Bob Rose '78 (photo sciences), now an instructional faculty member in the College of Imaging Arts and Sciences. He has attended 35 shows.
"This helps me stay current and make connections with various companies for students," said Rose. "My students are very interested in anything that is new and how I can help connect them. They need to understand their various options out there. It's a big world and it's our job to expose them to that."
Topics