RIT is first private university to join Innovare Alliance at Griffiss Institute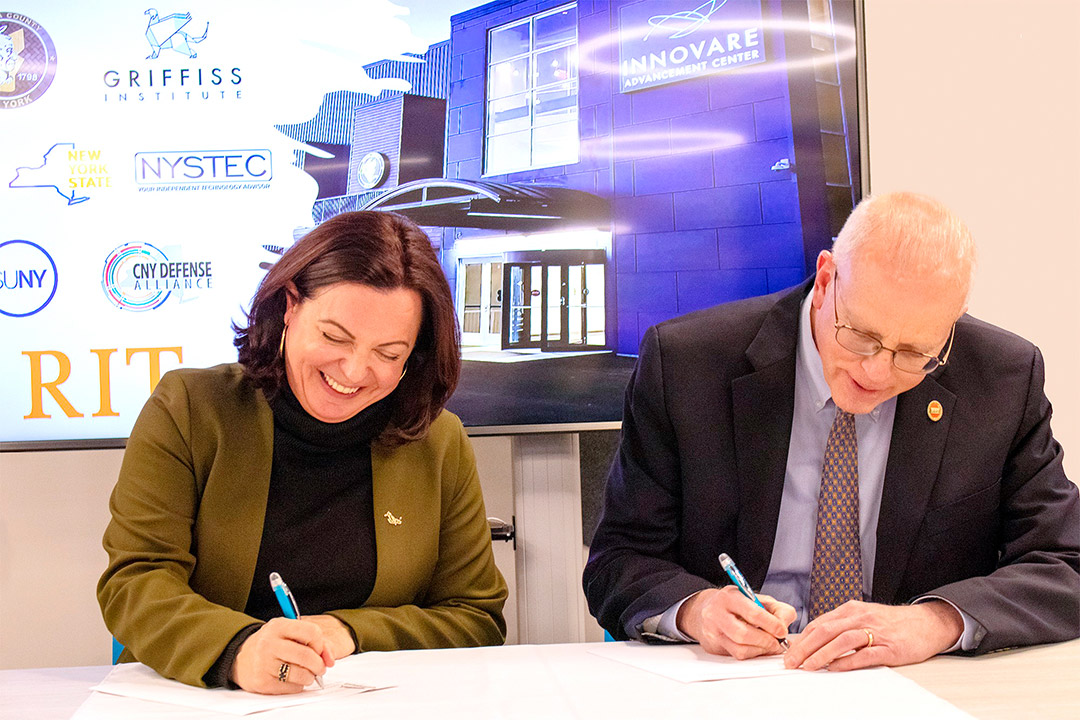 A new partnership between RIT and Griffiss Institute aims to expand access to high-quality educational training, research, and entrepreneurial opportunities in Upstate New York.
The partnership will stimulate collaborative approaches to experiential learning, use-inspired research translation, and technology commercialization in artificial intelligence, machine learning (AI/ML), quantum, cyber, and uncrewed aerial systems (UAS) in the Upstate New York region.
Innovare Advancement Center is America's first and only facility for convergent activities in AI/ML, cyber, quantum, and UAS research, development, testing, evaluation, and commercialization among academic, industry, and defense partners in an open innovation environment.
"RIT is proud to be the first private university to join the Innovare Alliance to better align the talent and expertise of RIT students, faculty, and staff with our fellow scientists, engineers, and entrepreneurs at the Griffiss Institute," said RIT President David Munson. "Working collaboratively, we will continue to address the country's greatest challenges including national security, workforce development, and economic competitiveness."
The Innovare Alliance is dedicated to fostering an Open Innovation Environment among Upstate New York academic, industrial, and defense communities. Other top-tier allies include the Air Force Research Laboratory Information Directorate; the Griffiss Institute; Oneida County of New York; City of Rome, N.Y.; Central New York Defense Alliance; State University of New York; and New York State Technology Enterprise Corporation.
The role of the Griffiss Institute is to advocate and facilitate the cooperation of private industry, academia, and government in developing solutions to critical cyber security problems, as well as build upon technologies under development at the Air Force Research Lab (AFRL) Information Directorate to further strengthen the nation's security.