RIT at forefront of health-care delivery trend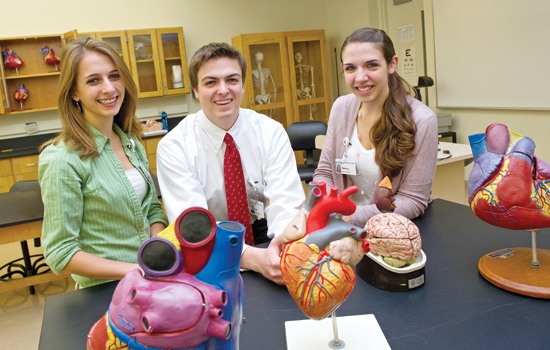 A. Sue Weisler
Talia McKay checks the refrigerator for healthy food. Then she looks for trip hazards in the apartment to protect her patient and spends the rest of her visit talking with the elderly woman about her health.
McKay is a health coach. She and her RIT classmates are at the forefront of a quiet trend in health-care delivery. They are volunteers from Rochester Regional Health System that visit patients at home who suffer from chronic conditions and pose a high risk for preventable hospital readmission, a costly problem facing hospitals nationwide.
"We work with patients to make sure they are taking their medicine and exercising," said McKay, a third-year biomedical sciences student from Windham, Maine. "Most of the time I'm there to be a friend and to make sure they're doing OK. The main goal is to keep them well and out of the hospital."
The Centers for Medicare and Medicaid Services predicts the U.S. will spend $960 billion on hospital care this year, which is one-third of total health-care costs. The centers project health spending will reach 19.3 percent of the GDP by 2023, an increase from 17.2 percent in 2012.
"Health coaching is an innovative approach to health-care efficiency and cost containment while keeping the care patient-centered," said Kristen Waterstram-Rich, professor and director of premedical studies in the College of Health Sciences and Technology and the program's point-person at RIT.
The Rochester Regional Health System and the Greater Rochester Independent Practice Association initiated the program through the RIT & RRHS Alliance and selected 12 RIT students to train as volunteers.
"We tell students they are the eyes and ears of the care team," said Jeremiah Kirkland, adjunct professor in the College of Health Sciences and Technology and project manager for Clinical Innovation at RRHS. "They are not clinicians. They don't prescribe medicine or diagnose. They build a relationship with the patient and look at the home environment and help us determine our care plan."
The seminar-style class, Community Health Care from Theory to Practice, introduces students to issues in the health-care system and precedes patient visits in subsequent semesters.
"Every week we were taught by a different doctor or nurse or specialist," said Kyle Burke, a fourth-year biomedical sciences major from Chelmsford, Mass. "They provided so much information from experience that I've never heard before."
Health coaching appeals to students interested in medical careers and gaining patient contact. The rapport they build can clarify misunderstandings between patients and health-care providers. Likewise, they relay information about their patients' home environment, nutrition and health needs during weekly debriefings with the health-care team.
"I'm becoming aware of what goes into the care of others," said Rebecca Wilhelm, a third-year biomedical sciences student from Penfield, N.Y. "There are so many needs to be met. Health coaching is very much about goal setting. It's about helping patients to make their own goals and achieve those goals."
The program is based on a model developed by Dr. Barry Bittman at Meadville Medical Center/Alleghany College in Meadville, Pa., and tailored to fit Rochester's needs. The initiative was championed by Dr. Bridgette Wiefling, chief clinical innovation officer; Dr. Mark Belfer, chief medical officer; Dr. Jeanette Altavela, vice president of care management and pharmacy services at GRIPA; Diane Turiano, executive director of clinical innovation; and Jeremiah Kirkland. Helping to implement the program at the university were Cindee Gray, RIT & RRHS Alliance assistant vice president; Daniel Ornt, dean/vice president of RIT's Institute and College of Health Sciences and Technology; and Kristen Waterstram-Rich, professor and director of premedical studies in the College of Health Sciences and Technology.