RIT graduate Peter Yeung found perfect fit within university's deaf community
Yeung's career is already underway with the National Geospatial-Intelligence Agency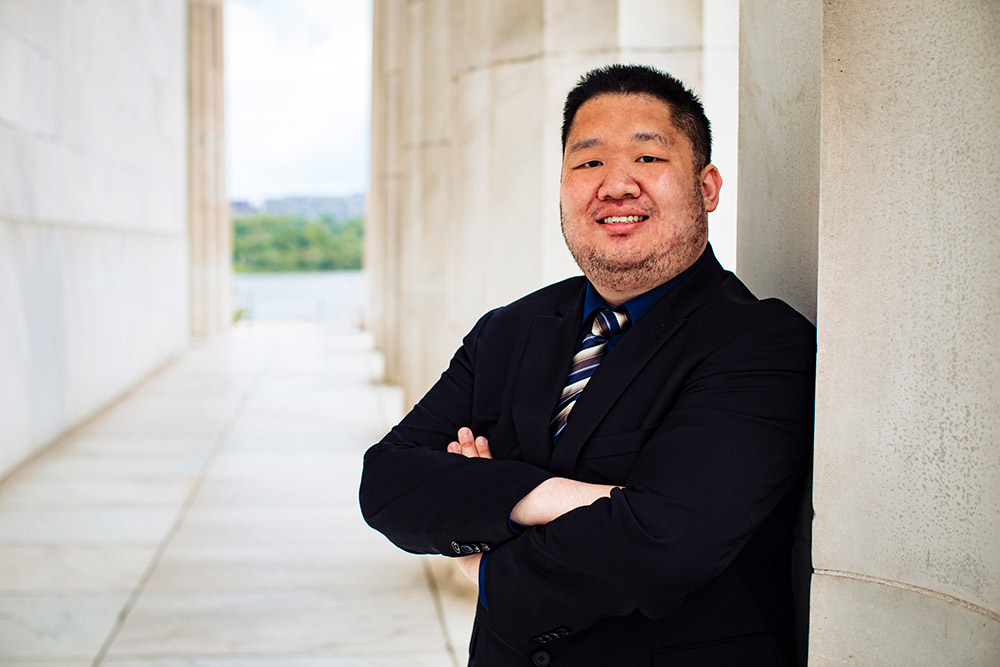 Eight years ago, as a high school junior, Peter Yeung participated in Explore Your Future at RIT's National Technical Institute for the Deaf, a program that introduces deaf and hard-of-hearing high schoolers to career opportunities. Today, Yeung is an RIT/NTID graduate who has completed three degrees and has started his career as a user experience architect with the National Geospatial-Intelligence Agency in Springfield, Va.
Yeung, who is from West Haven, Conn., grew up deaf in a mainly hearing environment. It was during his time at EYF that he discovered his connection to the deaf community.
"Because of my limited exposure to other deaf people, I felt awkward meeting so many deaf people during the first days of the Explore Your Future program," he recalls. "But, I found my deaf identity and immersed myself in deaf culture. I knew that RIT/NTID was the right place for me because it was a diverse mix of hearing, hard of hearing and deaf students, faculty and staff."
Yeung tested out the waters of learning about emerging technologies and earned an associate degree in applied computer technology from NTID. But knowing that he still needed to narrow his focus while developing his strengths in creativity and problem solving, he continued his education and earned a bachelor's degree in web and mobile computing from RIT in 2016.
"I realized soon after that I didn't really want to work on coding all day. I was encouraged by my family to look into master's degree programs. Through talking with professors, I learned about the human-computer interaction master's degree program, which ultimately allowed me to creatively solve problems through design and research," said Yeung.
As a user experience architect for the National Geospatial-Intelligence Agency, Yeung applies user-centered design principles to enhance the customer experience across domains, platforms, and enterprise systems. He also conducts research through surveys, interviews, and focus groups to gather data that will provide usability recommendations. In addition, he and his team develop workflows, personas, diagrams, flowcharts, and scenarios that promote intuitive user-centered design navigation and comprehension.
"I absolutely feel prepared for my new role because the materials and topics I learned from the human-computer interaction program are very similar to what I am working on with my current team," he said. "I would personally like to thank Professor Matt Huenerfauth and the other human-computer interaction faculty members for their support."
At RIT/NTID, Yeung held several positions in the Asian Deaf Club, including vice president, secretary and student advisor. He credits his time at NTID with learning to use alternative methods when communicating with hearing people, a skill that he is able to use in the workplace. He also offers some advice for RIT students.
"I have learned that it is essential to find something that really interests you. For me, that was the Asian Deaf Club. Once you find that 'something,' get involved and you will discover your true passions."
Topics