RIT health systems management MS program reflects changing health care industry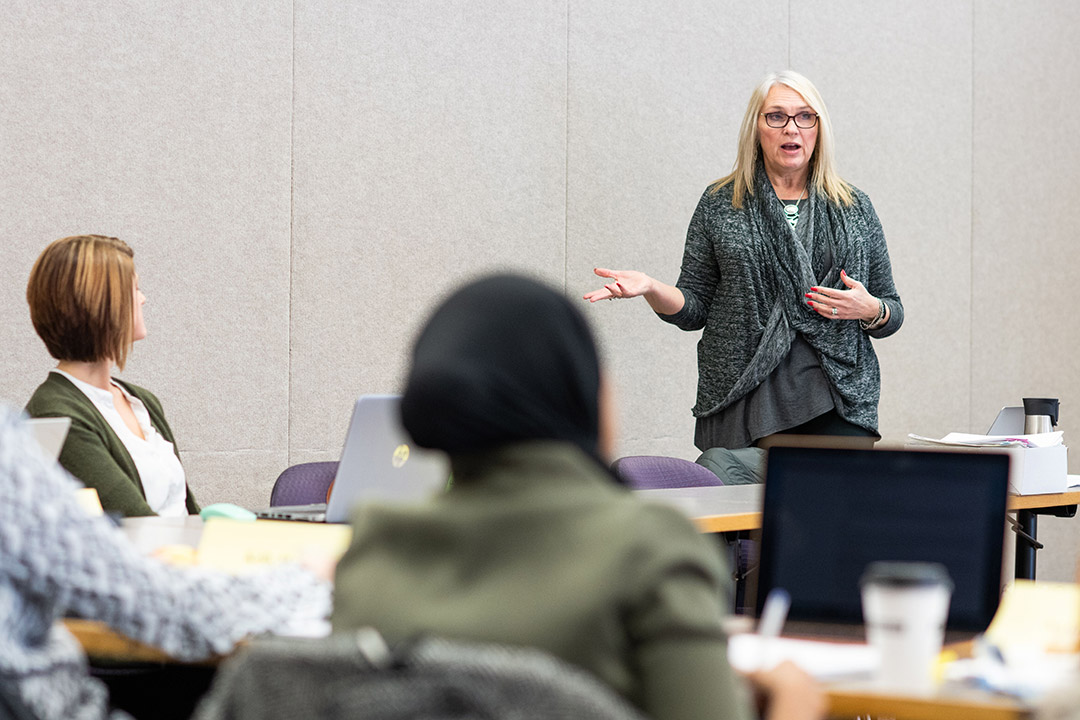 Gabrielle Plucknette-DeVito
Rochester Institute of Technology is changing how business leadership in the health systems industry is taught through a hybrid online program that includes immersive workshops and international travel to compare and contrast health care models.
The health systems management MS degree educates health care leaders to navigate a quickly changing field through a curriculum that develops student competency. Projected employment opportunities in the health systems industry will continue to grow in the new decade. The U.S. Bureau of Labor Statistics predicts a "much faster than average" employment increase of 18 percent in this sector by 2028. 
The graduate program, offered through RIT's College of Health Sciences and Technology, is designed for working professionals. The practical program focuses on team work, critical thinking and case analysis and can be completed in one to two years. The new curriculum, recently approved by New York state, includes 10 online courses, plus two on-campus workshops and a culminating travel course providing a real-life case study.
"A key challenge in health care right now is the ability to translate research to practice," said Carla Stebbins, senior lecturer and program director. "In this field, that would require translating a new policy or practice into an operating procedure and applying research findings to improve patient outcomes and organizational performance."
The program's faculty are working professionals with direct experience with the translation process. "These faculty understand how the work is done, the complexity of these organizations, and the intense speed at which they operate, and the cost of not changing what we do," Stebbins said.
The health systems management program focuses on and measures student success. The curriculum was customized to reflect the health care environment in Rochester, N.Y., and was validated by the program's faculty, advisory board and alumni.
Stebbins, who has taught health administration courses online since 1999, added the workshop and travel components to the online degree program for leadership development and network opportunities.
"Health care is a people-business," Stebbins said. "Managers and leaders in health care go to work at a place, interact with people in real time and face-to-face," Stebbins said. "They create environments that support hyper productivity and professional and ethical practice."
The on-campus workshops in January and August give Stebbins the chance to work "one-on-one with each student to make sure we're giving them the opportunity to grow these people skills so they can really influence change in the health care system."
Effective managers and leaders cultivate a network of support. Having the students come to RIT will help them grow their own professional network among each other, with leaders in the Rochester community, and with faculty and alumni who live and work in the area.
The workshops will focus on case studies that build in complexity over the four and a half day immersion courses and conclude with each team's report. The workshops simulate the challenges faced by health systems administrators and are followed by independent case study.
The workshops prepare students for their final case study exploring a different approach to health care management during a travel course. Students in the program will travel to Sweden in July to learn about its health system, government, political environment and culture. The group will visit clinics, long-term care facilities and pediatric hospitals.
 "We're trying to see a full spectrum of health care settings in Sweden," Stebbins said. "The idea is to provide students an opportunity to objectively study a health care system—one they are not part of—with the hope that, that experience combined with the content in the curriculum, will give them a new perspective to look at this system and to start to innovate change."
More information about the program is available on RIT's health systems management website.