RIT helps students take an entrepreneurial gap year
RIT student and CEO of Connexus Brandon Hudson receives first gap-year fellowship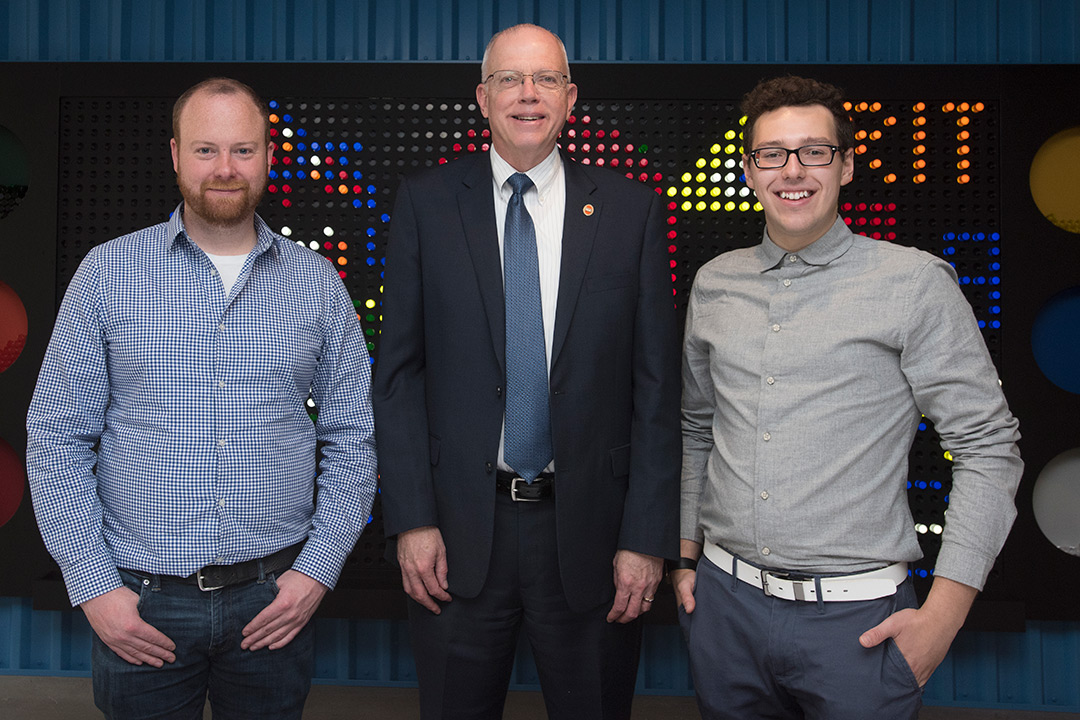 Brandon Hudson, a Rochester Institute of Technology student and CEO of Connexus, is taking a gap year to focus on growing his company with help from a new program at RIT.
Hudson is the first student selected for the Gap Year Entrepreneurship Fellows Program, which allows students with an ongoing enterprise to take a year to focus their full attention on the venture. As students develop their companies, they will receive $15,000 in support and mentoring from experts at the university, all while continuing to make progress on their RIT degree.
The fellowship is made possible as part of a $50 million donation made by 2009 RIT alumnus Austin McChord, founder and CEO of Datto.
Hudson, a fourth-year applied arts and sciences major in RIT's School of Individualized Study, co-founded and currently runs Connexus, a building control and monitoring company that has developed a unique web-based thermostat system. No stranger to running a company, Hudson began his entrepreneurial ventures in his first year at RIT with his business Click, a watchband adapter for Apple Watch.
"It's an honor to be selected as the first fellow and to help pave the way to showcase even more of the great things that are going on here at RIT," said Hudson, who is from Buffalo, N.Y. "This fellowship is a critical and well-timed opportunity that enables me to finally align my academic goals with the goals of my business."
The Gap Year Fellowship was created to encourage the entrepreneurial instinct of the many RIT students who start their own businesses. RIT's School of Individualized Study (SOIS), in collaboration with RIT's Simone Center for Innovation and Entrepreneurship, is offering the competitive fellowship to give selected students the chance to pursue a high value business, new product or compelling social innovation opportunity.
"Great ideas don't just happen in the last semester of senior year, and we recognize that innovation sometimes comes with a timestamp," said James Hall, dean of University Studies and executive director of SOIS. "Transformative businesses, products and social innovations have to be pursued with real urgency."
During the gap year, students will work with a Simone Center entrepreneurship coach who will serve as an adviser and mentor for the two-semester duration. Coaches and students will set performance goals at the beginning of the gap-year period and students will be required to submit monthly progress reports. The entrepreneurial experience can also count toward co-op requirements in the student's degree program. 
 "Our key motivation is helping the Simone Center meet its goals in producing successful student-established businesses—while also ensuring that our best young entrepreneurs don't have to make a choice between pursuing a high value opportunity and continuing to make degree progress," Hall said.
Connexus offers an Internet of Things (IoT) platform for HVAC contractors that streamlines installation, maintenance and management for customers—while reducing costs, time and energy consumption. The growing company is a member of RIT's Venture Creations technology business incubator and a finalist in the 2018 76West Clean Energy Competition, which includes a $1 million top prize.
"When I started my first business, Click, back in 2014 as a freshman, I was catapulted to the international stage almost overnight," said Hudson, who is 21 years old. "I quickly learned just how hard it is to run a business, while trying to ship thousands of orders to destinations around the world from the basement of my home.
"At the time, having a fellowship like this would have completely changed my outlook on the endeavor," Hudson adds. "It's exciting to know that other students that find themselves in unique situations like mine have an ever-evolving support system here at RIT."
The gap year fellowship is just the kind of program that would have attracted bioinformatics major and future winner of the Ernst & Young Entrepreneur of the Year New York Award, Austin McChord, said Hall.
McChord founded Datto, a global provider of Total Data Protection Solutions, in 2007. Starting with an idea he had while a student at RIT, McChord started the company in the basement of his father's office building. His original goal of building basic back-up for small businesses across the country has expanded dramatically over the past 10 years.
In 2017, McChord gave $50 million to RIT, the largest donation ever made to the university. The donation is part of a continuing $1 billion blended fundraising campaign, titled Transforming RIT: The Campaign for Greatness, that seeks to fund scholarship, research and facilities at RIT. As part of his gift, McChord wanted to help students advance their concepts into businesses.
"I'm very pleased to see the Entrepreneurial Gap Year Scholarship program taking shape at RIT, and look forward to seeing the great ideas that will come from its recipients," McChord said. "I wish Brandon all the best with his company, Connexus, and I'm excited to see how the scholarship will help him propel his company even further."
Related News
Topics