RIT to host Women on Wikipedia 'edit-a-thon'
Participants will help improve the representation of women on Wikipedia in celebration of Women's History Month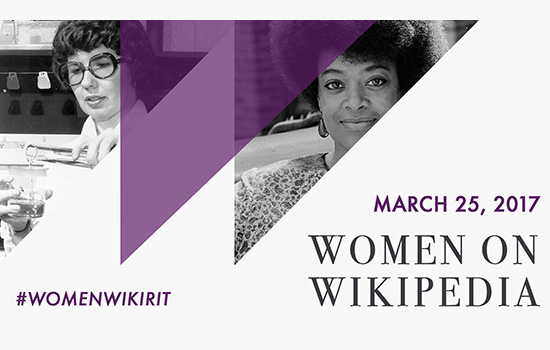 Rochester Institute of Technology is inviting members of the Rochester community to help improve the representation of women on Wikipedia, the popular free online encyclopedia that allows anyone to edit articles, on Saturday, March 25, at The Wallace Center on RIT's campus. The day-long event will empower participants to write and edit entries about notable women or topics related to women.
The Women on Wikipedia "edit-a-thon" will be held from 10 a.m. to 4 p.m. March 25 in The Wallace Center. The event is free and open to the public and refreshments will be provided. Participants are invited to come help for a half hour or longer, but are not required to stay all day. A limited number of computers will be available, but participants are encouraged to bring a laptop or tablet if they have one. Free Wi-Fi is available on-site.
Co-sponsored by RIT's Digital Humanities and Social Sciences Program and the RIT Center for Women and Gender, the event is being held in celebration of Women's History Month. RIT librarians and trained volunteers will be on hand to teach the fundamental principles and best practices of Wikipedia, how to create an account, how to use Wikipedia's editing tools. They will also provide a list of entries that need to be added or improved. No previous experience is necessary.
"We hope this event creates a sense of community both here at RIT and with the public," said Kari Horowicz, RIT librarian and co-leader of the event. "We would like to edit at least 250 Wikipedia entries, but ultimately the real goal is to have a group of people talking about how women are represented in these entries, learning about these women and their contributions to the world."
Wikipedia is the fifth most visited website globally according to Alexa.com, a web-tracking company owned by Amazon, but the site has received criticism over the years for its lack of representation of women. Tamar W. Carroll, assistant professor of history and the director of RIT's Digital Humanities and Social Sciences program, said "Women are very underrepresented as subjects on Wikipedia. There is less information about them and fewer women who contribute as editors. This event is a nice way to draw attention to women's history and make it more accessible via Wikipedia."
Carroll said participants can expect to "have a lot of fun, learn a lot and can take a lot of pride in making better information available to users worldwide. Millions of people are using Wikipedia every day and it really does make a difference."
Registration for the March 25 event is not required, but those interested in participating are encouraged to register via the Facebook event page at https://www.facebook.com/events/1207478005974606/. Participants may park for free in E Lot on the RIT campus.
Topics