RIT hosted briefing in D.C. on defense workforce
Panelists call for government support to build essential skilled workforce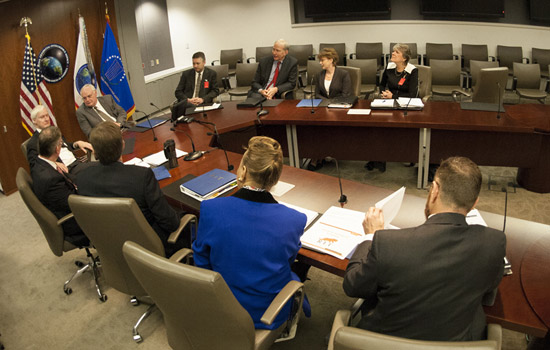 Provided by National Geospatial-Intelligence Agency
More than 60 people – including Congressional representatives, aides, staff of federal agencies and industry executives – attended a Dec. 3 briefing on Capitol Hill hosted by Rochester Institute of Technology on a pending crisis that has been dubbed the "silver tsunami."
The term refers to an impending crisis as the increasing capabilities and demands for satellite and remotely sensed data to support the nation's defense, intelligence and civil communities collide with the realities of a workforce rapidly declining through retirements.
The briefing, hosted by U.S. Rep. Louise Slaughter, D-Fairport, was entitled, "STEM Workforce in Remote Sensing, a National Imperative: Views and Next Steps from the Intelligence, Corporate and Academic Communities." Those attending heard from a panel of experts stressing the need to build a pipeline of future workers by encouraging more students to go into the science, mathematics, engineering and technology (STEM) fields, and calling upon Congress to help. What's needed, the panelists said, are people with the skills to further develop and build our remote sensing systems, as well as accurately interpret the data collected.
"The jobs are plentiful, and the students are in great demand," said RIT President Bill Destler in opening the event. Destler said he tells employers, "if you're coming to one of our job fairs hoping to hire these students, you're too late. They get snapped up."
Among the panelists were Keith Masback, president of U.S. Geospatial Intelligence Foundation Inc.; Minda Suchan, director of External Affairs and Advocacy at Exelis Geospatial Systems; Frank Avila, senior scientist at the National Geospatial-Intelligence Agency; Lenora P. Gant, NGA's senior STEM advisor; and Professor David Messinger, director of the Digital Imaging and Remote Sensing Laboratory in RIT's Chester F. Carlson Center for Imaging Science.
"I've been in this business for 26 years, and I remember when we were a niche workforce," said Avila. "Today, with the technology we have, we are an essential part of the team, and we will benefit the future."
Masback said improved technology for capturing and cataloging images, plus an abundance of inexpensive storage, has greatly increased the demand for remotely sensed images, which are being used for everything from scoping environmental changes and natural disasters to monitoring peacekeeping efforts and bolstering homeland security efforts.
"There are more requests on any given day then we have capacity for, and someone has to moderate and determine who gets these assets," Masback said. "It is so critical for our nation to understand what is going on around the globe, and it is vitally important that we have a workforce trained for us to do that."
If the United States doesn't take necessary measures to begin developing this workforce, it's highly likely other countries will step in to fill the void "because these applications, these systems will be developed."
At the end of the panelists' presentations, Messinger discussed RIT's Digital Imaging and Remote Sensing Laboratory and how the university can be part of the solution to the workforce problem by increasing the number of undergraduates and graduates with expertise in imaging science and remote sensing.
RIT currently offers bachelor's and master's degrees, as well as a Ph.D, in imaging science, and currently has 50 undergraduates and more than 100 graduate students enrolled in those programs. RIT also has active research programs in remote sensing, including the Digital Imaging and Remote Sensing Laboratory, which has more than 40 funded projects underway.
"RIT has a role to play in this, but we are not going to be able to solve this problem alone," Messinger said. "We need the government to make an investment, a commitment to help boost this pipeline and build this workforce."
Suchan said RIT is already playing a big role. Over the last two years, she said Exelis has hired 58 imaging scientists, almost half of them RIT graduates.