RIT hosts 2019 Upstate NY Regional Student Conference on April 19 and 20 at Polisseni Center
More than 250 students from regional colleges to compete in annual event featuring Concrete Canoe and Steel Bridge student design competitions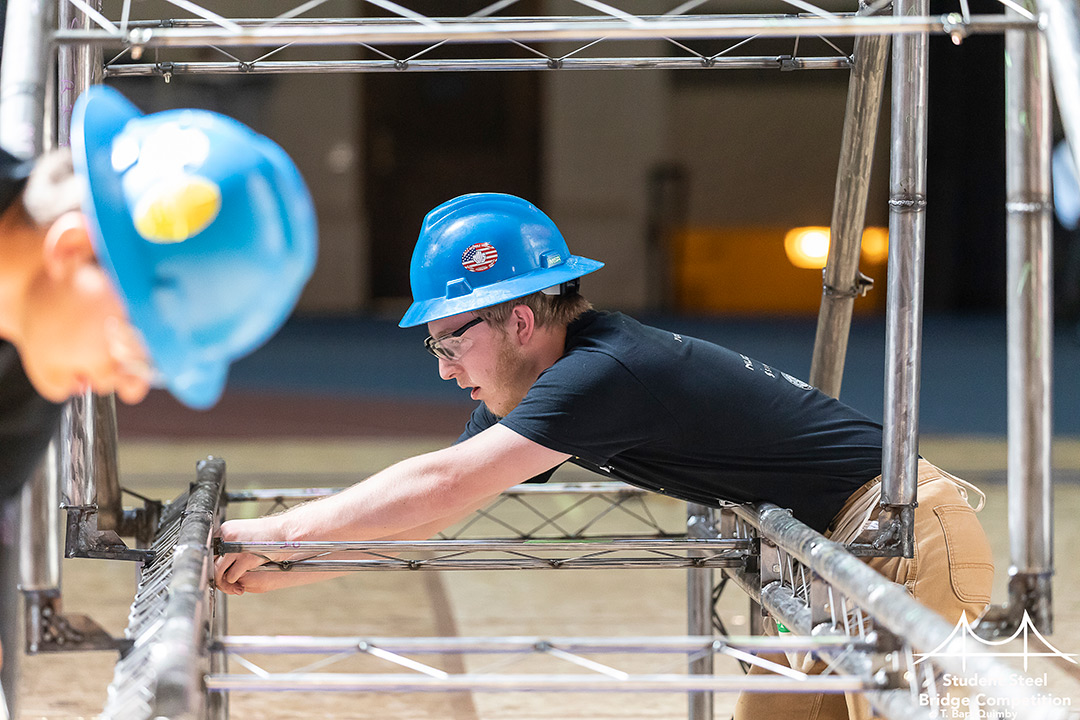 Concrete canoes float—really. And bridges are more complicated to construct than putting up a few steel beams.
Student-engineers who build both the unusual—yet attractive—canoes and complex bridge spans will display their designs at the 2019 Upstate New York Regional Student Conference taking place April 19-20 at the Gene Polisseni Center at Rochester Institute of Technology. More than 250 students from university teams in the area will compete at the annual event.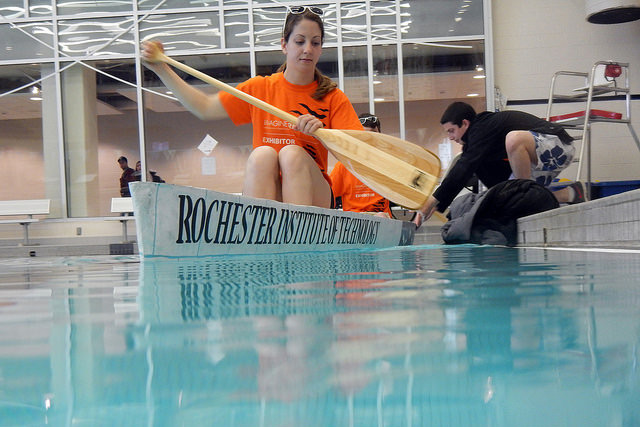 "The Upstate New York Regional Student Conference showcases the hard work of this region's up-and-coming civil engineers. I, as well as RIT's civil engineering technology department, are proud to host such an important competition for these students," said Nicole Cullen, the 2019 co-conference chairperson and fifth-year civil engineering technology student from Fairport, N.Y. RIT has hosted the regional event several times, the last in 2013.
As part of the conference, student chapters of two national organizations—the American Society of Civil Engineers and the American Institute of Steel Construction—participate in technical and professional paper presentations, attend business and networking meetings, as well as compete in design events where they must detail development and fabrication processes.
The full event schedule and locations can be found online; public events are:
Concrete Canoe Competition:
Friday, April 19, Polisseni Center, RIT Campus: Canoe Displays, 7 a.m. to 11 a.m.
Saturday, April 20, Mendon Ponds, Hundred Acre Park: Testing, 6 to 8 a.m.; Competition, 8 a.m. to 3 p.m.
Steel Bridge Competition:
Friday, April 19, Polisseni Center, RIT Campus: Bridge Displays, 7  to 8 a.m.; Competition, 9 a.m. to 4 p.m.
Both teams and their designs are perennial favorites at the annual Imagine RIT: Creativity and Innovation Festival, taking place this year on April 27.
Since fall semester, the team has been testing mixtures and material weights of concrete to assess shapes and strengths for the newest RIT canoe. More than 25 percent of the canoe material is actual rock and other aggregates to build an ideal canoe structure that can be maneuvered and float, said Brady Smith, president of RIT's concrete canoe team.
"We work hard all year long, put in many late nights and encounter countless headaches. But, in the end, we have a final product that we can be proud of," said Smith, a fourth-year civil engineering technology student from Holly, N.Y. "The student conference is an opportunity to show off that hard work and compete against other schools that have put in the same work we have."
Along with canoes, student teams have been testing different steel bridge structures that must meet specific design specifications and hold a set, weighted-load. The competition is a way to display the team's work and also spark interest in the clubs, said Alana Alves de Moraes, RIT's team lead for the steel bridge.
"Steel bridge has been improving, and considering that we fabricate our entire bridge, from cutting steel to welding, to turning connections for each piece, we have been very competitive. This year's bridge has an even more challenging set up, both for design and construction. A lot of work went into this, but overall the experience has been invaluable, and I really hope students from all majors take interest and come to watch," said Moraes, a fourth-year civil engineering technology student from Porto Alegre, Brazil.
All bridge teams must construct a short span bridge, modeled after historical railroad steel bridges in Hawaii. The bridge must support bicycles, pedestrians, park vehicles and emergency vehicles while prohibiting private motor vehicles. Models will be erected under simulated field conditions and tested for stability, strength and serviceability. Not only will the designs be judged during the regional competition, the student teams will have their work considered by the design teams on the Hawaiian project.
The public events are free and open to the general public. Student-designers will be available to talk about the work that goes into building both the canoes and bridges.
"These students have done an amazing job of thinking critically to solve unusual problems. The competitions provide an opportunity for them to take all of that they have learned in class and apply it to a design that is exciting and fun," said Maureen Valentine, professor and interim department chair of the Department of Civil Engineering Technology, Environmental management and Safety. "There is an incredible amount of learning and mentoring that takes place within the student teams. They develop friendships for life and walk away with incredible experiences that will transcend into their professional lives."
NOTE: Both teams will participate in the Imagine RIT festival on April 27 at the university. Meet the concrete canoe team at the Gordon Field House pool and the steel bridge team in the Technology Quarter.