RIT to increase in-person course offerings for spring semester
University community's diligence regarding COVID boosts comfort level for more face-to-face classes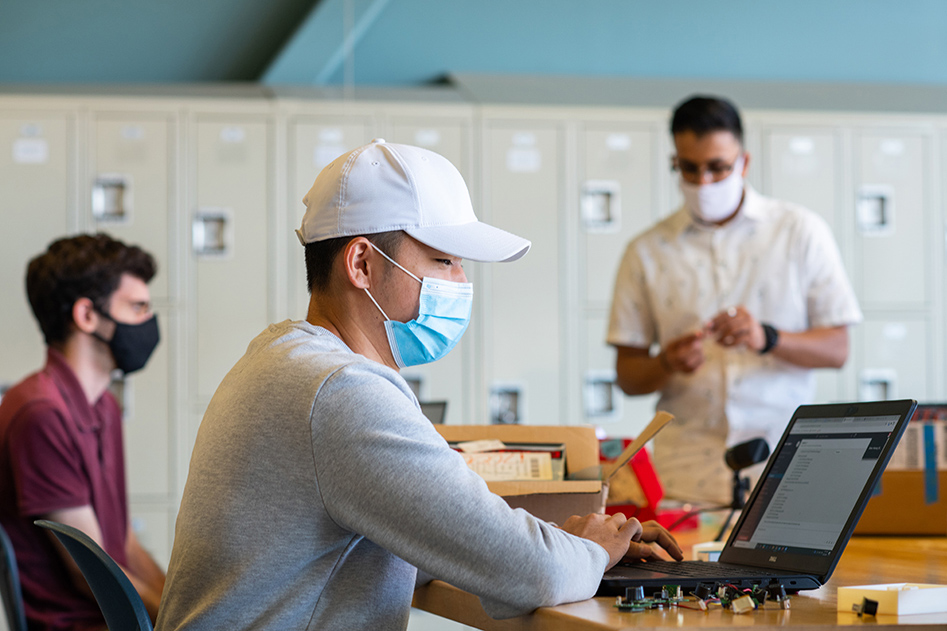 Gabrielle Plucknette-DeVito
RIT students will have the opportunity to enroll in more than 1,000 in-person courses for spring semester when registration opens today.
While course modalities for spring will still include a mix of in-person, blended, and online courses, the number of in-person offerings from fall to spring is increasing by nearly 12 percent, or more than 200 courses, according to data from RIT's Office of the Registrar. As a result, the blended course modality, a hybrid of online and in-person classes, will be reduced by roughly the same percentage. 
"RIT's students, faculty, and staff have done an amazing job upholding the safety protocols on campus throughout this pandemic," said Ellen Granberg, RIT provost and senior vice president for Academic Affairs. "Our classrooms have proven to be safe spaces, and this is a credit to the students and faculty who have worn their masks and remained physically distant during in-person instruction." 
Granberg also noted that both faculty and students reported a desire for more in-person classes through surveys conducted earlier this semester. 
Clyde Hull, chair of RIT's Academic Senate and professor of strategic management in Saunders College of Business, taught classes in person throughout fall semester. He believes that many faculty are looking forward to returning to the classroom in the spring due to the precautions the university has taken regarding classroom safety.
"RIT has been a pioneer of wastewater testing and the university has spent a lot of money upgrading our ventilation systems in academic buildings, well before the CDC acknowledged that COVID-19 was transmitted through the air," Hull said. "RIT is taking steps to make next semester even safer. Being in the classroom with the students is one of the best parts of teaching for me. Some faculty members have discovered that they can be even better teachers online and want to teach online for that reason, and some have health concerns that preclude coming to campus, but I think that many of us would prefer to teach on campus in the spring."
Ryan Stack and Elizabeth Ferrari, accounting students in Saunders College of Business, are looking forward to more in-person offerings.
"I know that I do much better in terms of school work and just being able to chat face-to-face with my peers and professors when my courses are in person," said Stack, a third-year student from Doylestown, Pa. "I also know that for many students the back and forth of having to hop on Zoom for a class, and then run to an in-person class, and then hop back on Zoom is slightly draining. It can be hard to keep track of everything. I have to award major 'props' to my professors for being able to transition to this format and work with their students."
Ferrari, a second-year student from Spencerport, N.Y., who is also minoring in management information systems, is enrolled in mostly hybrid courses.
"I think the dynamic in a classroom can never be truly replaced with Zoom," she said. "I think the knowledge retained from an in-person learning experience is unmatched and so I am excited to have that normalcy of college again. I can be more introverted and I have found a lot of my growth at RIT has been facilitated through the interactions I have had with peers, faculty, and staff. Though I know there will still be rules and regulations with the increase in in-person class offerings, I am excited that life will seem a little more normal."
Topics