RIT launches daily health screen for monitoring COVID-19 symptoms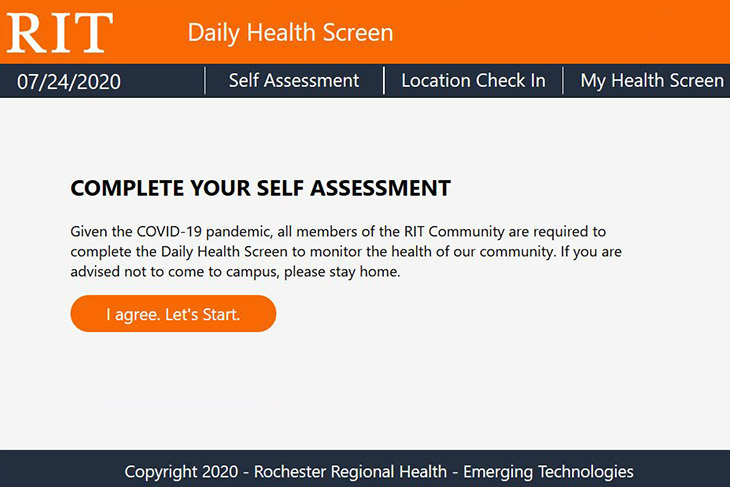 RIT is requiring all students, faculty, and staff to monitor their health for COVID-19 symptoms according to New York state regulations. The new policy will help protect the health and safety of the community at RIT and in the Greater Rochester area during the ongoing pandemic.
Starting July 27, the university will launch the RIT Daily Health Screen website and call-in option. All RIT students, faculty and staff are required to complete and submit the health screen to help monitor the overall health of the community. This applies to everyone whether they are working remotely or taking online classes and is required on weekends and vacation days.
The RIT Daily Health Screen is part of the RIT Ready Pledge to suppress the coronavirus by taking steps to protect each other that also includes wearing face masks and physical distancing while on campus. Efforts to mitigate the coronavirus spread through health monitoring is in keeping with the guiding principles from Monroe County Department of Public Health, the state's "New York Forward" guidelines, the Centers for Disease Control and Prevention, and the World Health Organization.
"Current guidelines may change due to the evolving circumstances related to the pandemic," said Dr. Lindsay Phillips, medical director of RIT Student Health Center. "We watch for changing New York state regulations and developments in the health of the Monroe County community."
Students, faculty, and staff will receive morning email reminders to monitor their health and complete the health screen. People without any symptoms will receive a green health status page allowing them to circulate on campus. The message can be printed or downloaded as a PDF.
Those who report having unexplained symptoms associated with COVID-19, or who have been in contact with someone who has the virus, will receive a red status page. Students will be instructed not to attend classes and to call the Student Health Center. Medical professionals at the Student Health Center will review the student data and contact students who did not follow-up after reporting symptoms.
Employees who report having unexplained symptoms will be asked to contact their manager and their personal physician. The information sent to managers will be limited to whether employees completed their health screens.
How to use the RIT Daily Health Screen
Log into the RIT Daily Health Screen website with your RIT username and password using a computer, tablet, or iPhone or Android mobile phone. An ASL video explaining the instructions is also available.
Alternatively, you can call 585-438-5257 for the RIT automated health screening service, using your university identification (UID) number to log in. Student and employee university IDs are found on my.rit.edu.
Employees without access to the Internet, can ask their manager to look up their ID number using the RIT Supervisor Self-Serve menu and selecting the employee information option.
The daily health screen is not a mobile application and does not track the user's physical location. It is designed as a daily check-in that records whether it has been used and the green or red message received. The information is encrypted and securely transmitted.
The first page asks you to start your self-assessment, then following page asks you if you've experienced any of the following symptoms within the last 24 hours: loss of sense of taste or smell; chills or fever of 100 degree Fahrenheit or higher; sore throat not due to allergies; feeling that you are coming down with an illness, such fatigue or muscle ache; unusual headaches or eye pain; new or worsening cough and difficulty breathing; abdominal pain, nausea, vomiting, diarrhea, and loss of appetite; and exposure to someone with a confirmed case of COVID-19 within the last week.
The health screen leads to three scenarios:
No symptoms: You will receive a green status message allowing you to circulate on the RIT campus. 
One symptom: You will be asked follow-up questions, asking if the symptom can be explained by medications, food, alcohol, or allergies. A green status message will be issued when symptoms can be explained.
Symptoms not related to food, alcohol, or allergies: You will receive a red status message not to come to campus and directions to contact the university.
If you are a student, do not attend class and call the Student Health Center, at 585-475-2255.
If you are an employee, stay home, contact your manager, and call your personal physician.
If you are a student employee, don't go to class or to work and call the Student Health Center and your manager.
Topics