RIT Named One of Nation's Most Environmentally Responsible Universities
University is featured in Princeton Review's just-released guide to 'green' colleges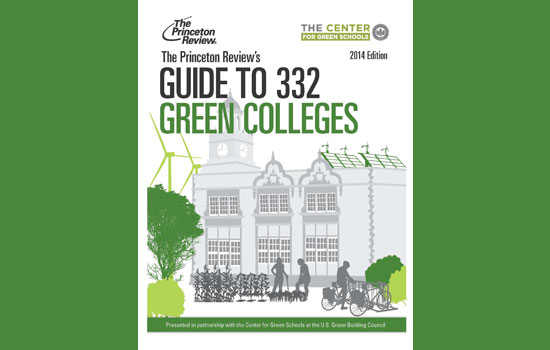 Rochester Institute of Technology is one of the nation's most environmentally responsible colleges, according to The Princeton Review, which has recognized RIT in The Princeton Review's Guide to 286 Green Colleges.
Developed in partnership with the U.S. Green Building Council, the guide is the first, free comprehensive guidebook focused solely on institutions of higher education that have demonstrated an above-average commitment to sustainability in terms of campus infrastructure, activities and initiatives.
Just in time for the 40th anniversary of Earth Day on April 22, the guide—which is based on a survey of hundreds of colleges nationwide—profiles the country's most environmentally responsible campuses. The guide looks at an institution's commitment to building certification using the Green Building Council's LEED green-building certification program; environmental literacy programs; formal sustainability committees; use of renewable energy resources; recycling and conservation programs, and more.
The guide can be downloaded at www.princetonreview.com/greenguide and www.usgbc.org/campus.
"RIT is pleased to see its goal of 'going green'—and its aspiration for long-term sustainability—recognized," RIT President Bill Destler says. "Not only is it a tribute to the dedication of those in the RIT community today, but their efforts represent a legacy to future generations in the RIT and Rochester-area communities."
Robert Franek, senior vice president and publisher, The Princeton Review, states: "Students and their parents are becoming more and more interested in learning about and attending colleges and universities that practice, teach and support environmental responsibility. According to our recent College Hope & Worries Survey, 64 percent of college applicants and their parents said having information about a school's commitment to the environment would impact their decision to apply to or attend it. We created this guide to help them evaluate how institutions focus on environmental responsibility so that they can make informed decisions as they move through the college assessment and application process."
"Beyond the cost savings to an institution, even the simplest aspects of a green campus, such as increased use of natural light, have been found to improve student learning and quality of life," adds Rick Fedrizzi, president of the U.S. Green Building Council. "Green facilities make colleges more attractive to students and can dramatically reduce energy costs."
##
How the Schools Were Chosen
The Princeton Review chose the 286 schools included in the guide based on the "Green Rating" scores the schools received in summer 2009 when The Princeton Review published Green Rating scores for 697 schools in its online college profiles and/or annual college guidebooks. The Princeton Review's "Green Rating" is a numerical score from 60–99 that's based on several data points. In 2008, The Princeton Review began collaborating with the U.S. Green Building Council to help make the Green Rating survey questions as comprehensive and inclusive as possible. Of 697 schools that The Princeton Review gave "Green Ratings" to in 2009, the 286 schools in the Guide received scores in the 80th or higher percentile. The Princeton Review does not rank the schools in this book hierarchically (1 to 286) or in any of its books based on their "Green Rating" scores.
About RIT
Founded in 1829, RIT is internationally recognized for computing, engineering, imaging technology, fine and applied arts, and unparalleled support services for students with hearing loss. Nearly 16,800 full- and part-time students are enrolled in more than 200 career-oriented and professional programs, and RIT's cooperative-education program is one of the oldest and largest in the nation.
For two decades, U.S. News & World Report has ranked RIT among the nation's leading comprehensive universities. RIT is featured in The Princeton Review's 2010 editions of The Best 371 Colleges and Guide to 286 Green Colleges, as well as in Barron's Best Buys in Education. The Chronicle of Higher Education recognizes RIT as a "Great College to Work For."
About The Princeton Review
The Princeton Review has been a pioneer and leader in helping students achieve their higher-education goals for more than 28 years through college and graduate school test preparation and private tutoring. With more than 165 print and digital publications and a free website, the company provides students and their parents with the resources to research, apply to, prepare for and learn how to pay for higher education. The Princeton Review partners with schools and guidance counselors throughout the U.S. to assist in college readiness, test preparation and career planning services, helping more students pursue postsecondary education. Visit www.PrincetonReview.com.
About the U.S. Green Building Council
The Washington, D.C.-based U.S. Green Building Council is committed to a prosperous and sustainable future for our nation through cost-efficient and energy-saving green buildings. With a community comprising 80 local affiliates, more than 18,500 member companies and organizations, and more than 155,000 LEED Professional Credential holders, the council is the driving force of an industry that is projected to contribute $554 billion in U.S. gross domestic product from 2009–2013. The council leads a diverse constituency of builders and environmentalists, corporations and nonprofit organizations, elected officials and concerned citizens, teachers and students. Visit www.usgbc.org.
The Princeton Review contributed to this story.