RIT named in Top 200 Colleges for Native Americans
RIT and its Native American Future Stewards Program recognized for the eighth year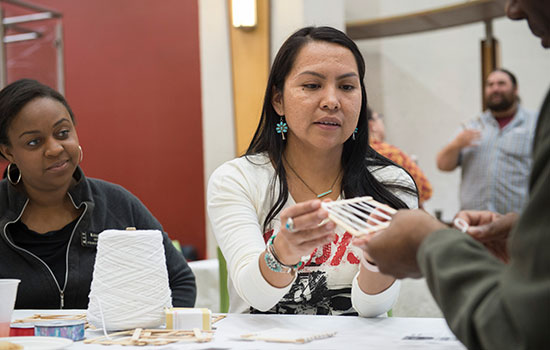 Winds of Change magazine recognized Rochester Institute of Technology as one of the Top 200 Colleges for Native American Students.
This marks the eighth time RIT made the annual list, published by American Indian Science and Engineering Society (AISES). The magazine ranked top universities in the U.S. "where American Indians are going to school in significant numbers and where the community, Native programs and support are strong enough for these students to enjoy college and stay on to graduate." RIT is one of nine colleges from New York state to make the list.
The magazine highlighted the acadmic and student support at RIT for Native American scholars provided by active student organizations like the Native American Student Association (NASA) and RIT's AISES chapter, Native American faculty and staff, and the Symposium on American Indian Languages (SAIL). RIT's Native American Future Stewards Program helps foster a supportive environment for Native Americans at the university by providing critical guidance on academic, professional and cultural support for Native American students and serving as a liaison between RIT and the Native American community.
"Consistently being recognized on this list year after year is a reflection of our investment in our Native American students," said Nicole Scott, co-director of the Native American Future Stewards Program. "We really care; we are not here to simply get numbers. We make personal investments and make lifelong connections to our students. We love reconnecting with former students when we see them at events like AISES conferences and always want to hear about them after they graduate."
RIT's campus is located within the original borders of the Haudenosaunee Confederacy. Consequently, the university has focused on partnering with local Native American governments and communities. The cornerstone of these efforts is the Native American Advisory Council (NAAC) – a strategic partnership between RIT and representatives from Haudenosaunee nations. This council advises RIT leaders in an effort to improve academic support and better address the unique challenges faced by Native American students. The NAAC works to develop programs that expose local Native American students to possibilities beyond high school through programs including Native American Outreach Day, where Native American students visit RIT and complete hands-on activities to learn about fields like packing science, hospitality and engineering technology.
The Seneca Art & Culture Center at Ganondagan State Historical Site is a key community partner. Located east of RIT, it is a resource for students to learn about the culture and history of the Senecas, one of the six nations of the Haudenosaunee Confederacy. RIT frequently engages with Ganondagan through educational connections, research initiatives and other collaborations.
In November, RIT celebrated Native American Heritage Month (NAHM) with a series of events to celebrate Native American culture and history. The events provided students an opportunity to present their research on Native American languages and sign languages, participate in historical celebrations on Canandaigua Treaty Day, and connect with Native American faculty and staff.
The NAHM events culminated in a keynote address by photographer Matika Wilbur, who discussed Project 562, her multi-year project to photograph people from all federally recognized tribes in the United States and beyond. Citing statistics that show Native Americans are drastically underrepresented nationally at college and face daunting social barriers, she sees her work and programs like NAHM as an opportunity to create a new narrative. "I ask you all to join us in our efforts to recruit and support young Native American students at places like RIT," said Wilbur.
To view the full Top 200 Colleges for Native American Students list, go to www.aises.org/news/woc.
For more information about RIT's Native American Future Stewards Program, go to www.rit.edu/diversity/futurestewards.