RIT/NTID hosts 'Signing Time' free family concert May 3
Popular PBS and video series teaches children and adults sign language through song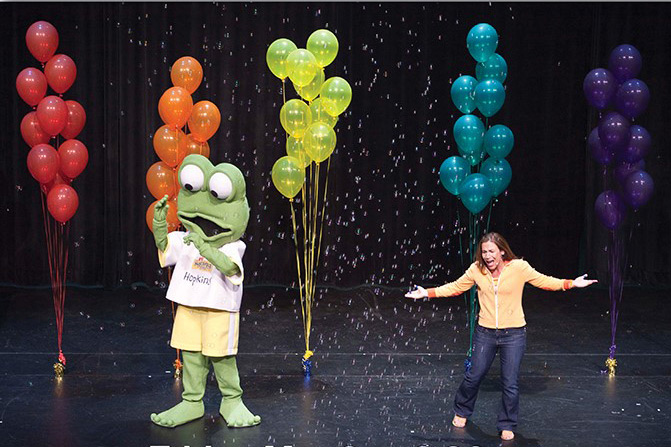 Rachel Coleman, musician and star of the popular PBS and video series Signing Time, will perform a free show at Rochester Institute of Technology's National Technical Institute for the Deaf, from 6:30 to 7:30 p.m. Friday, May 3, in the Robert F. Panara Theatre, Lyndon Baines Johnson Hall. Joining her on stage will be Coleman's daughter Leah, an industrial design major at RIT/NTID, and her show sidekick Hopkins the Frog.
Upon discovering that her 14-month-old daughter was deaf, Coleman began searching for ways to develop her language and communication skills. Coleman found that by learning sign language, her daughter's vocabulary rapidly increased.
Coleman and her sister began creating videos for children to learn American Sign Language and started a production company and foundation dedicated to making sign language fun and accessible to all children.
Originally a series on PBS, Signing Time featured Coleman's daughter Leah and nephew Alex, and ran for two years. The series continued and expanded through online videos.
"It is so exciting to be performing at NTID," Coleman said. "Signing Time started when my deaf child, Leah, was 4 years old and in preschool. Over the past 18 years, many of Leah's peers have grown up watching Signing Time. It feels like we've come full circle doing an NTID Signing Time concert now that Leah is a senior in college."
Tickets are free but must be reserved in advance by emailing Joseph Fox, NTID theater production assistant, at jwfnpa@rit.edu.
Topics