RIT/NTID inventors receive patent for hearing test
New online, self-administered test enables individuals to evaluate their own hearing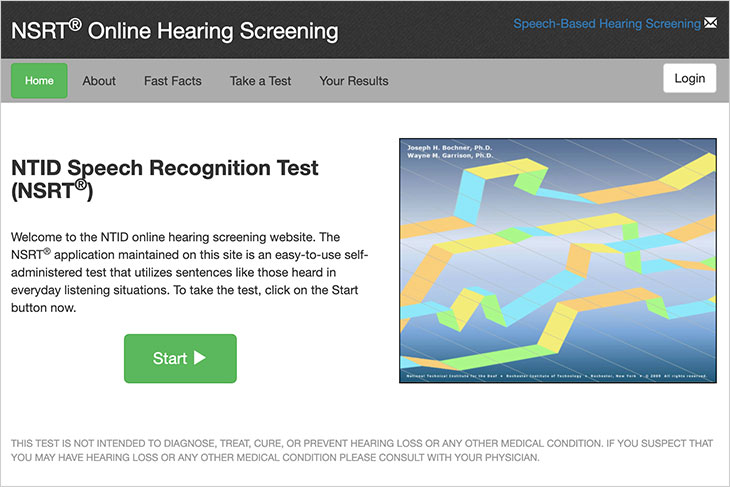 Mike Guinto/NTID
A new method for evaluating hearing has received a second patent by the U.S. Patent and Trademark Office. Work leading to the patent, "Method for Determining Hearing Thresholds in the Absence of Pure-Tone Testing," was conducted at Rochester Institute of Technology's National Technical Institute for the Deaf. 
The method is used in the NTID Speech Recognition Test (NSRT). Test results can be used to screen for hearing loss and accurately predict hearing thresholds in hard-of-hearing individuals. The test also can provide information about listeners' speech-recognition ability in quiet and background noise. The test can be used to select over-the-counter hearing aids such as those sold over the Internet or to evaluate an individual's risk for developing noise-induced hearing loss, chronic tinnitus, and other hearing issues. In general, NSRT results can assist consumers, especially people having age-related hearing loss, in making informed decisions about their hearing and in obtaining treatment for hearing loss.   
The test is administered through a software application delivered over the Internet. It can be self-administered by test takers in a quiet room at home or elsewhere. Test takers listen to sentences containing contrasts in speech sounds and determine if two sentences are the same or different from each other. 
"Right now, people with mild-to-moderate hearing loss are moving away from traditional providers and toward online services for evaluation and treatment," said Joseph Bochner, chair of NTID's Department of Cultural and Creative Studies, who along with Wayne Garrison, is co-inventor of the NSRT. "The trend toward online delivery of hearing healthcare is growing because it makes services more accessible and affordable for consumers."
The patent for the hearing test means the United States Patent Office has recognized the novel and useful attributes of this technology through issuance of this patent according to Bill Bond, director of RIT's Intellectual Property and Technology Transfer Office. Bond's office looks forward to working with organizations interested and qualified to commercialize this technology via a licensing arrangement.  
Throughout the history of the university, RIT has received more than 100 patents in a variety of disciplines. There are 105 patents currently in force and many have been licensed to existing or start-up companies that make and sell products based on RIT technology.