RIT offers research opportunity to high schoolers
Summer internship program in imaging science provides real-world science projects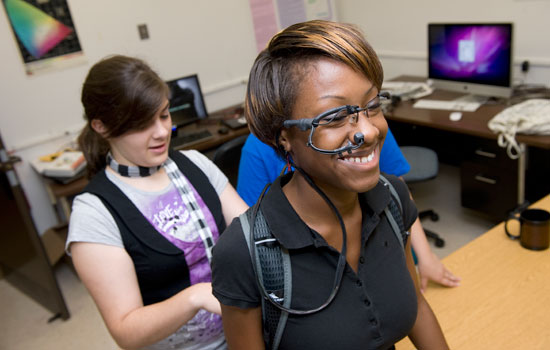 A. Sue Weisler
Some of the smartest high school juniors in the Rochester area have the chance to work as science researchers through the imaging science summer internship program at Rochester Institute of Technology.
The program, conducted by the Chester F. Carlson Center for Imaging Science, is open to as many as 14 of the brightest and best high school juniors who want to experience the world of scientific research. For seven weeks, the students get paid as full-time employees to work on research topics varying from space weather to ultrasound imaging.
Now in its 14th year, the program exposes students who are interested in science, technology, engineering or math, called the STEM fields, to the discipline of imaging science. They work alongside professors, as well as undergraduate and graduate students at RIT, to perform research in laboratories that house cutting-edge imaging technology.
"The imaging science high school internship program is the ideal way to experience a real research laboratory atmosphere and be able to contribute to state-of-the-art imaging research in a meaningful way—even before graduating from high school," says Bethany Choate, who coordinates outreach and recruitment for the Center for Imaging Science. Choate went through the internship program herself and went on to graduate from RIT in 2006 with a degree in imaging science.
Gaining a spot in the internship program is a highly competitive process, with approximately 60 students applying each year. The application process consists of questions, an essay, recommendations and interviews. However, Choate emphasizes that having the highest grades or the most extracurricular activities does not guarantee acceptance into the program. Important criteria for acceptance include having a passion for science as well as interests and a personality that resonates with one of the research groups.
"Our main priority is to expose young minds to many of the amazing things you can create, solve and accomplish with science and technology," says Choate. "Science is too often misconceived as boring, challenging or difficult to relate to actual careers. Through introducing high school students to hands-on research, we hope to open their eyes to how they can apply concepts learned in the classroom to real life."
Some of the students who participate in the internship end up studying imaging science at RIT. Choate says that roughly 12 percent of the interns enroll in the imaging science major, which she cites as a positive achievement. Three current freshmen in imaging science were members of the intern program.
Among older RIT students who have completed the internship are second-year student Cicely DiPaulo and doctoral student Monica Cook.
"I had no idea what imaging science was prior to the internship," says DiPaulo. "It sounded like a cool mixture of science applications and the real world, so I applied to the internship."
The interns are placed in labs as contributing members of research teams, working alongside some of the top scientists in the imaging field for 40 hours a week. The research areas at RIT that typically employ interns include remote sensing, visual perception, magnetic resonance imaging, astronomical imaging and historical document restoration.
"It's a great opportunity for high school students," says Cook. "I would tell future students of the program to take advantage of all the opportunities of spending a summer on a college campus."
Applications for the intern program are due by March 1. The application package and additional information is available at www.cis.rit.edu/interns.
For more information, contact Bethany Choate at 585-475-5665 or choate@cis.rit.edu.