RIT partners with Genesee Country Village & Museum
Students of museum studies, digital humanities and new media technology can benefit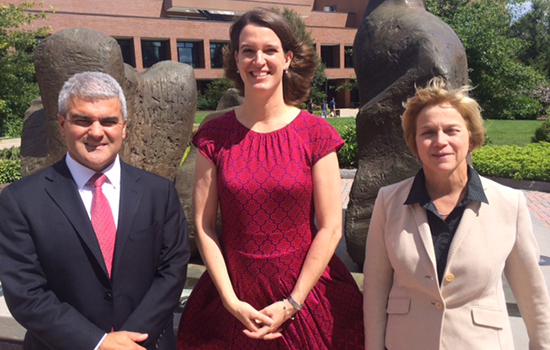 Officials from Rochester Institute of Technology and the Genesee Country Village & Museum today signed a memorandum of understanding to collaborate to "develop, promote and implement mutually-beneficial projects and activities" related to their respective missions.
"We have worked with Genesee Country Village and Museum for a number of years in an ad hoc fashion," said James Winebrake, dean of RIT's College of Liberal Arts. "By formalizing the partnership through this memorandum of understanding, our organizations are making a long-term commitment to work together to create enriching opportunities for our students, our faculty and the public."
Opened to the public in 1976, GCV&M is a living-history outdoor museum in Mumford, 12 miles southwest of RIT's Henrietta campus.
Becky Wehle, interim president and CEO of the museum, said she is enthusiastic about the potential the partnership will bring for both organizations.
"RIT is an extraordinary place with world-class programs in design, museum studies, digital humanities, interactive games and American crafts," she said. "We aim to leverage each other's capabilities to create a partnership that serves us both well."
One area the partnership will explore is the application of technology and new media to support exhibits, research, and other activities at the museum.
"We have state-of-the art facilities, exceptional students, and world-class scholars working in applied computing areas," said Anne Haake, dean of RIT's B. Thomas Golisano College of Computing and Information Sciences. "Through the partnership, we will explore new ways of using technology, where appropriate, to enhance the visitor's experience."
In addition to exhibits, the partnership will open doors for collaborative fundraising, event hosting, student programming, faculty research, and internships and co-ops for students.
"The museum provides our students with another type of 'classroom,' so to speak," said Lorraine Justice, dean of RIT's College of Imaging Arts and Sciences. "Students will be able to apply their on-campus learning to a real-world setting at the museum in a way that also benefits the community."
Justice highlighted examples of how students from various programs at RIT could use the museum as a place to enhance class projects or capstone experiences.
"There are a lot of possibilities connecting the work of our students and faculty with the museum," Winebrake said. "From the design of exhibits that incorporate digital and analog elements, to the creation of interpretive performances that bring historic events into focus, to the development of communication materials relation to museum programming, the possibilities on the curricular and research fronts are endless."
The partnership was signed by Winebrake, Wehle, Haake, Justice, and Gayle Stiles, chair of the museum's board.