RIT places third at national cyber defense competition
Future leaders of U.S. cybersecurity get experience defending at student competition
Rochester Institute of Technology's cyber defense team took home third place at the 2019 National Collegiate Cyber Defense Competition, held April 23-25 in Orlando.
After several regional qualifiers this winter, the nation's top 10 collegiate cyber defense teams faced-off at the championships, where they worked to fend off cyberattacks from a team of industry professionals known as the red team. Defending NCCDC champions University of Virginia won the Alamo Cup, while University of Central Florida placed second.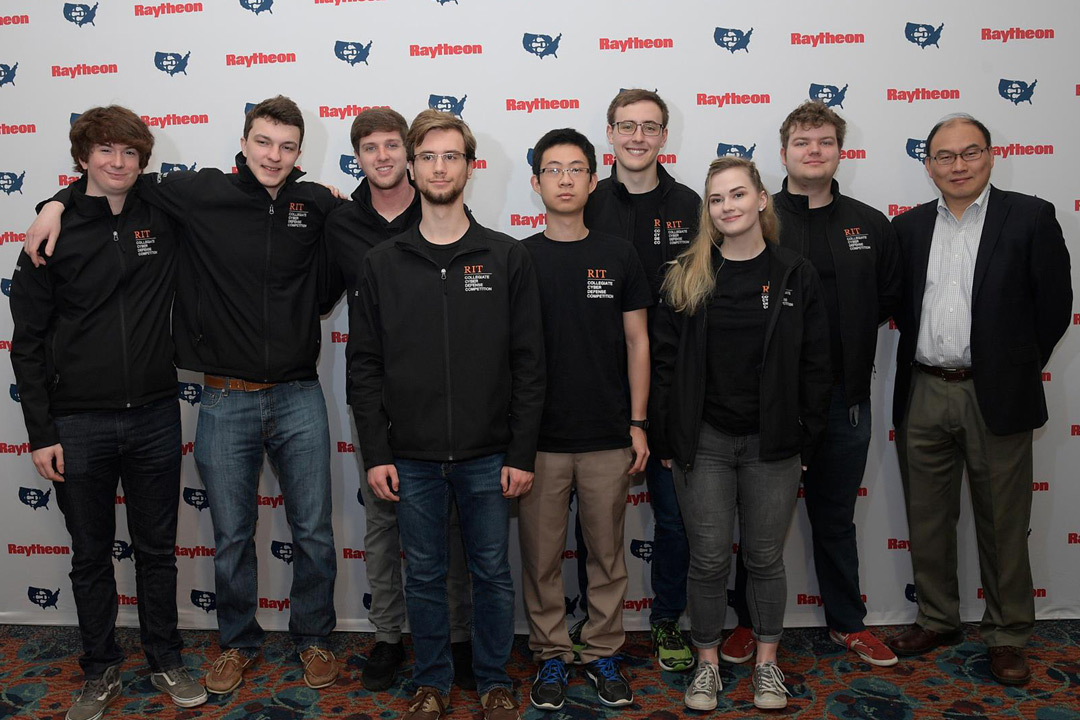 Raytheon
 "The RIT team did a great job of frustrating the red team, especially through network defenses, as well as on the general teamwork front," said Joe Graham, RIT's assistant coach. "After months of hard work by the team, it's awesome to finally see it pay off."
In the real-world scenario, student teams learned to defend against cyberattacks that could threaten to shut down a mock agricultural genetics company. Student teams were scored based on their ability to detect and respond to outside threats and to maintain availability of existing services, such as email servers, Web servers and file servers.
"You don't really know anything about the competition scenario ahead of time, so you prepare by learning as much as you can and practicing as a team," said RIT team member Jack McKenna. "I know that the competition often uses systems that are end-of-life, so to prepare I learned as much as I could about older operating systems like Solaris."
The RIT student team is made up of captain Brandon Adler, a fourth-year BS/MS computing security student from Pittsford, N.Y.; assistant captain Russell Babarsky, a fourth-year computing security student from Fairview, Pa.; Phillip Babey, a first-year computing security student from Newark Valley, N.Y.; Amanda Brown, a second-year computing security student from Wyalusing, Pa.; Robert Gray, a first-year computing security student from Canandaigua, N.Y.; Sean Newman, a third-year computing security student from Fairfax, Va.; Connor Shade, a third-year computing security student from Jersey Shore, Pa.; Duc Phan, a third-year computing security student from Vietnam; Simon Buchheit, a second-year computing security student from Marysville, Ohio; and Jack McKenna, a third-year computing security student from Saint Paul, Minn.
The RIT team is coached by Bo Yuan, professor and chair of RIT's Department of Computing Security, and assistant coach Joe Graham, who is also a computing security master's student from New Hampton, N.Y.
Other participants in the national competition included Utah Valley University, Dakota State University, University of Alaska Anchorage, University of Tulsa, University of Washington, Stanford University, University of Virginia, Baldwin Wallace University and University of Central Florida.
The competition also stands as an opportunity for students to meet industry professionals and sponsors, in hopes of getting jobs with these organizations.
"Being able to compete in NCCDC looks fantastic on your resume and employers are going to be impressed by your experience," said Graham.
RIT's cyber defense team is a perennial contender at the regional and national competitions. The Tigers placed second at regionals last year. RIT also placed third at the national competition in 2015, second in 2014 and took first place in 2013.
RIT's Golisano College of Computing and Information Sciences (GCCIS) offers a bachelor's and master's degree in computing security.
To address the critical workforce needs in cybersecurity and help solve cybersecurity problems, RIT has announced the creation of a Global Cybersecurity Institute. The new three-story facility will allow RIT to address the global cybersecurity crisis by conducting groundbreaking research, education and professional training and development. It is expected to open in summer 2020, with new institute director, and will be the first facility of its kind in upstate New York.
Topics