RIT Press, Memorial Art Gallery celebrate Judith Schaechter's stained-glass art
Scholarly catalog, 'The Path to Paradise,' accompanies traveling exhibition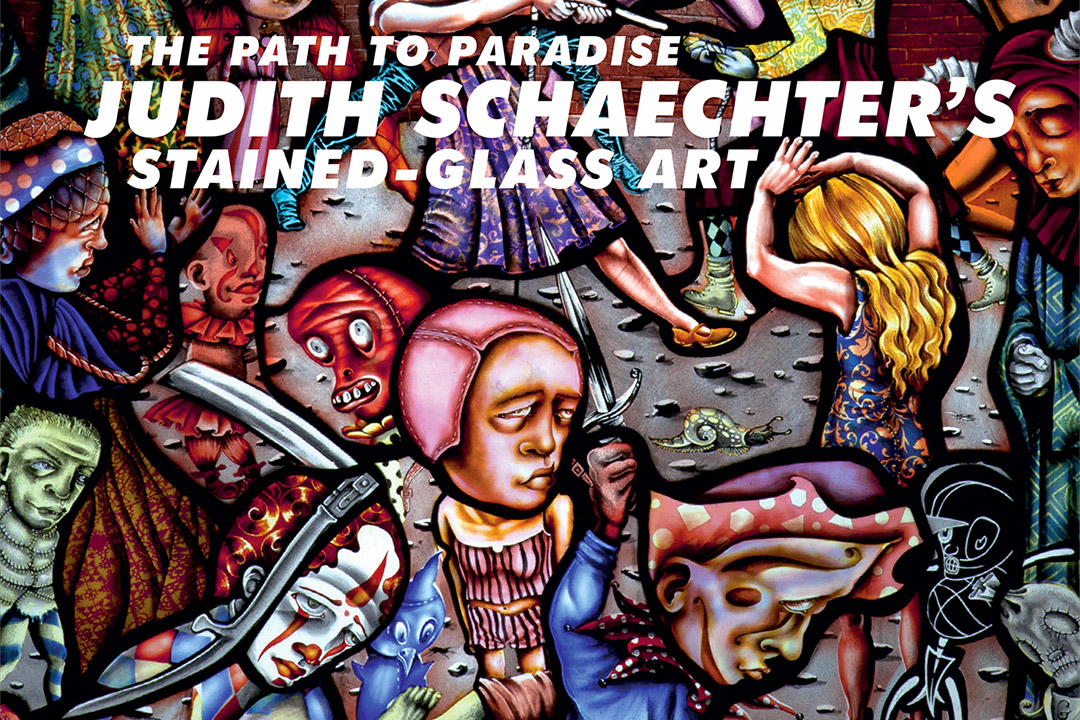 Contemporary stained glass panels with edgy narratives and unapologetic heroines are the subject of a major exhibition at the Memorial Art Gallery and its companion catalogue published by RIT Press.
The Path to Paradise: Judith Schaechter's Stained-Glass Art celebrates the first survey and major assessment of the artist's nearly 40-year career. The full-color, 160-page catalogue reproduces Schaechter's 45 stained-glass panels, related drawings and process materials gathered from private and museum collections. The Path to Paradise includes an introduction by Glenn Adamson and essays by Jessica Marten, Virginia Chieffo Raguin and Diane C. Wright.
"Schaechter's brightly colored panels feature dark and mysterious narratives that nevertheless feel familiar," according to Marten, curator in charge/curator of American art at the Memorial Art Gallery. Marten curated The Path to Paradise, on view from Feb. 16 through May 24.
"Schaechter has stretched the medium of stained glass into an incisive art form for the twenty-first century," Marten wrote. "With deep respect for history, a provocative rebelliousness, and a feminist sensibility, Schaechter has aptly been called a 'post-punk stained-glass sorceress.' Her meticulous and awe-inspiring stained-glass panels are intentional seductions, alternative visions of beauty, and radical statements of female experience."
Schaechter's work is represented at many institutions, including the Museum of Art and Design, Philadelphia Museum of Art, Smithsonian American Art Museum and Toledo Museum of Art. Her numerous awards include National Endowment for the Arts Visual Artists' Fellowships, a Louis Comfort Tiffany Foundation Award and a Guggenheim Fellowship Award, among many others.
The Path to Paradise is available for $49.95 from RIT Press, or by calling 585-475-6766.
RIT Press is the scholarly book publishing enterprise at RIT—dedicated to the innovative use of new publishing technology while upholding high standards in content quality, publication design and print/digital production. The Press offers specialized titles for niche academic audiences, trade editions for mass-market audiences and occasional limited editions with unique aesthetic standards.
Topics