RIT professor joins Magnum Photos
Gregory Halpern joins agency representing some of the world's most renowned photographers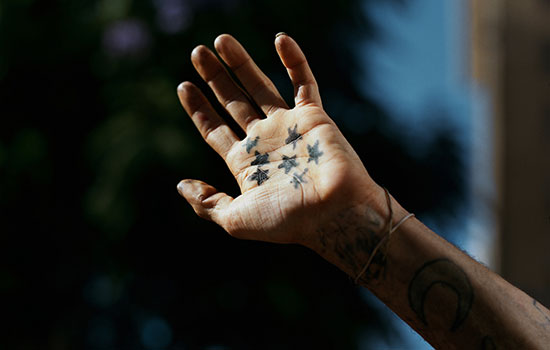 Gregory Halpern, an associate professor in Rochester Institute of Technology's School of Photographic Arts and Sciences (SPAS), is one of only five nominees selected this year into Magnum Photos, which represents some of the world's most well-known photographers.
Halpern, who teaches in RIT's College of Art and Design, formerly the College of Imaging Arts and Sciences, was the only U.S. photographer nominated during the agency's annual meeting, held recently in Paris.
Magnum photographers are a rarity and the agency is rigorously self-selecting; membership is a minimum four-year process and is considered the finest accolade of a photographer's career.
"It was a surreal moment for me—and still feels that way—because Magnum is an organization that has loomed quite large in my imagination for many years," said Halpern, who has taught at RIT since 2009. "I feel extremely grateful."
Halpern said he is looking forward to getting to know "an incredible collection of passionate people."
"Magnum works to get its photographers jobs—editorial and commercial—but they also work simply to promote the photographers' personal work, which I believe is the real heart of the organization," he said.
Halpern believes his nomination will be a significant benefit to his students in RIT's photo school, already nationally recognized for its degree programs.
"I'm excited to share what I learn and experience through Magnum with my students," he said. "When I was studying photography, my teachers really only spoke about photography in a pure, academic sense … but once I left school and had to navigate the real world—getting work out, earning a living—it was all such a mystery. I just learned by trial and error, and it took me quite a while.
"One of the things I love about teaching is that I can help my students avoid some of the mistakes I made and help demystify the experience of being a photographer in the 'real world' after graduation," he added. "It's a very scary prospect for students and for me it's very gratifying to be able to allay some of those fears and help them in a real, concrete way."
He also is pleased his nomination will be "a great thing for RIT."
"Among the 50 or so Magnum members worldwide, I believe I am the only one with a full-time teaching job, and I hope that will be helpful in recruiting students," Halpern said. "Magnum has an enormous footprint in the photo world, with offices in five countries and a massive online presence, and I hope my membership will help spotlight the program here and help us continue to recruit the best students out there."
Founded in 1947 by renowned photographers Henri Cartier-Bresson, Robert Capa, George Rodger and David Seymour, Magnum shooters "share a vision to chronicle world events, people, places and culture with a powerful narrative that defies convention, shatters the status quo, and redefines history," according to the agency's website.
Magnum has been providing the highest quality photographic content to an international client base of media, charities, publishers, brands and cultural institutions. The Magnum Photos library is a living archive updated regularly with new work from across the globe.
The Magnum nomination is the latest in a string of accolades for Halpern. In 2017, he captured Canadian Prime Minister Justin Trudeau's portrait for the cover of Bloomberg Businessweek magazine. He also is a 2014 John Simon Guggenheim Memorial Foundation Fellow whose 2016 book, ZZYZX (MACK Books), won the Paris Photo-Aperture Photobook of the Year.
Halpern has published four additional books of photographs, including A (J&L Books, 2011), Omaha Sketchbook (J&L Books, 2009), and Harvard Works Because We Do (Quantuck Lane, 2003). He is also the editor, together with Jason Fulford, of The Photographer's Playbook: Over 250 Assignments and Ideas (Aperture, 2014).
He earned a bachelor's degree in history and literature from Harvard University and a Master of Fine Arts from California College of the Arts. In addition to RIT, he has taught photography at several schools, including Harvard, California College of the Arts, University of California, Berkeley, and School of the Museum of Fine Arts in Boston.
Legendary photographer Bruce Davidson, who graduated from RIT with a photography degree in 1954, is believed to be the only other university-affiliated photographer who has been a member of Magnum.