RIT Rallies: Printing company creates face shields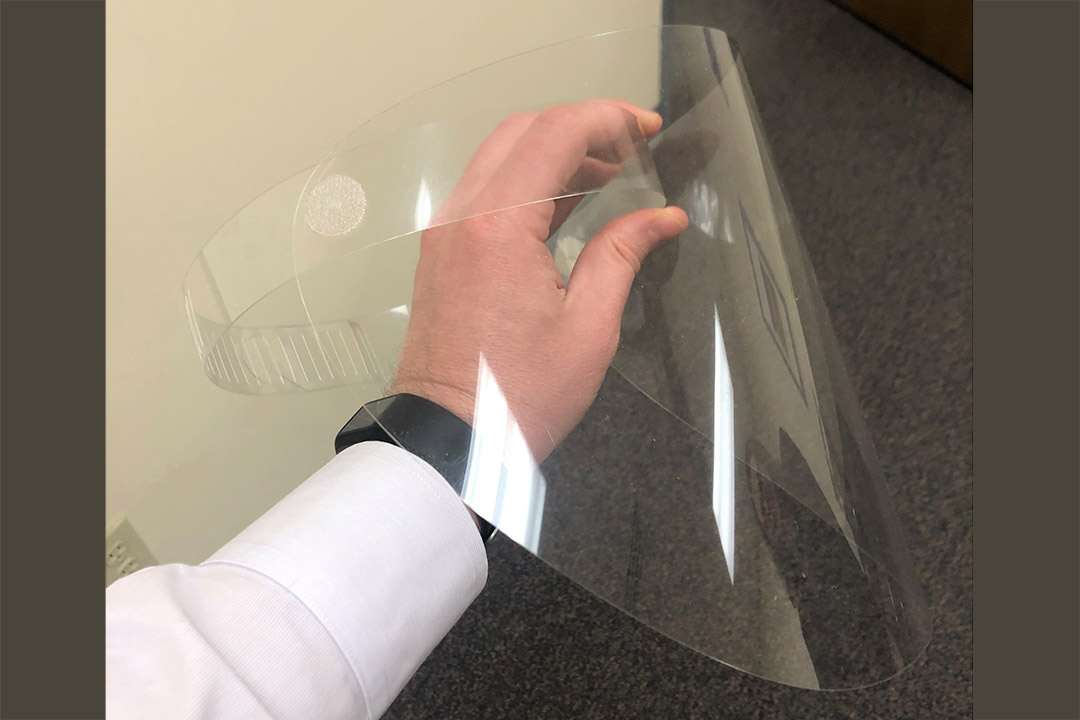 A company that employs 14 RIT graduates donated 21,000 face shields to health care facilities in need.
Allied Printing Services, which is based in Manchester, Conn., shipped the face shields to hospitals, assisted living and behavioral health centers, ambulance corps, visiting nurses, police and fire departments, pharmacies, food pantries, funeral homes, universities, rehabilitation centers, health care and dental offices, and veterinary hospitals.
Most went to facilities in Connecticut, but some supplies were sent to California, Texas, South Carolina, and New Hampshire.
The company developed a prototype, manufactured the shields in-house, tested them, packaged them, and created an online ordering portal—all within a week.
"It was an initiative that touched the hearts of all of our employees and all of the health care providers who were in need of the PPE," said Catherine Dougan, vice president of Administration for Allied.
Allied Printing Services is one of the largest family-owned commercial printers in the Northeast with about 378 employees.
Todd Kalagher '86 (graphic communications) began working at Allied in 2012. He is senior vice president of Sales and Customer Experience.
"This initiative was driven by our CEO, John Sommers, and his vision to support health care workers as the pandemic quickly grew into a national crisis," Kalagher said. "It is a great honor to work at a place that thinks this proactively and can step in when it is needed.
Along with Kalagher, RIT alumni at Allied Printing Services include: Ron Assoian '80 MS (print media); Scott Bolliger '90 (graphic communications); Dave Brouillete '82 (graphic communications); Richard Fletcher '83 (graphic communications); Keith Johnson '77 (graphic communications); Jon Kaufman '82 (graphic communications); Robert Kaufman '13 (media arts and technology); Ginger McAllen '86; Jim Morse '93 (graphic design); Ginny Munoz '81(graphic arts and photography); Chuck Samar '85 (packaging science); Luis Serrano '96 (graphic communications); Tom Shaw '90 (graphic communications).
Topics