RIT ranked among top national universities
RIT moves to top tier national research category with increased Ph.D. graduates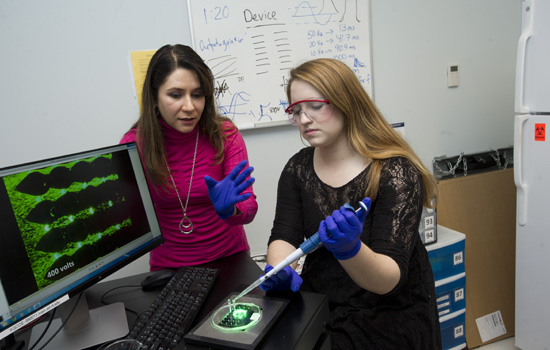 A. Sue Weisler
Rochester Institute of Technology is being recognized as a top tier national university for the first time in the 34-year history of U.S. News & World Report rankings. The change is a result of the university's reclassification in becoming a "doctoral university" this year due to its rapid increase in research and Ph.D. graduates.
The 2017 edition of U.S. News & World Report Best Colleges ranked RIT 107th in the "National Universities" category. These top universities—a grouping of 310 schools— "offer a full range of undergraduate majors, plus master's and Ph.D. programs, and emphasize faculty research," according to U.S. News. RIT had previously been listed among "Regional Universities." Overall, U.S. News cites 1,374 four-year colleges and universities in various categories.
"The movement of RIT into the ranks of the nation's finest colleges and universities is a remarkable story," said RIT President Bill Destler. "We are not trying to emulate some of the nation's great universities. We will do what RIT does so well, and that is by being different and capitalizing on that difference to make a truly unique experience for our students and for our communities. We have nearly a dozen programs that are ranked in the top 10 nationally, beyond U.S News. And these programs are in non-traditional academic areas such as interactive games and media, industrial design, imaging science, sustainable manufacturing and packaging science."
RIT also ranked 33rd among best value schools—"Great Schools, Great Prices." The calculation compares a school's academic quality to the net cost of attendance for a student who receives the average level of financial aid. "The higher the quality of the program and the lower the cost, the better the deal," according to U.S. News. In other rankings, RIT was also recognized for excellence in its business and engineering colleges, its co-operative education program, and its benefits for military veterans.
The move to the top tier national category was triggered earlier this year when RIT was listed as a "doctoral university" by the leading classification of U.S. colleges and universities. The Carnegie Classification of Institutions of Higher Education changed RIT from "Master's – Comprehensive" to "Doctoral University" This change occurs when a university graduates more than 20 Ph.D. degrees per year, a figure that RIT has exceeded in recent years. In May, RIT awarded 35 doctoral degrees in seven Ph.D. programs, the most in its history.
RIT has seven doctoral programs: astrophysics, color science, computing and information sciences, engineering, microsystems engineering, imaging science and sustainability. A Ph.D. in mathematical modeling, begins in fall 2017.
"In previous U.S. News rankings, RIT historically received high marks in peer review with other universities," Destler noted. "We are extremely pleased to see our peer assessment scores did well with other presidents, provosts, deans of admissions and high school counselors in the top tier research grouping." Here, RIT rated 66th among its peer universities and 49th with the counselors.
In further rankings:
RIT was among 22 universities recognized for excellent co-operative learning and internship programs.
RIT ranked 69th among "Best Colleges for Veterans." U.S. News aims to provide military veterans and active duty service members with data on which top-ranked schools offer benefits that can help make a college education affordable.
RIT's Kate Gleason College of Engineering ranked No. 65 nationally for undergraduate engineering programs among universities where the highest degree is a doctorate.
RIT's Saunders College of Business was ranked No. 77 nationally among best programs for undergraduate business education.
Go to rit.edu/news/story.php?id=56877 for a list of frequently asked questions about the rankings and RIT's reclassification.
To see the full U.S. News national university rankings, go to http://colleges.usnews.rankingsandreviews.com/best-colleges/rankings/national-universities
Topics