RIT receives $1M to promote diversity
Howard Hughes Medical Institute's Inclusive Excellence Initiative funds five-year program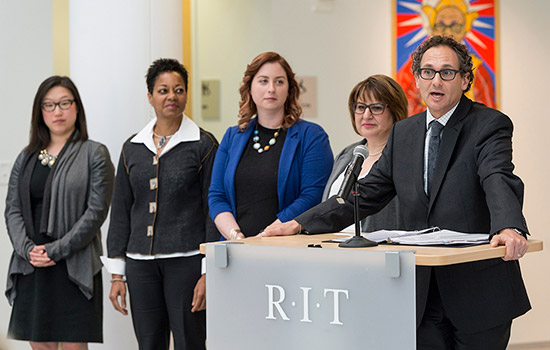 Elizabeth Lamark
Rochester Institute of Technology has been awarded $1 million from a private philanthropy to increase diversity and inclusivity among undergraduate science majors and develop a strategy for supporting their success.
The Howard Hughes Medical Institute's Inclusive Excellence Initiative is a five-year science education grant to develop future scientists reflecting the nation's diversity. RIT is one of 24 institutions selected to develop strategies for expanding access to science education to all students. These initiatives will serve as national models for other institutions.
RIT will use the award to increase infrastructure, resources and expertise to involve and retain deaf/hard-of-hearing, female and African-American, Latino/a-American and Native American students in RIT's schools of Physics and Astronomy, Life Sciences and Chemistry and Materials Science in the College of Science. Included in this population are transfer students from community colleges and first-generation students.
"Over the five-year project, we seek to engage 70 percent of all faculty, including new hires and a majority of students in project activities," said Scott Franklin, director of the Inclusive Excellence program at RIT and the Center for Advancing STEM Teaching, Learning and Evaluation. "Our goal is to increase representation and inclusivity in the College of Science, strengthening the community and improving the retention of all students."
According to data cited by the Howard Hughes Medical Institute, nearly one-fourth of undergraduates in the United States are the first in their families to attend college. Ethnic minorities and students from economically disadvantaged backgrounds make up a high percentage of this population.
RIT's initiative will:
Develop faculty to better identify, recruit and mentor a diverse student population in their research labs;
Create new classroom materials that promote student metacognition and sense of identity;
Foster a welcoming and inclusive environment with workshops on identity and community.
Increasing scientific literacy among the nation's growth populations is a goal of the Howard Hughes Medical Institute, which reports that 40 percent of first-year science, technology, engineering and math undergraduates (more than 1.5 million students) switch their majors to non-STEM disciplines by the end of their second year of college.
The breadth of the project addresses inclusivity issues from multiple perspectives, said Dina Newman, project co-director, associate professor in RIT's Thomas H. Gosnell School of Life Sciences and director of the Science and Mathematics Education Research Collaborative.
"It will focus on multiple aspects of a student's experience, which provides a greater chance of success than focusing on just one issue or strategy," Newman said.
Progress will be measured by quantitative participation, qualitative interviews, annual analyses of target student performance and retention and quantitative and network analysis of college culture.
"By enhancing the support network across the college, this project strengthens the entire college," Franklin said. "Greater participating and access produces better science and a healthier, more just society."
The Howard Hughes Medical Institute is a science philanthropy dedicated to biomedical research and science education. This grant marks the first award RIT has received from the institute.