RIT replacing florescent lighting with LEDs
20,000 installed so far estimated to save university $300,000 a year on energy and maintenance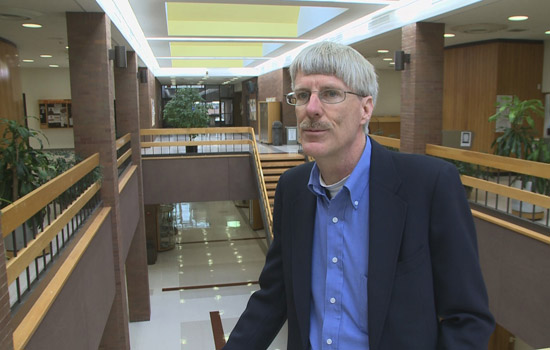 In keeping with a pledge to reduce energy consumption campus-wide, Rochester Institute of Technology is in the midst of a project to replace fluorescent tube lighting with energy-efficient LED lighting.
So far, more than 20,000 tubes have been replaced with custom LED lighting designed by TransLux Corp., a move estimated to save RIT more than $300,000 a year in energy and maintenance costs. The lighting upgrade is part of a multi-faceted partnership between RIT and Trans-Lux — a Norwalk, Conn., company whose president and CEO J.M. Allain is an RIT alumnus — to support the university's sustainability objectives.
"RIT is an ideal place to go a little outside the box and look at alternative ways of doing things, and Trans-Lux has been a great partner for us in this venture," says RIT President Bill Destler. "With Trans-Lux as our partner, we have been able to implement an extremely efficient solution for campus lighting that reduces both the university's carbon footprint and operational expenses. We're pleased with the partnership and we're pleased with the product and that's really what we expect to be when we interact with any corporation."
RIT began retrofitting fluorescent fixtures in labs, classroom and hallways with the custom-designed Trans-Lux LED lamps in December 2011. This phase of the project took about a year.
"Upgrading to the new LED lamps was easy and only took about eight minutes per fixture," said David Harris, RIT's director of Utilities and Environmental Management.
"We took it a building at a time. In our library, we installed 2,800 of the LED lamps and we did it in the evening when the number of patrons was reduced and we wouldn't be in the way. We did most of our academic buildings in the evening hours for the same reason."
Harris says many of the circuits on campus are "on 24/7 and even in the library the lights are on 20 hours a day. The LEDs last twice as long as their counterpart fluorescent and we do not have to change lamps as often. Even our cooling costs are reduced."
To meet established requirements for power consumption, color temperature and longevity, Trans-Lux custom designed the new LED tube lamps specifically for RIT.
"We initially found that our 16-watt lamps and our 18-watt lamps were not the right fit for RIT, the 16-watt lamp didn't have enough light output and the 18-watt lamp had too much," said Allain, president and CEO of Trans-Lux Corp. "The product that we custom-built for RIT is actually 16.3 watts and it's the first of its kind in the industry."
Destler, who in 2009 signed the American College & University Presidents Climate Commitment, said reaction to the new lighting has been very positive.
"We couldn't be more pleased with the reactions we've had and the actual results we're getting from the installations," Destler says. "I expected to have at least some issues relating to the quality of lighting or the light spectrum but there's been none. In fact, it's exceeded my expectations."
Topics