RIT Research Seeks Sustainable 'Ecosystem' for Consumer Electronics
$300,000 award from National Science Foundation targets broader focus of industrial ecology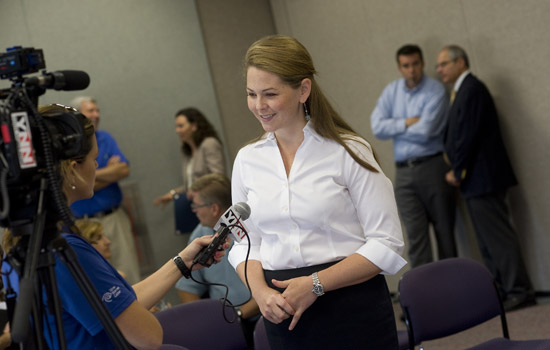 A. Sue Weisler
Can nature serve as a model of sustainability for industry in its quest for greener solutions? Efforts to expand a field known as "industrial ecology" are at the heart of research getting under way at Rochester Institute of Technology.
The National Science Foundation has awarded RIT's Golisano Institute for Sustainability nearly $300,000 to adapt ecological models for the study of complex industrial and consumer product systems. The inspiration comes from nature where organisms cooperate and compete in highly connected communities to efficiently use energy and natural resources.
"This project will be the first to draw parallels between the communities of organisms in nature and the communities of products that we manufacture and consume," says Callie Babbitt, assistant professor at the Golisano Institute for Sustainability and the study's principal investigator.
Researchers from multiple disciplines at RIT will focus on consumer electronics, which pose significant environmental implications from the materials used in their manufacture, energy consumed during use and waste generated as they become technologically obsolete. In addition, electronics are typically purchased and used together. A computer, for example, may result in the acquisition of a monitor, printer and other accessories that interface with the hardware.
"We want to study and improve the environmental and economic performance of the whole community of consumer electronics that an average U.S. household might own," Babbitt explains. "In the past, we've tried to green electronics by making incremental changes to a single product or material, but these improvements are offset by increased consumer demand for more devices."
Babbitt says research has typically disconnected sustainable production from sustainable consumption. The RIT study unites the entire life cycle while also exploring a complete group of products simultaneously. Their goal is to help industry come up with improved design solutions, whether through the creation of multifunctional products or a community of products that function better together. Understanding how the electronic product system changes over time will also lead to more efficient recycling systems, so that components can be used to "feed" the next generation of manufacturing.
"In demonstrating these industrial ecology models through consumer electronics, we can prove the concept works and then apply it to other complex product systems—like renewable energy sources—anywhere you have interaction among materials or products that lead to sustainability challenges."
Christy Tyler, research assistant professor of life sciences, and Eric Williams, associate professor of sustainability, join Babbitt as co-investigators for the three-year study. The National Science Foundation's funding will support research assistance provided by RIT graduate students and development of the Sustainable Product Innovation and Entrepreneurship Lab in the new Golisano Institute for Sustainability facility.
At the end of the study, team members will present workshops to New York state industries on how industrial ecology methods can be integrated into green business operations.