RIT secures $1 million for undergrad scientists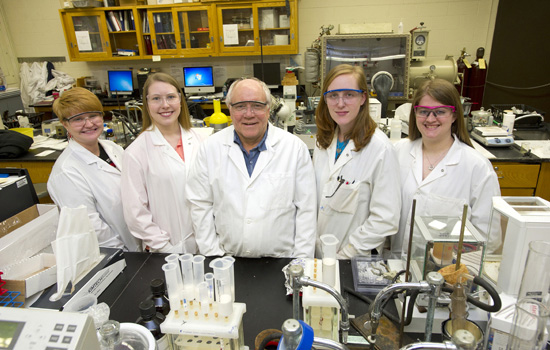 A. Sue Weisler
Rochester Institute of Technology has established a $1 million endowed fund to support undergraduate research in its College of Science through a challenge grant from the Fred L. Emerson Foundation.
The challenge was met on Sept. 30, with commitments from more than 100 donors, said Lisa Cauda, RIT Vice President for Development and Alumni Relations.
The new Emerson Endowed Fellowship Program for Undergraduate Research in the College of Science will allow RIT to double the number of undergraduate students conducting full-time scientific research during the summer.
The Emerson Foundation offered to give the university a $250,000 challenge grant contingent upon RIT raising the remaining $750,000 in new gifts and pledges by Oct. 1.
"Experiential learning and research for undergraduates is central to the mission of our college as it combines faculty mentoring with student achievement," Sophia Maggelakis, RIT Dean of the College of Science. "It is the hard work, commitment and dedication of our faculty that have made our undergraduate research program a success."
The endowment will have a long-lasting impact on students, Maggelakis said. "It will provide them with the independent learning experience that is important for student success, job placement and graduate studies."
The Emerson Fellowship is also expected to have an economic impact in western New York by increasing the highly skilled workforce in the area. Regionally based Pictometry, iCardiac Technologies and Lockheed Martin, among others, routinely hire RIT College of Science graduates.
RIT is known for giving students experiential learning in traditional sciences and in emerging fields. College of Science students gained early skills in biotechnology when, in 1983, RIT launched the nation's first BS degree in this area. The university later started one of the first BS and MS programs in bioinformatics, teaching students to sequence and analyze genetic information.
RIT offers the only MS and Ph.D. degrees in color science and a program that has strong roots in industry and RIT-name recognition. The college is also home to the Chester F. Carlson Center for Imaging Science, which offers the only BS, MS and Ph.D. of its kind.